Seeing Double: 'Dragnet' Vs 'The Untouchables' On Their 30th Anniversary

(Welcome to Seeing Double, a series where two strangely similar films released around the same time are put head-to-head. This week: 1987's Dragnet and 1987's The Untouchables.)
Hollywood is a land of mystery. Who killed the Black Dahlia? Was Marisa Tomei the real winner of 1993's Best Supporting Actress Oscar? Why is Jai Courtney still a thing?
One of the less salacious and controversial mysteries to come out of Hollywood though involves the occasional appearance of "movie doubles" – films from rival studios with highly similar plots/subjects that are released in close proximity to each other. Think Volcano and Dante's Peak or Deep Impact and Armageddon. There's little upside to both studios sticking to their guns and moving forward with the production as history shows that more often than not one of the pair falls by the wayside at the box-office, so why even head into production on a film you know another studio has already begun? Are original ideas that hard to come by in Hollywood? (This is a rhetorical question.)
This month is the 30th anniversary of both Dragnet and The Untouchables, and while at first glance they might not seem like another pair of duplicates, I'd argue to the contrary. Both films are big screen adaptations of popular '50s/'60s television cop shows that at some point starred Harry Morgan, both feature lead actors who were known entities but still a year or three away from their biggest success, and they were released just three weeks apart in June of 1987. The films take wildly opposing approaches to the material itself, and their fates both at the box-office and in the critical eye may have differed because of it.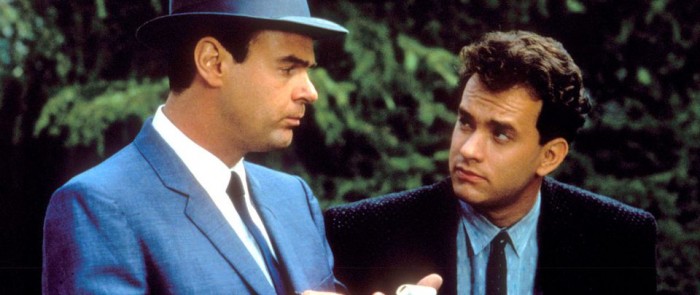 The Story
Jack Webb's popular and iconic Los Angeles-set cop show, Dragnet, ran from 1951-1959 before returning for a few more seasons in the late '60s. The procedural teamed the dry, facts-focused Joe Friday (Webb) with various police partners over the years, although Harry Morgan's stint as Officer Bill Gannon from the second series quickly became a mainstay in people's minds. The film adaptation stays in present day L.A. and presents an exaggerated Joe Friday against a wacky, comedic backdrop of costumes, gags, and lisps.
The Untouchables aired from 1959-1963, and unlike the contemporary Dragnet it was a period show focusing on the F.B.I.'s efforts – headlined by Robert Stack's Eliot Ness – to bring down mobsters, gangsters, and bootleggers. The '30s period setting remains intact in the film version as does the action/drama tone with Ness targeting thugs, hoodlums, and the one and only Al Capone.ADVANTAGE: A tie. The Untouchables earns points for sticking with the format and tone that had already proven successful, but Dragnet took a chance with a comedic shift from the source material that would later become the norm with adaptations like 21 Jump Street, Starsky & Hutch, Baywatch, and more.
Filmmakers
Dan Aykroyd and his Saturday Night Live co-writer Alan Zweibel crafted the initial Dragnet script inspired by Aykroyd's well-documented affection for the show and the character of Friday (he had previously riffed on the character on SNL). When they brought it to Universal, the studio added Tom Mankiewicz (Live and Let Die, Ladyhawke) into the mix to help whip the script into shooting shape. It was Zweibel's first feature, but by this time Aykroyd had co-written The Blues Brothers, Ghostbusters, and Spies Like Us. Ted Kotcheff (First Blood, Wake in Fright) was originally attached to direct, and while that sounds like an odd choice, he would go on to showcase his comedic chops with Weekend at Bernies. He left the project after growing disinterested in the finished script and was replaced by Mankiewicz for what would be his feature directorial debut. He only directed one other film, 1991's Delirious with John Candy.
Acclaimed playwright David Mamet had three produced scripts to his name before Paramount moved into production on The Untouchables, and while studio executives were apparently not fans of this script, director Brian De Palma and producer Art Linson (Heat) were firmly in its corner. De Palma was a few years beyond his biggest hit to date, 1983's Scarface, but he still had enough cache to secure final cut on the film. They also landed legendary Italian composer Ennio Morricone to score the film – just one of six films released in '87 boasting him as composer.
ADVANTAGE: The Untouchables, for a higher percentage of top of the line filmmakers. Did I mention Morricone's thrilling score?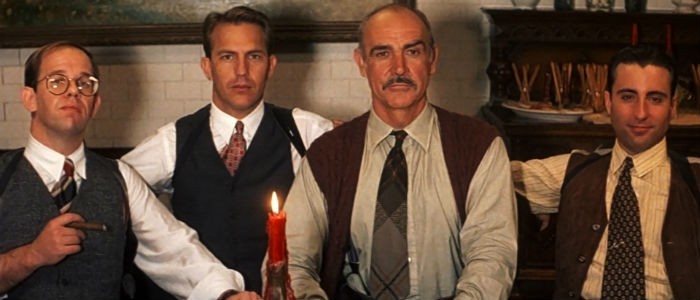 Cast
Aykroyd was locked in for Dragnet's Joe Friday, and while he initially wanted Jim Belushi to play his sidekick, the role instead went to rising star Tom Hanks. Splash, Bachelor Party, and The Money Pit had already made him a known quantity to comedy-loving audiences, and the filmmakers felt his earnest goofiness would play well off of Aykroyd's faux-seriousness. Aykroyd of course was a well-established comedy star thanks to the likes of Trading Places, Ghostbusters, and Spies Like Us. (He was still years away from audience-killing fiascoes like Nothing But Trouble and Exit to Eden.) The supporting cast included some talented performers including Christopher Plummer and Dabney Coleman, but they're not quite names that draw in a crowd.
Kevin Costner had twelve films to his name before taking on the lead role of Eliot Ness in The Untouchables, but odds are audiences had only seen him in one, 1985's Silverado. (Most people still haven't seen the majority of those twelve, but I recommend both Fandango and Shadows Run Black for different reasons.) This is the movie that jumped him into the big league though, as it was immediate followed by No Way Out, Bull Durham, and Field of Dreams. The team that pulls around Ness consisted of two lesser-known (at the time) talents in Andy Garcia and Charles Martin Smith and one screen legend named Sean Connery, but the film had a second big gun on the opposite side of the law. Robert De Niro came aboard as Capone – De Palma's second choice was Bob Hoskins – and he added some serious weight to the talent roster.ADVANTAGE: The Untouchables, because come on... Costner, Connery, and De Niro!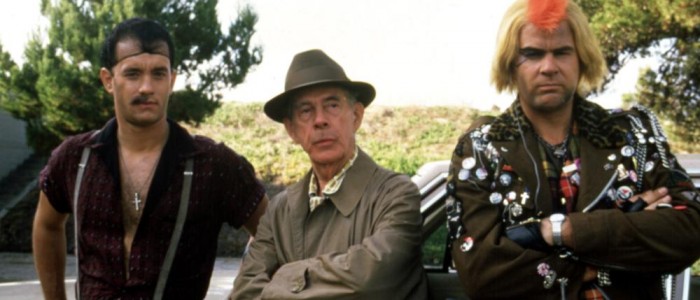 Critical Reception
Reviews for Dragnet were mixed on release with critics calling it everything from innocuous and annoying to "dumb-de-dumb-dumb fun." Roger Ebert said it's "fun a lot of the time," but he was in the minority, as its current Rotten Tomatoes score sits at 46%.
The Untouchables, by contrast, sits at 80% on RT and received mostly positive reviews. The New York Times' Vincent Canby summed it up saying "It's vulgar, violent, funny and sometimes breathtakingly beautiful." The film also went on to be nominated for and/or win dozens of awards, including Connery's only Oscar and a Grammy for Morricone's score.ADVANTAGE: The Untouchables, clearly.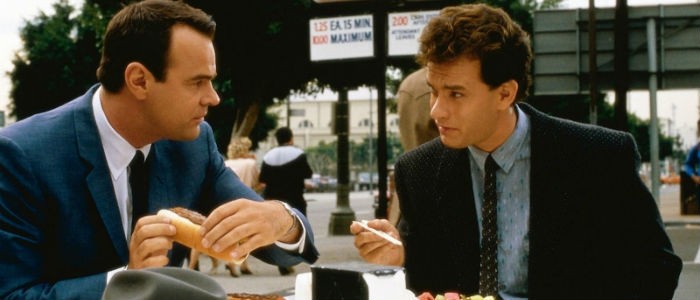 Budget and Box-Office
Dragnet opened up against Full Metal Jacket and ended up earning $66 million globally on a $20 million budget.The Untouchables had its opening weekend all to itself and ultimately brought in $186m worldwide on a budget of $25 million.ADVANTAGE: Both films were financial successes, but The Untouchables has the higher budget/box-office multiplier.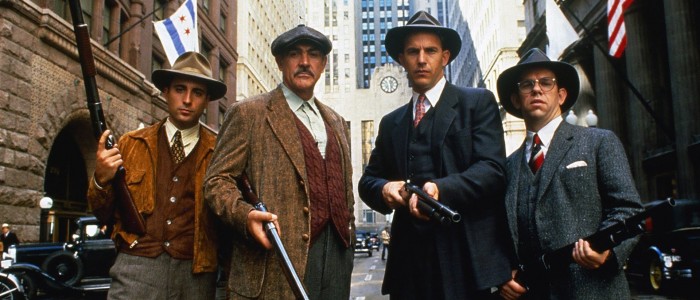 My Take
The Untouchables' critical and box-office win over Dragnet seems fairly predictable all things considered, and you'd be hard-pressed to find someone who prefers Mankiewicz's comedy over De Palma's masterpiece. (No, this is not a challenge.) Like most films of a certain age, Dragnet has seen a slight resurgence of support in recent years as viewers revisit or re-discover its various charms, but it remains, at best, little more than a fun, forgettable diversion. However, The Untouchables just gets better and better as the wit of Mamet's script, the energetic style of De Palma's direction, and the sheer talent and charisma of its cast blend for a perfect slice of Prohibition-era pop entertainment. Plus, did I mention Morricone's rousing and evocative score?