You Can (Kinda) Thank Heath Ledger For Tobey Maguire's Infamous Spider-Man 3 Dance Moves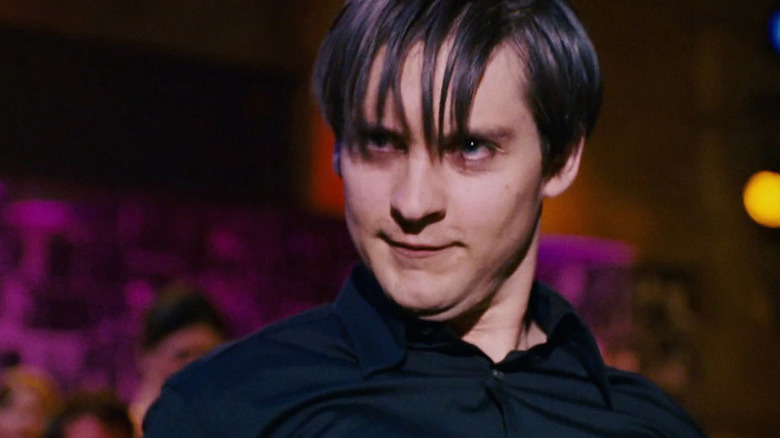 Sony Pictures Releasing
Boring people Certain individuals feel the infamous scenes of Tobey Maguire dancing in Sam Raimi's 2007 film "Spider-Man 3" represent a low point in the web-slinger's run on the big screen. The scenes in question find our boy Peter Parker (Maguire) under the influence of the Venom symbiote, causing him to go on a power trip. He shows off his sick moves to random pedestrians on the streets of New York City and even dares to use them to try and woo a new would-be love interest right in front of his ex-girlfriend Mary Jane Watson (Kirsten Dunst).
This would all be much more dramatic if Peter didn't come across as an absolute dork while strutting his (evil) stuff. That he looks as silly as he does is perfectly in character for our hero, who goes from being a kind-hearted dweeb to a jerky dweeb after Venom latches itself onto him. His actual dance moves are equally playful thanks to Marguerite Pomerhn Derricks, the prolific dance choreographer who worked on "Spider-Man 3" after coming to fame in the 1990s thanks to her efforts in films like "Showgirls," "Austin Power: International Man of Mystery," and "10 Things I Hate About You."
"10 Things" notably features its own bit of adorkable dancing when bad boy high schooler Patrick Verona (Heath Ledger) performs Frankie Valli's famous romantic ballad "Can't Take My Eyes Off You" with a little help from the school's marching band. Speaking to HuffPost as part of its oral history about the making of the film (which was timed to coincide with the movie's 20-year anniversary in 2019), Pomerhn Derricks admitted you can partly trace the origins of Peter Parker's dance moves in "Spider-Man 3" to Ledger in this scene.
Making Fred Astaire 'cool' again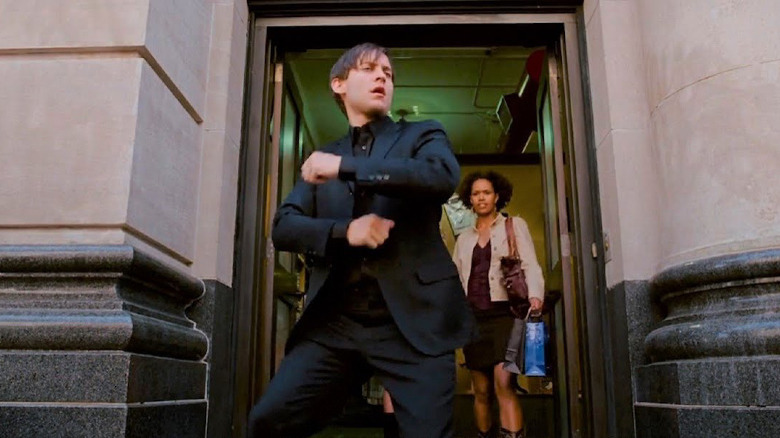 Sony Pictures Releasing
Patrick, for those not aware, carries out his marvelous song-and-dance routine atop the concrete bleachers of his high school's outdoor sports field. "I was sent pictures of the location, and through those, I came up with the idea of how Heath would move. He was my Fred Astaire!" Pomerhn Derricks told HuffPost. Ledger's Astaire-style moves include a slide to the side and a long-pass grapevine, both of which Pomerhn Derricks knew would require a "fearless" actor of his skill to pull off without fretting about it looking too "old-school."
Maguire, on the other hand, took some convincing. "Years later, when I got 'Spider-Man 3' with Tobey Maguire, I remember meeting with him and Sam Raimi, and Tobey did not want to dance," Pomerhn Derricks recalled. The early plan was to have a scene where Peter breakdances (with the aid of body doubles), but Maguire was "negative, negative, negative" about the idea. Instead, Pomerhn Derrick drew inspiration from her experience working with Ledger:
"So one day I went to [Maguire's] house, and I started showing him Fred Astaire stuff, and that's what we ended up doing for 'Spider-Man 3.' But it was because of Heath. I told Tobey, 'You doing it is not going to age you. You're just going to make these classic moves fresh and hip and new.' Watching Heath do that in the stands, that's exactly what he did. In his youth and his fearlessness, he made them look so cool."
One mega-popular meme and a quick dancing Peter Parker gag in the film "Spider-Man: Into the Spider-Verse" later, it's fair to say Maguire failed to make these moves look "cool" the same way Ledger did. Quite frankly, though, "Spider-Man 3" and the world at large is better off for it.