How Rebecca Hall Prepared For Resurrection's Intense Seven-Minute Monologue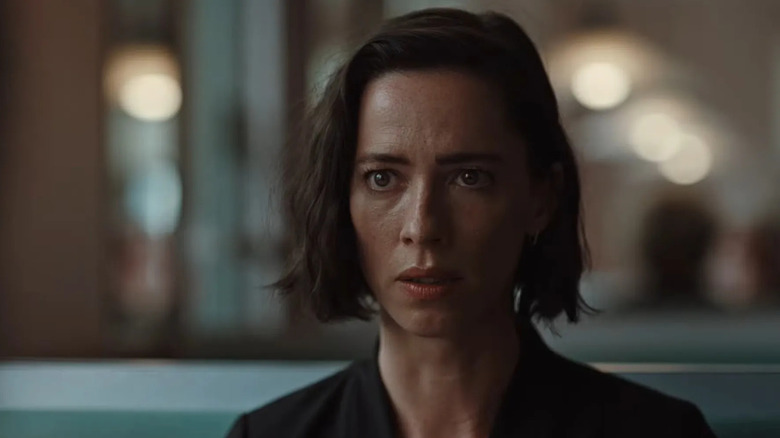 IFC Films
Rebecca Hall's performance in Andrew Semans' new film "Resurrection" is, without hyperbole, one of the best of the year. Hall plays a woman named Margaret who, years ago, fled an abusive and manipulative lover named David (Tim Roth) who controlled her every action the way a cult leader might control their followers. For years, she was beholden to his whims. This is a recognizable state for anyone who has been in a controlling or abusive relationship. Eventually, Margaret severed her ties, and is now a successful executive and mother to the teenage Abbie (Grace Kaufman), who about to go away to college. Her mental state begins to rapidly unravel, however, when David reappears in her life. At first, he almost seems imaginary. Perhaps he is. Regardless, David still has control over her life. 
In a stirring seven-minute monologue halfway through "Resurrection," Margaret sits in a diner booth and explains, in detail, just what happened between her and David, and the horrible thing he did — or claims to have done — to drive her away in horror. It is, to crack out an old critical saw, a tour de force. 
One might want to immediately begin whatever complicated workout regimen is required to maintain a healthy outrage gland, as it's almost assured that Hall will — once again — be overlooked come major awards season. "Resurrection" is simply too bizarre for most awards bodies. 
In a 2022 interview with W Magazine, Hall talked about that monologue, and the kind of actorly preparation that was required to deliver it. Long, unbroken monologues are uncommon in film, but required in live theater. Luckily, Hall had specific on-stage experience she could draw from.
'Machinal'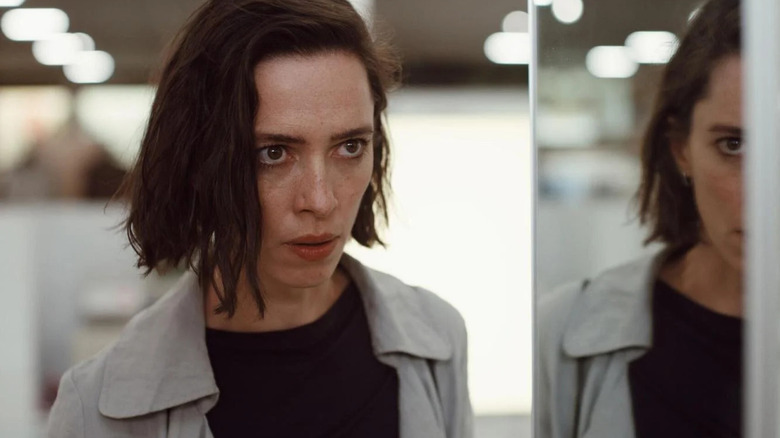 IFC Films
Hall has been working on stage since 2002, when she debuted in a production of George Bernard Shaw's "Mrs. Warren's Profession." She would go on to act in Shakespeare's "As You Like It," "The Winter's Tale," and "Twelfth Night," Molière's "Don Juan," and Anton Chekov's "The Cherry Orchard." In 2013, Hall first appeared on Broadway in a production of Sophie Treadwell's "Machinal," an expressionist play from 1928. In that play, a young woman, bullied by institutional misogyny, dutifully marries her boss, only to immediately realize that she hates it. She has an affair to free herself, and ultimately kills her husband. She is executed by the state. 
The play also features a long, notable monologue, with the main character listing names and attributes at random. Hall makes direct reference to Treadwell's work in discussing her preparation for "Resurrection." She said:  
"I have had other experiences on the stage, where I've had to deliver huge monologues. I don't think anything will be as hard as the one I had to deliver in Machinal, which is this expressionistic play written in the '20s, because it's probably five minutes of utterly unconnected thoughts. So I knew how to handle this. I prepare extensively in terms of whatever I have to do to imagine that I am the person experiencing what I'm experiencing."
For Hall, though, having the words and the emotional beats was the important thing. In working out the subtle physicality of the scene, Hall relied on her instincts, saying: 
"In terms of practicing the lines, even how I'm going to say them and how I'm going to look when I'm saying them, I never do that. I genuinely don't really have any idea what I'm going to do until I'm doing it."
Writing down character beats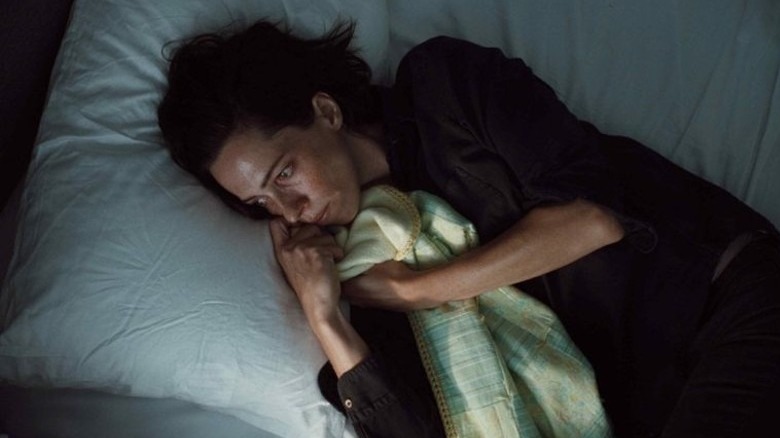 IFC Films
Hall, as the interviewer points out, has a habit of mapping out her characters in writing. Margaret, Hall admits, has a character map that sprawls to some pretty wild places, matching the character's extreme experiences. Margaret, after all, finds that her life of strength was, in fact, all a protective measure from a man she was never able to truly escape from. Over the course of the film, Margaret's penchant for confidence and control are revealed to be doing harm to her teenage daughter. It won't be long before Margaret's mental instability is noticed by colleagues. Overall, though, Hall understands — quite practically — that an audience requires cohesion. She said: 
"It's very big and very intense. I do that for everything. I even did it when I was directing, for all the characters. Margaret's one looks a little insane. But it's a tool that I can't be without, because I think my most important responsibility to the director is to deliver a performance that's cohesive, so that when you get the edit, you stand a chance of having something that holds together from A to Z and goes on a journey."
Hall's first film as a director was the 2021 drama "Passing" starring Tessa Thompson and Ruth Negga, based on the novel by Nella Larsen. Hall's next film as an actress will be the next film in the American "Godzilla vs. Kong" series. She is nothing if not pliable.