Tony Hale's Anxiety Made Filming A Scene On The Sopranos Particularly Difficult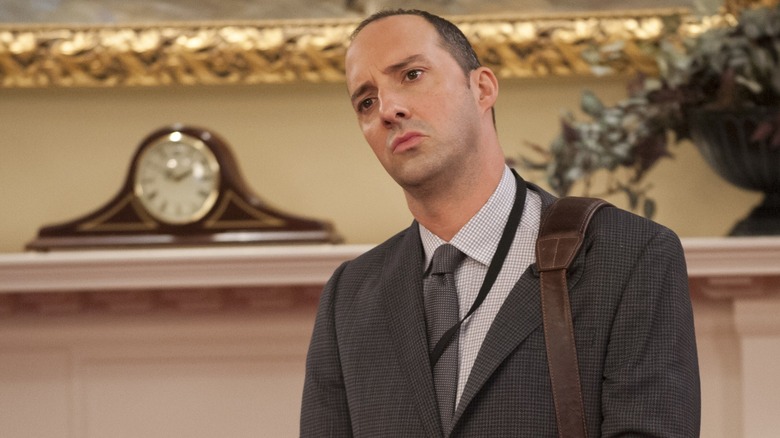 HBO
We all know "The Sopranos" was one of the best shows in history, but we don't talk enough about how it also had some of the best cameos in TV history. Many of the great ones involved famous figures playing themselves, like when Christopher (Michael Imperioli) pitches a project to Sir Ben Kingsley or when Frank Sinatra Jr. and David Lee Roth attend poker games alongside Tony (James Gandolfini). But there were also some noteworthy cameos from actors who hadn't made it big yet when they appeared on David Chase's crime opus, including a pre-"Arrested Development" Tony Hale.
At this point, Hale has had a varied and lengthy comedy career, appearing in shows like the hilarious political satire "Veep" and "Harley Quinn," and films like "Stranger Than Fiction" and "Hocus Pocus 2." The actor is best known, though, for his turn as Buster Bluth on the cult favorite sitcom "Arrested Development." The one-handed mama's boy who likes to pretend his stuffed animals are his awards "from Army" is one of the most uproarious parts of Mitchell Hurwitz's show, and Hale is unforgettable in the role. But two years before the world met Buster Bluth, the actor appeared in a blink-and-you'll-miss-it role on "The Sopranos."
Hale appears in the season three episode "Second Opinion." This is a great episode overall: it's the one where a therapist tells Carmela (Edie Falco) to leave Tony, and also, memorably, the one where Tony complains that he wants orange juice with "some pulp." But mostly, the episode is about Uncle Junior's (Dominic Chianese) cancer diagnosis and treatment, and Hale appears as a character credited as R.N. Collins. It was one of the actor's first roles, and he told SiriusXM's "Pop Culture Spotlight With Jessica Shaw" that it was memorable for a nerve-wracking reason (via IndieWire).
Hale played Uncle Junior's chemo nurse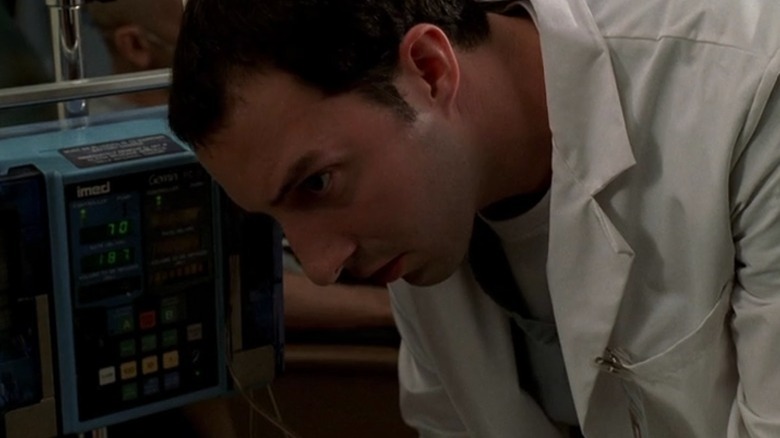 HBO
"I'll never forget on 'The Sopranos' — because of my anxiety, my nerves will manifest itself in my hands; my hands will start shaking," Hale explained. "And I was a nurse oncologist to Uncle Junior, and I'll never forget my hands were violently shaking about to put a tube into his arm." Hale appears in two scenes in total. In the first, he puts the tube in, then says the line, "If you concentrate on your breathing, it'll be easier all around." Uncle Junior, as you can imagine, is being a pain all the while. Later, though, Junior's doctor asserts that nurse Collins is a "top guy" who will take good care of him, setting the old mobster at ease by appealing to his sense of entitlement.
It sounds like Hale was already a fan of "The Sopranos" by that point, as he also pointed out the surreality of the moment. "Can you imagine Uncle Junior, 'Who's this guy giving me chemo treatments and his hands are violently shaking against my skin?'" Hale said on the radio show. Luckily, that wasn't the case. "By the grace of God, my hands calmed down and I kept it together," Hale shared. You can't really see Hale's hands shake in the final version of the scene, but they're not the steadiest either, and he glides out of frame as quickly as possible once the job is done. R.N. Collins, we hardly knew you!