How Ryan Coogler (And Chadwick Boseman) Helped Get Rihanna To Record A Song For Black Panther: Wakanda Forever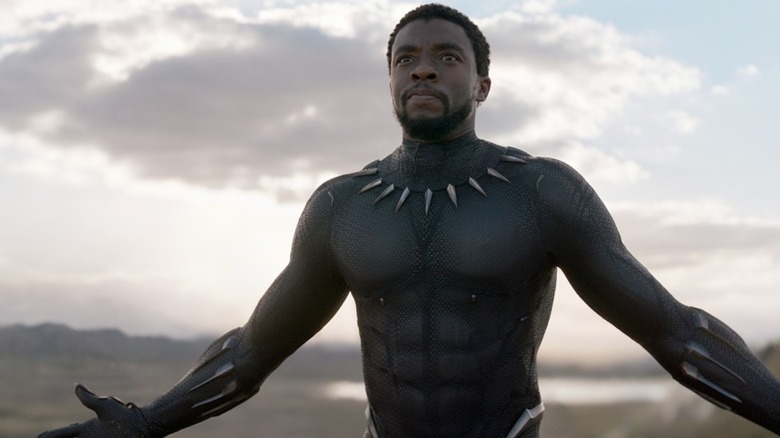 Marvel Studios
By all accounts, "Black Panther: Wakanda Forever" exists as a tribute to Chadwick Boseman. Pretty much everyone involved with the film, from writer-director Ryan Coogler to star Letitia Wright, has expressed their feeling that they on some level made the movie for the late, great actor who embodied the hero in 2018. That feeling, apparently, continues through to the film's soundtrack, which will feature the first new music from Rihanna since 2017. One song, "Lift Me Up," has already debuted, and it's a sweet, emotional ballad infused with care.
/Film's Bill Bria attended a virtual press conference with Coogler, and the filmmaker spoke about how Rihanna returned from seeming retirement for the "Black Panther: Wakanda Forever" soundtrack. It's a story that features several big-name stars, music made across three continents, and, at its heart, love for Boseman and his legacy.
An Oscar-winning musician helped out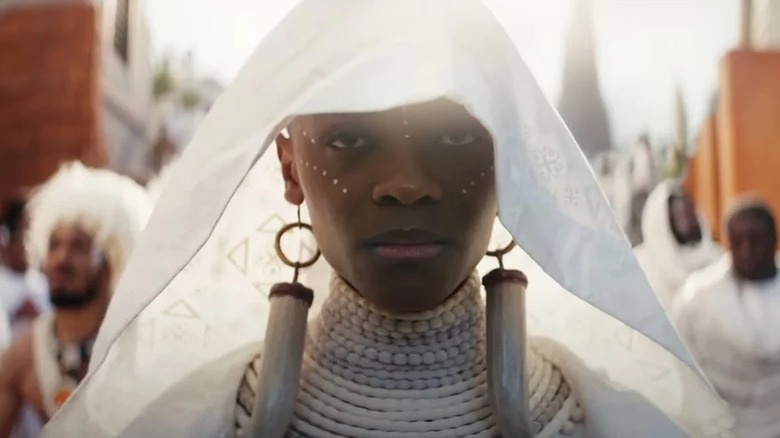 Marvel Studios
When asked about getting Rihanna on board, Coogler says he can't take credit for it, but instead points to the always-excellent composer Ludwig Goransson as a key player when it came to getting in touch with Rihanna. "We've got an incredible composer, Ludwig Goransson, who's also a music producer, who's got a great reputation," Coogler said. Goransson won an Oscar for his "Black Panther" score and an Emmy for "The Mandalorian" score, but he's also worked with musicians like Childish Gambino, crafting the music for "This is America" and the rapper's earlier works like "Heartbeat" and "Sober."
Coogler calls Goransson a "major factor" in the collaboration with Rihanna, but also thanks both Roc Nation's Jake Brown and Jay-Z, who he says is "a friend and helped make the connection." As for asking the superstar to get back into music? Well, it sounds like he knew it was a long shot. Coogler shared:
"Look, Rihanna has given us a whole career, a whole catalog of music. And now she's given us makeup and clothing. I think the world would understand if she hung up her mic. I would really understand, because I feel like she's given all that you could ask for. But the truth is, we were looking for a great artist who could tell the story of the film, embrace the themes of the film, and present them to the audience in a different packaging."
'I did this for Chad'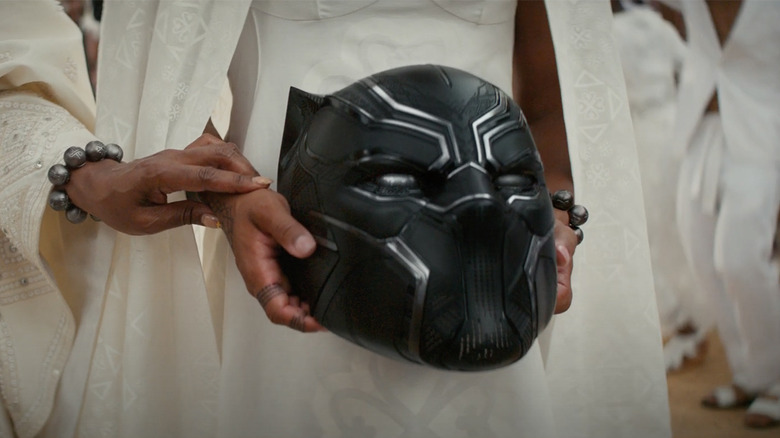 Marvel Studios
The filmmaker went on to explain that motherhood is a major theme in "Black Panther: Wakanda Forever," so "it made sense that it would be someone who could speak to, not necessarily the words, but the feeling of motherhood." In the end, though, it was apparently a matter of timing. Coogler says Rihanna didn't officially get on board until she witnessed the first trailer for the film, which dropped at Comic-Con this year. "When she saw the performances that everybody was putting down in the trailer, that was what kind of put her over the edge, like, 'Hey, I want to see this film. I want to see if I can figure this out.'"
As for the songwriting and recording process, Coogler says several people helped make it happen: Nigerian singer-songwriter Tems wrote the words with Coogler, while Goransson provided the music, which he says "was made on like three continents." But it's no surprise that when the moment finally came for Rihanna to share the final product, the artist had just one person in mind. "It came together in a lot of different ways, and I was super happy with it and feel super thankful," Coogler says. "But the truth is, once she played us the record, she said straight-up, 'I did this for Chad.' So it was him, man."
"Black Panther: Wakanda Forever" debuts in theaters on November 11, 2022.