Daniel Radcliffe Was More Excited To Work With Sandra Bullock Than Harry Potter's Award-Winning British Actors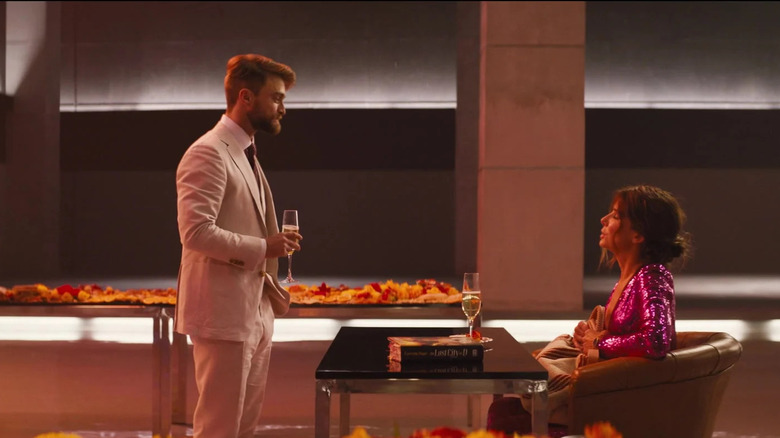 Paramount Pictures
The "Harry Potter" films featured a who's who of great British actors. Being the closest thing the United Kingdom has had to a Marvel Cinematic Universe, it makes sense that it attracted talented performers of all sorts from the other side of the pond. Greats like Maggie Smith, Richard Harris, and Alan Rickman (who was not having a ton of fun while he was there) brought their huge talents to the wizarding world.
For a young actor like Daniel Radcliffe, finding himself surrounded by multiple masters of the craft, it had to have been a surreal experience to work with so many legends. But according to Radcliffe himself in a GQ interview, the actor he was most starstruck to work with wasn't involved in the "Harry Potter" franchise at all. There nothing was more thrilling than working with Sandra Bullock on "The Lost City."
"Honestly, getting to work with [Bullock] was such a thrill. I grew up on the 'Potter' films, obviously, working with Maggie Smith and Richard Harris, but I didn't have, like, an inherent knowledge of who those people were. I hadn't watched, you know, 'A Man Called Horse' with Richard Harris when I was a kid, so I didn't know the significance. But I did very much grow up watching Sandra Bullock in stuff. So yeah, to get to work with her was incredibly cool."
It makes sense that such a young man may not fully appreciate the opportunity to work with such veteran actors as Harris and Smith, but his consistent enthusiasm about working with Bullock is extremely endearing.
Amazing to work with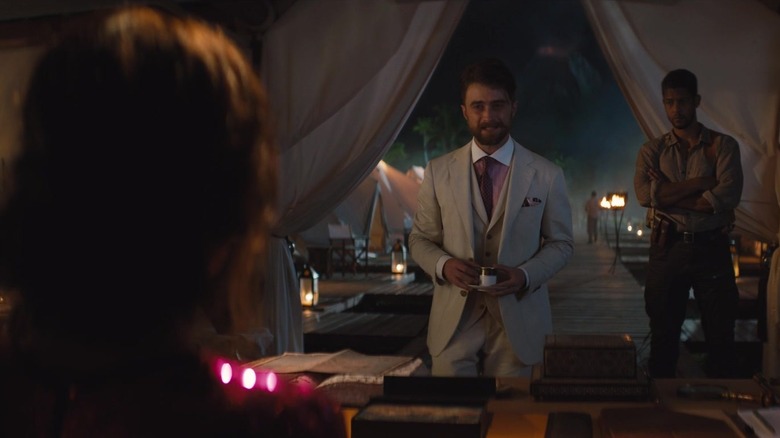 Paramount Pictures
In "The Lost City," Radcliffe plays the unfortunately named villain, Abigail Fairfax, an eccentric billionaire who faces off with the film's protagonists, played by Bullock and Channing Tatum, in the search for the Lost City's treasures. It's a silly role, but one that Radcliffe relishes and puts his all into.
Radcliffe already has a reputation as being a super nice guy, but the way he speaks glowingly about his time working with Sandra Bullock is putting him on a new plane of sweetheart-dom. In an interview with Sharp Magazine, Radcliffe speaks about how impressed he was with Bullock:
"There was nothing surprising to me about the fact that Sandra is an amazing actor in general and amazing actor to work with. I was like, 'Yeah, of course. This is why you've been brilliant for so long.' And the stuff that really did surprise me was as a producer because a lot of actors take vanity credit as a producer, but I cannot emphasize enough how much that is not the case with Sandra. They made this movie happen. Sandra was getting pulled out of the water from doing stunt scenes, and she was getting pulled out of the ocean and getting onto the boat and scheduling marketing meetings and stuff [on the side]. I was like, 'Oh, wow, you're really doing this!' I didn't necessarily expect that but it was very cool to see."
As a fantastic actor in his own right, Radcliffe will surely get many more opportunities to work with some of his childhood heroes. But based on how he speaks about her, it'll be hard for any of them to top Sandra Bullock.