Matthew McConaughey Kicked Off His Acting Career By Improvising A Classic Dazed And Confused Line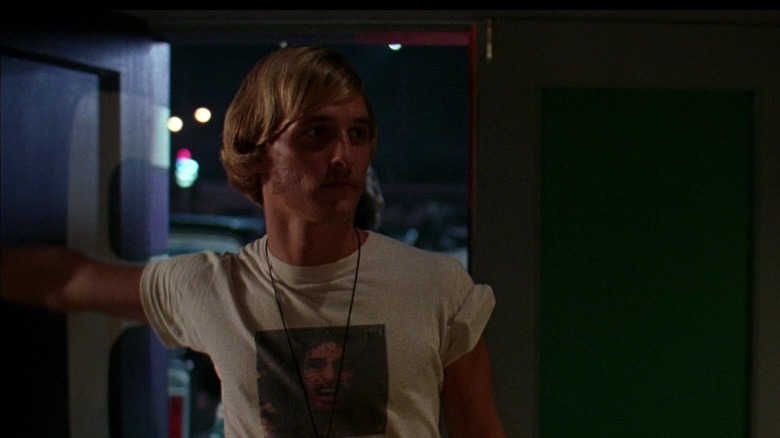 Gramercy Pictures
Matthew McConaughey's career has gone through some rather distinct stages. There were his early days in the '90s when he took on serious parts in films like "Contact" and "Amistad," which got his name out there in Hollywood. Then, in the 2000s, he was mostly associated with romantic comedies like "How to Lose a Guy in 10 Days" and "Failure to Launch," changing his image to more of a handsome leading man type. Fearing that his streak of rom coms was leading to him being typecast, McConaughey took a hiatus from acting from 2009 to 2011, returning once again to more serious dramatic roles in movies like "Magic Mike" and "The Lincoln Lawyer" before he hit acting gold, winning a Best Actor Oscar for his performance in "Dallas Buyer's Club" in 2013.
The shift of focus was dubbed "The McConaissance," and McConaughey's standing as a legitimate and desirable actor in Hollywood soared once again. But to this day, some remember him not for his serious performances or his rom-com tenure, but for his very first major film role, that of Wooderson in "Dazed and Confused." 
A 20-something loser who mainly associates with high schoolers, Wooderson acts as both dark comic relief and a sort of warning of a potential future for the film's teenage protagonists. McConaughey manages to strike a good balance of absolutely creepy and charming despite himself, delivering disgusting lines about his preference for high school girls with the sort of empty coolness of a real-life predator. 
"Dazed and Confused" is a classic in its own right, possessing both a sharp wit and a killer soundtrack, but according to a recent Independent piece, McConaughey's most iconic line of the movie was something he ad-libbed while filming. 
Three out of four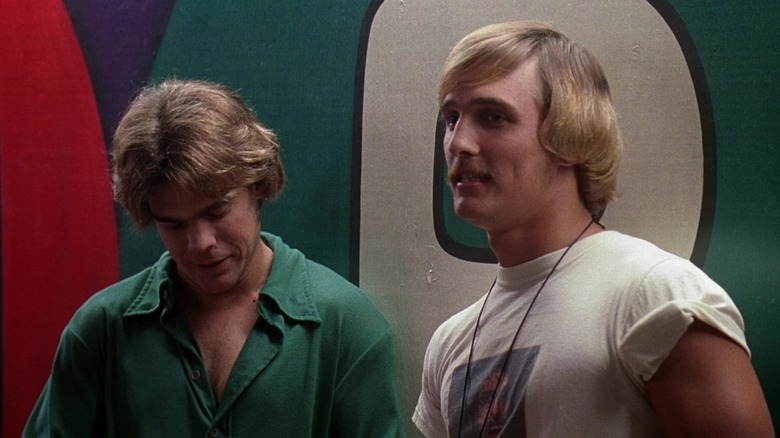 Gramercy Films
The story of McConaughey even being cast for "Dazed and Confused" lines up amusingly with his quaint and laid-back public persona. The story, as originally told in an oral history of the film by Texas Monthly, tells of McConaughey meeting one of the film's producers by chance in a bar. The two men drank and bonded, and the night ended with a slightly drunken offer to have McConaughey read for the part of Wooderson. The rest is history.
Despite McConaughey getting the part through a combination of charm and luck, he was a bit of an unknown at the time, even as he played one of the oldest characters in a film full of high schoolers. In his McConaughey way, though, he managed to leave his mark on the movie by improvising one of its best lines.
McConaughey's thought process in uttering the trio of alrights was explained in the Independent piece:
"So I'm thinking, 'Who is Wooderson? Who is my man? You know, what's he about?' And I tell myself, 'Wooderson's about four things: he's about cars, weed, rock 'n' roll, and chicks.' I look around, where I am, well I'm in my 70's [sic] Chevelle. That's one. I've got Slater riding shotgun, so I'm definitely getting high, that's two. And we've got Ted Nugent playing Stranglehold on the eight-track, well that's three. At this point I hear over the intercom, 'Action!' And I look up across the drive-through at this red headed intellectual and I say to myself, 'Buddy, you got three out of four. Alright, alright, alright!'"
This simple train of thought birthed a line that will continue to be repeated at McConaughey until he dies, and that's a bit terrifying.