Smile Producers Turning Horror Novel Clown In A Cornfield Into A Movie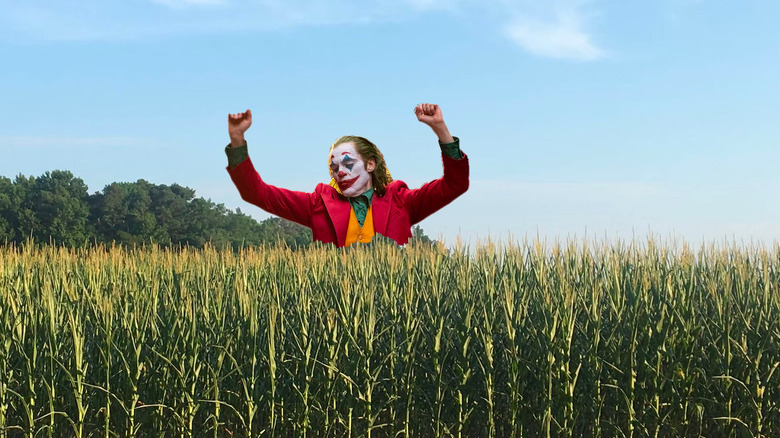 Unsplash/Warner Bros.
The producers behind 2022's horror hit "Smile" are wasting no time in lining up their next project. And this one has a creepy clown in it! Plus, it is coming from the same director who gave us "Tucker and Dale vs. Evil." The project in question? An adaptation of author Adam Cesare's novel "Clown in a Cornfield." It's early stages, but the pieces on the board are promising.
According to Deadline, Eli Craig has been tapped to direct the film, which is a joint venture between Protagonist and Temple Hill. Carter Blanchard, an uncredited writer on "Independence Day: Resurgence," has been tapped to pen the screenplay. "We love Eli Craig's brand of scary fun and are thrilled to be working with him on this terrifying slasher adaptation that is both timely and timeless," said Temple Hill producers in a statement. Protagonist CEO Dave Bishop, meanwhile, had this to add:
"Nostalgia driven, elevated horrors that deliver on the promise of the genre – thrilling action, heart-stopping suspense and deeply satisfying endings – continue to dominate at the global box-office. Our friends at Temple Hill are masters of taking this critical formula and creating wholly original stories that surprise, delight and gratify audiences and Eli is the perfect visionary to bring this special project to its full potential."
Marty Bowen and Wyck Godfrey, who produced "Smile," are on board to produce here as well. Petersen Harris, George Berman, and John Fischer are overseeing the project on behalf of the studio. No word yet on casting or just how soon cameras will get rolling.
A possible franchise in the making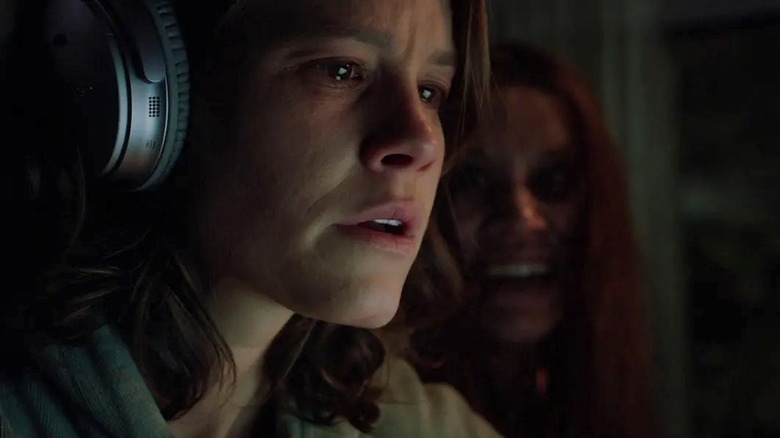 Paramount Pictures
The deal makes a lot of sense. In the wake of "It" and "It: Chapter Two," not to mention the recent surprise success of "Terrifier 2," creepy clowns are all the rage. Plus, "Smile" has grossed nearly $200 million at the box office up to this point. From a business perspective, it's all there. So, what exactly can we expect? A synopsis for the book reads as follows:
Quinn Maybrook and her father have moved to tiny, boring Kettle Springs, to find a fresh start. But what they don't know is that ever since the Baypen Corn Syrup Factory shut down, Kettle Springs has cracked in half. On one side are the adults, who are desperate to make Kettle Springs great again, and on the other are the kids, who want to have fun, make prank videos, and get out of Kettle Springs as quick as they can. Kettle Springs is caught in a battle between old and new, tradition and progress. It's a fight that looks like it will destroy the town. Until Frendo, the Baypen mascot, a creepy clown in a pork-pie hat, goes homicidal and decides that the only way for Kettle Springs to grow back is to cull the rotten crop of kids who live there now.
The key thing here is that this has franchise potential written all over it. Not only are the filmmakers coming off of a big success, but the novel already has a pretty wonderfully titled sequel in the form of "Clown in a Cornfield 2: Frendo Lives." Not only that, but Cesare is already said to be working on a third entry in the series. So, if the first movie works, there is plenty of source material to mine for sequels.
"Clown in a Cornfield" does not currently have a release date set.