Alfred Molina Had To Drown Out The Noise Around His Spider-Man 2 Casting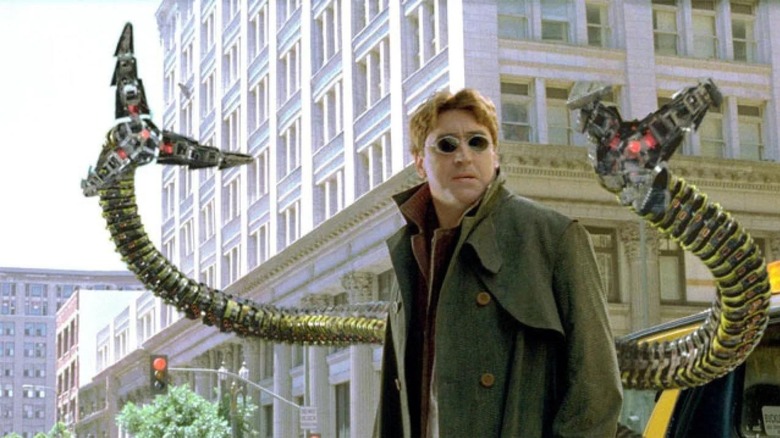 Sony Pictures
Alfred Molina might be best known for his work in the "Spider-Man" franchise as the tentacled terror Doc Ock, but the actor has had a career spanning over 40 years. Molina's acting credits include a range of complicated characters, from antiheroes to larger-than-life painters and comic book supervillains. The actor has an extensive stage career, and performed in productions of "Fiddler on the Roof" and "Oklahoma!" among others, but his film work has always been fascinating. Throughout his career, Molina has made exciting choices to hone his talent with a range of characters that have earned him a legion of fans. 
The actor had an established career before being cast as Doctor Otto Octavius in Sam Raimi's "Spider-Man" sequel, and fans had much to say about his casting. Even seasoned actors like Molina are curious about what fans think of them navigating specific projects ... but what the actor did not know, however, is that he too could get affected by internet trolls.
Curiosity killed the cat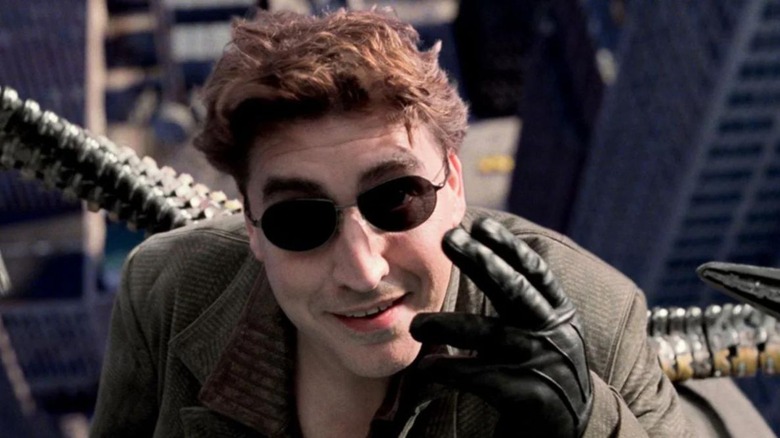 Sony Pictures
In a 2004 interview with The Irish Times, Molina shared how he had once been brave enough to check fan reactions to his "Spider-Man 2" casting. Doc Ock was a major Spider-Man antagonist in the comics and the hero's secondary foe throughout his comic-book run. It was a huge deal to play a comic supervillain — "Spider-Man 2" was Molina's foray into mainstream entertainment, so naturally, he was curious about what people had to say about his new venture.
It turns out internet trolls have existed for as long as the internet has. Molina noted that while some fans were surprised that Sam Raimi had chosen an actor with a considerable background in theatre to play a villain, some typecasted him, noting his former roles, and went as far as calling him "useless." 
'I never looked again'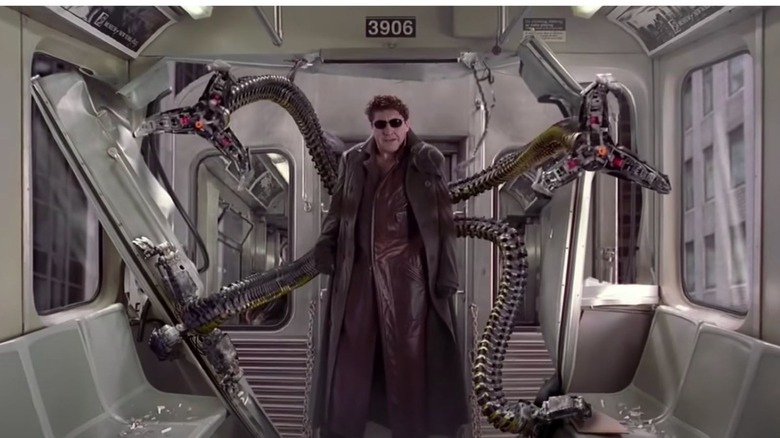 Sony Pictures
Here's the full quote from Molina's interview:
"I went to superhero.com or whatever and the first message that I read said 'Oh, I saw Alfred Molina in this film and that film and I think he is a really interesting choice. Once again Sam Raimi has gone for somebody with a theatre background to play the villain.' Which I thought was an interesting thing to say. And then I read the second one: 'Who the fu*k is Alfred Molina? I've never heard of him.' And then the third one was 'Wasn't he that big fat guy who was in Frida? He's going to be useless.' I never looked again."
It's not an exaggeration to say that Molina's haters are eating their words ... the actor's terrific performance in the "Spider-Man" sequel has solidified him as Spider-Man's most complex cinematic villain across multiple reboots. His performance has stood the test of time, and when the actor reprised his role nearly 20 years later in the MCU's "Spider-Man: No Way Home," it was as if no time had passed. Even if certain viewers had doubts about his casting before the release of "Spider-Man 2," it's impossible for their perceptions to have not changed. Molina injected humanity in a character that was driven by ambition and evil, and his redemption arc 20 years later was well worth the wait. More of Doctor Otto Octavius, please.