The Calling Trailer: Barry Levinson's Psychological Crime Thriller Pushes A Detective To The Brink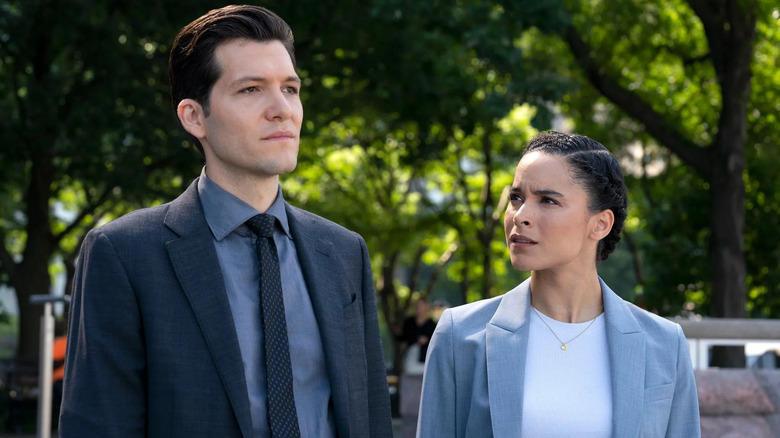 Peacock
"Bad Banks," "Unorthodox," and "Keep Breathing" star Jeff Wilbusch is trying his hand at the crime thriller, starring as hopeful NYPD detective Avraham "Avi" Avraham in David E. Kelley and Barry Levinson's new crime drama for Peacock, "The Calling." Originally announced under the title "The Missing," the new series is an adaptation of Israeli crime writer Dror A. Mishani's international bestselling novel "The Missing File" about an investigator whose deeply-held Jewish faith and belief in humanity are questioned when he is tasked with a harrowing missing person case of a woman's teenage son.
The series is written by prolific TV writer David E. Kelley ("Big Little Lies," "Lincoln Lawyer," "Nine Perfect Strangers") who also serves as showrunner, with Academy Award-winning filmmaker Barry Levinson directing. The creative team rounds out an impressive hat trick with legendary composer Hans Zimmer serving as co-composer alongside frequent collaborator Steve Mazzaro. Upon the show's official trailer release, Kelley released the following statement, which was obtained by Collider:
"Dror Mishani wrote a riveting and emotionally complicated series of books, the center of which is Avraham. Avi is a deeply mysterious, spiritual and compelling detective unlike any protagonist I've encountered before. Jeff Wilbusch brings him to rich and hypnotic life in front of the camera, and behind the camera Barry Levinson is ... Barry Levinson. What a privilege to have him at the helm. Add Hans Zimmer to the mix, and the final product is something we hope thrills, moves, and instills a bit of hope in the audience."
Watch the trailer for The Calling
Joining Avi is his new partner Janine Harris (Juliana Canfield of "Succession" fame) who gets more than she bargained for when trying to learn how the decorated detective has such a high success rate. In addition to Wilbusch and Harris, the cast of "The Calling" features a bevy of phenomenal character actors, including Karen Robinson, Noel Fisher, Michael Mosley, Tony Curran, Stephanie Szostak, Steven Pasquale, Christopher Mann, Annabelle Dexter-Jones, and Constance Zimmer.
Mishani wrote multiple books as the series' source material, so it would not be surprising if "The Calling" ends up returning for another limited series based on another book. The most recent novel in the series, "Conviction," was translated into English earlier this summer following its Israeli publication this spring. Given the prominence of crime dramas, it'd be easy to write off "The Calling" as just another cop thriller. But given the monumental star power at the creative helm and groundbreaking material from Mishani, "The Calling" will likely be a contender come awards season next year.
You can stream the entirety of "The Calling" when it debuts on Peacock on November 10, 2022.