Director Damien Leone Regrets How Terrifier Treated One Of Its Central Characters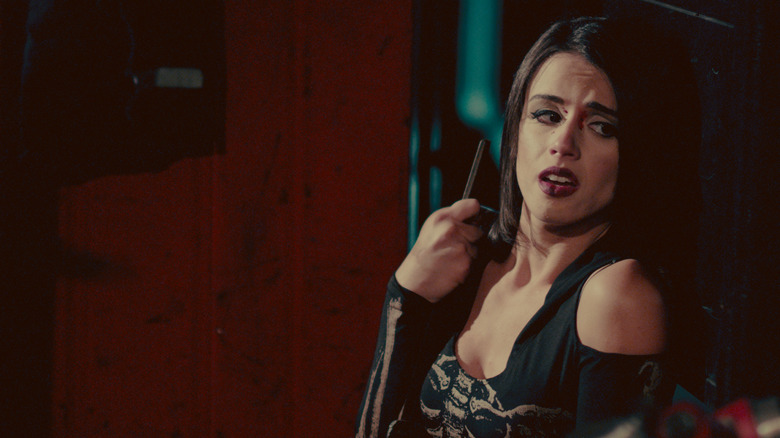 RLJE Films
With "Terrifier 2" tearing up the box office as of late, many horror fans may want to go back and check out the outlandish makeup effects featured in Damien Leone's original "Terrifier" film. Before Art the Clown had become a popular Halloween tattoo and a neo-slasher icon, he was just a lowly hitchhiker on the side of a New Jersey highway waiting to pick out his first victims. One of those victims in "Terrifer" was Victoria Heyes (Samantha Scaffidi), the sister of Tara Heyes (Jenna Kanell) who winds up completely deformed by the end of the film. In retrospect, Victoria gets off light seeing as how another character named Dawn suffers a gruesome death at the hands of Art the Clown. (Imagine if that scene in S. Craig Zahler's "Bone Tomahawk" was done by a clown, and you'll start to get a very disturbing visual.) 
The fate that Victoria experiences is too graphic for even the most desensitized gorehounds, and Leone has expressed remorse in the past that her character is most remembered for that drawn out, torturous scene. Discussing the making of "Terrifier" with Dread Central back in 2018, Leone said, "My biggest regret is I wish I would have fleshed out Samantha Scaffidi's character more, who was the sister, Victoria, the second heroine in the movie who gets deformed in the end." 
Leone was performing double duty as director and doing the special effects, so he was burning the candle at both ends. Scaffidi's character suffered as a result. Leone admitted "It's tough to direct and do the special effects because that definitely takes a toll and both of those jobs get sacrificed to a degree."
'I was just on autopilot'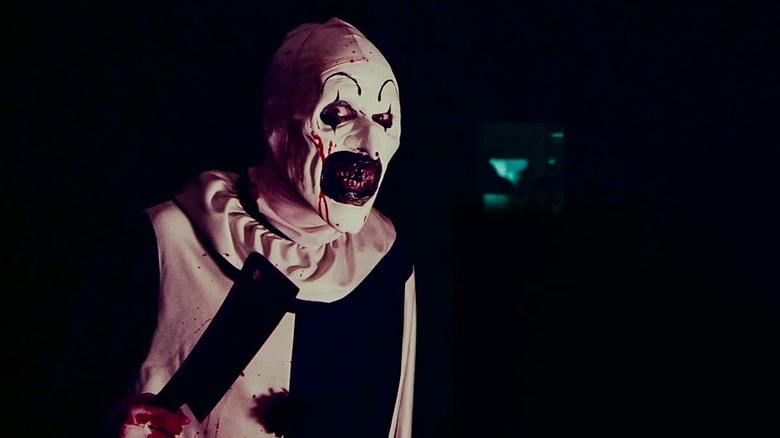 RLJE Films
The effects sequences are really what set this series apart from slasher films of the past. Getting those scenes to a place where they could truly shock an audience took a great deal of time to execute. David Howard Thornton's mime-inspired performance as Art the Clown adds some humor and physicality to the series that helps to balance out the extreme gore, and even his makeup effects took hours to complete. Leone realized it was too much work, telling Dread Central:
"I would rather hire a great makeup crew to do all the effects and I could just focus 100% on directing. For Art the Clown, we had to make him up probably 19 times throughout the course of the movie. It takes 2-3 hours and that's before we go into a 12-14 hour day and then I got to help him clean it off, and then by the time you go home and go to sleep you've got to come back, it's insane. Half of the time I was just on autopilot making that movie."
For "Terrifier 2" Damien Leone still wanted to outsource some of the effects until another company he had hired left the production altogether. He and his small crew were left to do all of the effects once again. In the sequel, Leone did have a second chance to develop Samantha Scaffidi's character when Victoria returns in a mid-credits scene. Instead, in a sick twist of fate, she gives birth to the head of Art the Clown in a graphic moment that almost rivals an earlier kill. Maybe Victoria will finally get fleshed out a bit more in "Terrifier 3," which will probably be announced any day now.