Sausage Party Is Returning As A Prime Video Series Called Foodtopia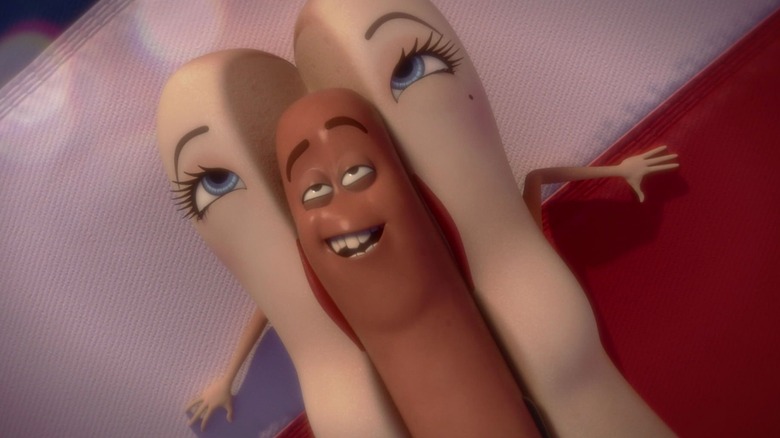 Sony Pictures Releasing
Hold on to your buns, because "Sausage Party" is back! Prime Video has announced an order for a new animated series called "Sausage Party: Foodtopia," based on the feature of the same name featuring anthropomorphic foodstuffs in a grocery store with foul mouths, big dreams, and sex drives rivaling a teenager discovering internet tube sites for the first time. We called the film "raunchy, raw, and one of the most outrageous, funniest movies of the year," in our review back in 2016, and we definitely weren't alone. Not only was "Sausage Party" the first 3D computer-animated film to be rated R by the Motion Picture Association of America, but it became the highest-grossing R-rated animated film until it was surpassed by "Demon Slayer: Mugen Train" in 2020. The film was so extreme, it had to be heavily edited to avoid an NC-17 rating, which only added to the film's mystique.
"The original 'Sausage Party' was an incredibly hilarious, outrageous, one-of-a-kind entry into the world of animation," said Vernon Sanders, head of global television at Amazon Studios. "We are thrilled to collaborate again with Seth [Rogen], Evan [Goldberg], and their team at Point Grey, as well as our partners at Annapurna Television and Sony Pictures Television, to offer a new look into this world that will be brought to life so vividly for our global Prime Video customers."
The talking wieners haven't been eaten yet, with original film cast members Seth Rogen, Kristen Wiig, Michael Cera, David Krumholtz, and Edward Norton all returning. Noticeably absent is Salma Hayek, who voiced the Mexican lesbian taco Teresa del Taco, but funny folks Will Forte, Sam Richardson, Natasha Rothwell, and Yassir Lester have all been slated to join the team.
JELLY! I'm gonna fix you, I'm gonna fix this!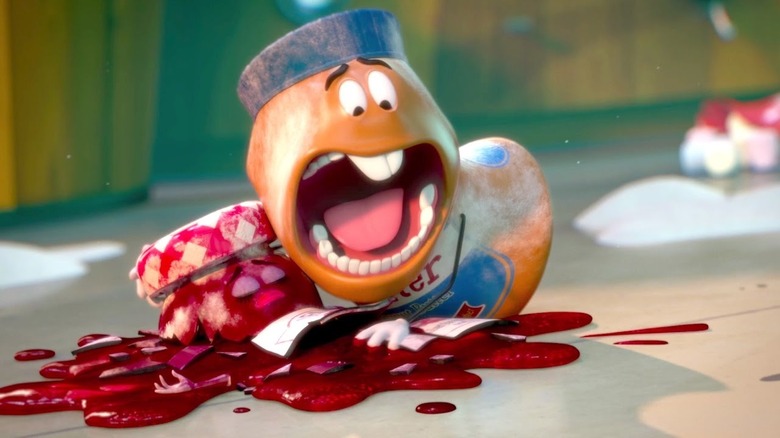 Sony Pictures Releasing
"Film used to be the superior art form to television, and we humbly reached the pinnacle of what can be achieved with film in our remarkable opus, 'Sausage Party,' but now that film is completely dead and TV is the forever-king of entertainment, we've decided to continue the epic adventures of our culinary crew in the soon-to-be-legendary televised masterpiece 'Sausage Party: Foodtopia,'" said Seth Rogen and Evan Goldberg in a statement. "It's got all the heart, double the puns, and triple the food-on-food sex." The duo continued by clarifying, "In other words, it's exactly what the world needs right now." I assume you read that with tongue planted firmly in cheek, but just in case, please remember these are quotes from comedians.
Plot details are currently "under wrappers," but it's safe to assume it'll be another raucous time with naughty nourishment and hilarious hot dogs. "Sausage Party: Foodtopia" is being executive produced by the film's original co-writers Ariel Shaffir and Kyle Hunter, who will also serve as showrunners. Rogen, Goldberg, James Weaver, and Alex McAtee will executive produce via Point Grey Pictures. Animation great Conrad Vernon, who co-directed the feature, is coming back as the supervising director for the series and will also executive produce alongside Annapurna Television's Megan Ellison and Patrick Chu, and Andrew Millstein.
"Sausage Party: Foodtopia" is currently in production and will premiere exclusively on Prime Video in 2024.