Steven Spielberg's Version Of ¡Three Amigos! Would Have Brought Together Bill Murray And Robin Williams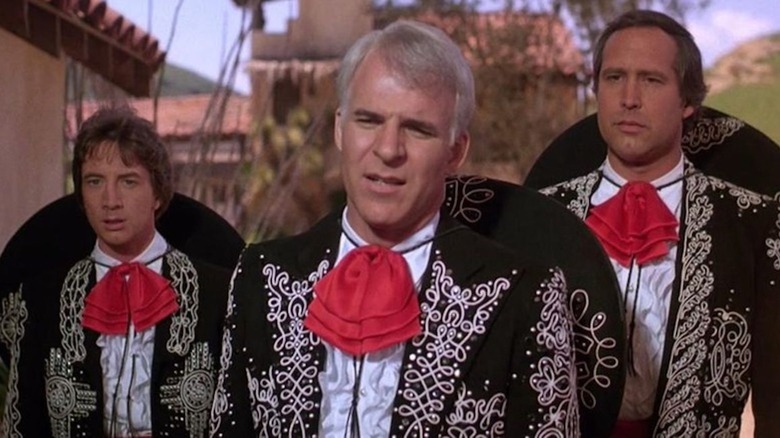 Orion
In the late 1970s and early 1980s, any movie that featured a Not Ready for Prime Time Player from the first five seasons of "Saturday Night Live" was a big deal. The show was an intoxicating mix of counterculture humor and hip comedic irreverence, and viewers were eager to see its stars break free from the watchful eye of network censors. John Belushi in "National Lampoon's Animal House," Bill Murray in "Meatballs," Belushi and Dan Aykroyd in "The Blues Brothers..." people showed up to these films primed to laugh, and, for the most part, they delivered.
This phenomenon coincided with the last days of the New Hollywood revolution powered by the likes of Francis Ford Coppola, Martin Scorsese, and Steven Spielberg. While most of these directors weren't interested in the raucous brand of comedy favored by the "SNL" gang, Spielberg wanted in on the fun. So after making two industry-altering blockbusters in "Jaws" and "Close Encounters of the Third Kind," he dove head-first into an anarchic World War II comedy called "1941" featuring Belushi, Aykroyd and a just-getting-warmed-up John Candy. Though the film was a commercial success, it fell far short of Spielberg's previous smashes. It was also savaged by critics for being a loud, unfunny send-up of American war paranoia.
It was the first major misstep of Spielberg's career, forcing him to recalibrate and get back to crowd-pleasing basics with "Raiders of the Lost Ark." However, had it connected with audiences as palpably as his previous two films, he might've been emboldened to follow it up with Steve Martin's passion project "¡Three Amigos!"
Spielberg dismounts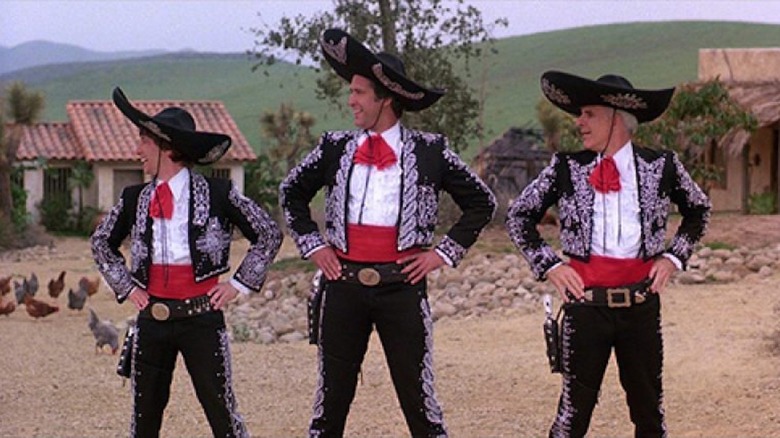 Orion
According to Nick de Semlyen's immensely enjoyable "Wild and Crazy Guys," Martin wanted to craft a relentlessly silly Western that goofed on the '30s and '40s Singing Cowboy films of Gene Autry. He viewed it as a "Mexican-Western fiesta musical with a million gags." Martin had become a comedy superstar thanks in large part to his hosting gigs on "SNL," and was a hot Hollywood commodity thanks to 1979's "The Jerk." For a brief moment, the stars aligned. Martin was going to hit the trail alongside Murray and Robin Williams, with Spielberg directing.
De Semlyen's book is short on details, but this iteration of "¡Three Amigos!" probably fell apart because Spielberg was reticent to make another comedy so soon after the critical disaster of "1941." Also, he had "E.T., the Extra-Terrestrial" on the front burner.
This false start worked out well for everyone. Martin wound up overhauling the "¡Three Amigos!" screenplay with Lorne Michaels and Randy Newman; Murray made "Stripes;" and "E.T." cemented Spielberg's place in the firmament of great American filmmakers. Only Williams missed out. He wouldn't score his first bonafide box office hit until 1987's "Good Morning, Vietnam."
The biggest loss here is that Spielberg still hasn't made a proper Western, and doesn't have one in active development. It'd be a shame if Spielberg never got around to leaving his stamp on the quintessential American genre — even if it is a singing cowboy movie.