How Fred Savage Helped Shape It's Always Sunny In Philadelphia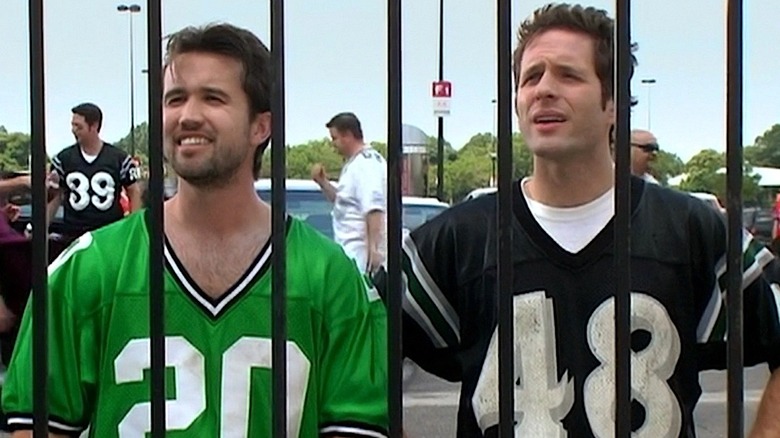 FXX/Hulu
It seems as though into every television watching generation, a series about a close-knit group of deranged friends with little regard for the world at large is born. In the 1990s, it was "Seinfeld." In the 2000s, it was "It's Always Sunny in Philadelphia." While "Seinfeld" closed up shop after nine seasons, amazingly, "It's Always Sunny" is a show that just keeps chugging along despite its incredibly humble origins (which include the original pilot being shot for a measly $200), to the point where it has, remarkably, become TV's longest-running sitcom.
And while the core cast of Rob McElhenney, Glenn Howerton, Charlie Day, and Kaitlin Olson carried the show through its first season, it wasn't until a seasoned sitcom legend came on board that things really started to take shape. And no, we're not talking about Frank Reynolds himself, Danny DeVito. While DeVito's casting in season 2 proved crucial to the series carrying on, it was another star from a much more wholesome sitcom background who really helped turn the show into the often vile, always hilarious mainstay it's become: Fred Savage, who went on to produce and direct a number of episodes over the course of its ongoing run.
In recent months, Savage has found himself in some hot water. He was terminated from his "Wonder Years" reboot after being accused of inappropriate conduct — allegations that, if prove true, only further distance the actor from his much-loved role of Kevin Arnold.
Fred goes from family friendly to filthy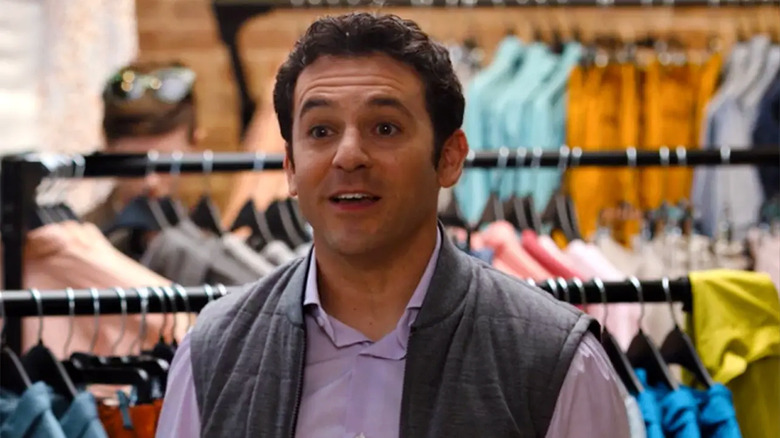 Netflix
If you're a child of the late 1980s or early 1990s, Fred Savage probably isn't the first person you'd think of for depraved comedy. The actor made his name as a young child star with adorable looks and an aw shucks quality that always made you root for him, whether he was the grandson gradually getting into the idea of Buttercup and Westley kissing in "The Princess Bride," or the kid being tormented by his older brother Wayne in "The Wonder Years."
While Kevin Arnold may not have been the most obvious choice to become involved in ribald comedy, Savage was drawn to it because of how it enabled him to break free from that wholesome image he had cultivated as a child. In his own words, it enabled him to indulge in "[my] selfishness and my arrogance and hubris and ego and all of those things that you're not supposed to exercise in public."
Savage credits McElhenney, in particular, for providing him the avenue to indulge in his more wicked side. 
"I don't know how I ended up on that show. I was a huge fan of it, they were meeting directors, and I think it was because [McElhenney] could ask me questions about 'The Wonder Years.'"
The early seasons — in large part due to budget constraints but also because it was essentially a ragtag group of friends trying to figure out how to create a TV series — were more than a little rough around the edges. Enter Savage, a seasoned industry veteran who brought his expertise to the show beginning in season 3.
The Always Sunny gang gets Savage in season 3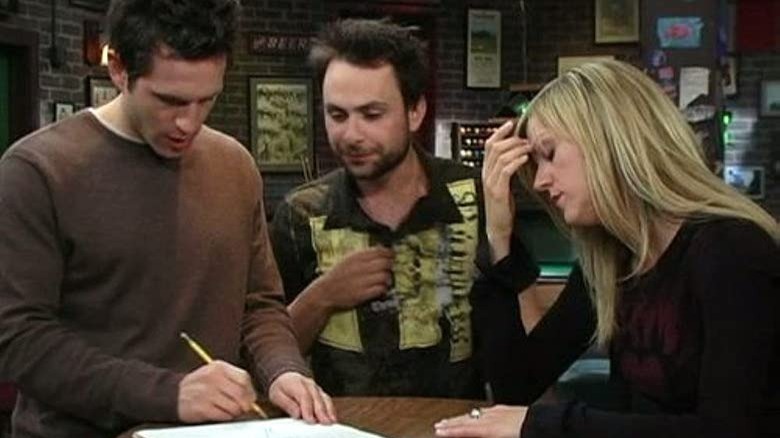 FXX/Hulu
Savage, who also boasts directing credits on shows like "Modern Family" and "Party Down," got his first shot at directing "It's Always Sunny" with a football-centered episode called "The Gang Gets Invincible," which was the second episode of season 3. He went on to direct 18 episodes, including some of the show's more legendary outings — like "Dennis Reynolds: An Erotic Life" and "The Aluminum Monster vs. Fatty McGoo."
The show's stars, including Day, have often spoken about how naturally Savage fit into the production and immediately got a feel for the show and its sensibilities.
"[When] Fred came in, there's something about his personality ... He felt like one of our peers and understood our comedy and the show we were trying to make. At the time, you couldn't say 'It's Always Sunny' is like this or that; it was pretty much its own thing. It felt like he found the same things amusing and had the right energy to be captain of the ship."
Savage directed his last episode of "It's Always Sunny," titled "A Very Sunny Christmas," back in season 5. But during his time working on the show, he certainly put his stamp on things. While the series had always relied on handheld cameras, looking back there's a clear demarcation between those first couple seasons and what the show would later become. Savage's expertise both behind and, perhaps more importantly, in front of the camera helped aid the young cast (who, as if anyone needs reminding, are also the show's creators) turn "It's Always Sunny" from what could have easily been confused with a student film to a quality sitcom with serious staying power.