The Best TV Shows And Movies Coming To HBO Max In November 2022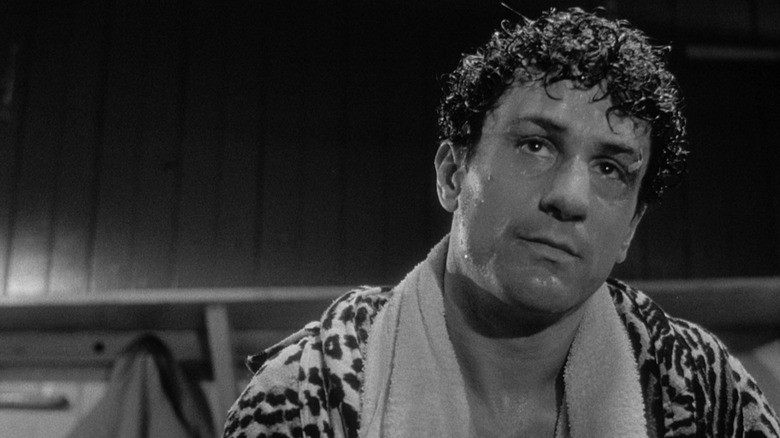 United Artists
It's well and truly fall now: there's a breeze in the air, pumpkins are all around, and within a matter of weeks, it'll be time to turn the clocks back. But before that comes another ritual, one that in this era of endless streaming options has become a monthly event for many film buffs among us. That's right, it's time to figure out what's streaming in November.
The endless switcheroo of titles available on Hulu, Netflix, Disney+, and more is always a bit of a hassle, but it gets easier when you realize that some streamers pretty much always have a huge catalogue of great options no matter what. In my opinion, HBO Max has some of the strongest programming on streaming right now (despite their recent, upsetting attempts to cull some titles), and I'm not just talking about massively popular shows like "House of the Dragon" and "Euphoria." The streamer has a pretty tremendous back catalog of films, from new favorites to international offerings to stone-cold classics.
Today, though, we're keeping it simple, spotlighting just five great films that are coming to the streamer in November 2022. Scroll even further down for the full list of everything arriving on the streamer soon.
(500) Days of Summer (2009)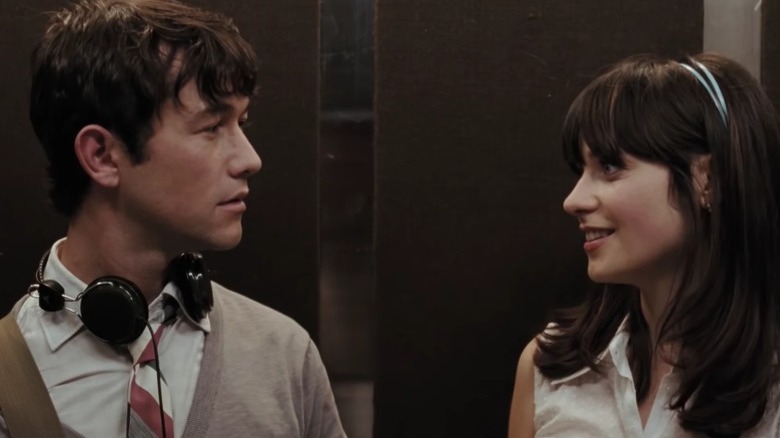 Fox Searchlight Pictures
Non-linear storytelling was all the rage in the 2000s, so it was only a matter of time until the formula that made shows like "Lost" thrilling was translated into the romance genre. When it finally happened, it was with Marc Webb's "(500) Days of Summer," a movie that's often equated with the quirky rom-com trend of the decade, but one that contains surprisingly deep wells of emotion.
The movie follows Tom (Joseph Gordon-Levitt), a Chicago architect who becomes enamored with his coworker Summer (Zooey Deschanel). Across 500 days, their romance – and ensuing breakup, and aftermath – unfolds, only we see it in jumbled order for maximum comedic and emotional impact. "(500) Days of Summer" is the kind of film that feels a little different every time you return to it. Sometimes, I feel the movie slighted Summer, giving her a less fully realized perspective than Tom. Other times, I love it for what it's trying to be: a funny, creative, subjective, and surprisingly heartbreaking movie about love with an expiration date.
Fruitvale Station (2013)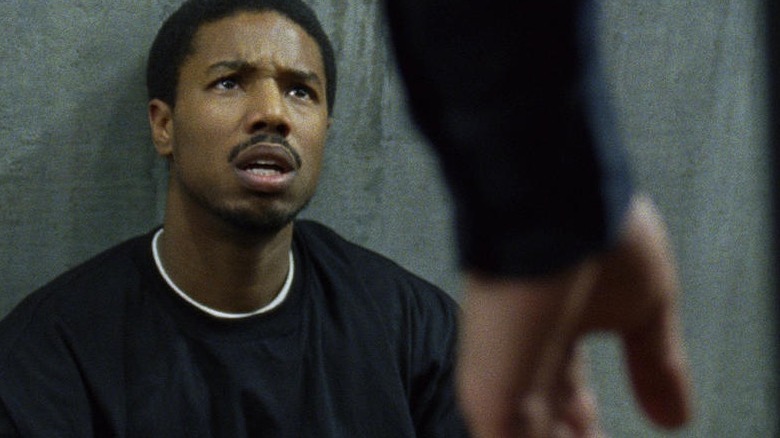 The Weinstein Company
Before "Creed" and "Black Panther" made Ryan Coogler one of the most well-known filmmakers working today, he made his directorial debut with "Fruitvale Station." The 2013 film paints a portrait of the last day in the life of Oscar Grant, the 22-year-old Black man who was shot by BART police in Oakland on New Year's Day 2009. Michael B. Jordan plays Oscar, who the film shows as a friendly, loving, imperfect young man who had a hell of a lot to live for when his life was cut short. Octavia Spencer plays his mother, while Melonie Diaz is his girlfriend and the mother of his child.
Released in theaters the same month the Black Lives Matter movement gained its name, "Fruitvale Station" is a raw and emotional drama and an artistic achievement all around. It clearly serves a moral purpose, to humanize the person behind the headline, and it does so beautifully thanks to Coogler's script and direction and a trio of powerhouse performances. Coogler also ensures that, no matter how tough the ending of this film is to watch, it's also a story full of vibrancy, joy, and moments of profound humanity.
Ingrid Goes West (2017)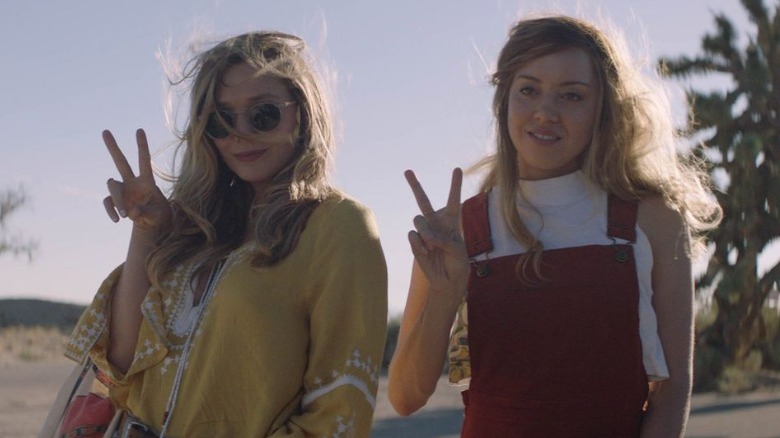 NEON
If you haven't checked out one of the best entries into the Aubrey Plaza-goes-absolutely-wild microgenre yet, now's your chance. "Ingrid Goes West" is a delightfully deranged dark comedy about influencer culture, the fabric of friendship, and the endless wheel of fortune that is the social media life cycle. Plaza plays Ingrid, an unstable woman who befriends — and stalks — an influencer named Taylor (Elizabeth Olsen) after kidnapping her dog and returning it back to her under the guise of having found it.
There have already been plenty of psychological thrillers and dark comedies about the Instagram era, but few address the specific problems, desires, and compulsions of the social media age with as much bite and nuance as "Ingrid Goes West." It also helps that Plaza is excellent as a woman whose fake-perfect persona hides several layers of intensity and emotion, while Olsen matches her with a simmering intensity and even more perfect persona of her own. With an ever-escalating plot and a final scene that perfectly punctuates its no-holds-barred observations about the digital world, "Ingrid Goes West" is a surprising and smart dark comedy that's well worth a watch.
Little Woods (2018)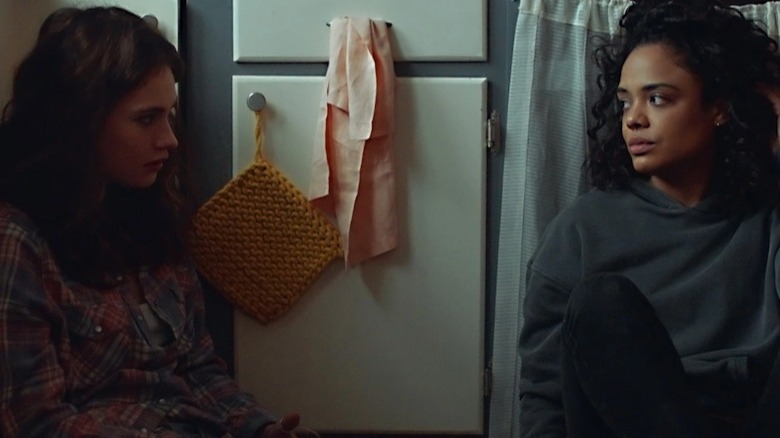 NEON
Two filmmakers on this list followed up their films here with superhero flicks, but in the case of "Little Woods" director Nia DaCosta, she made the much-buzzed-about "Candyman" soon after her first film, "Little Woods," hit theaters. While that movie is a stylish horror flick with expansive ideas about race and class, this one is a small film in a lot of ways – but it's still got a lot on its mind.
"Little Woods" is an intense indie drama that stars Tessa Thompson and Lily James as two sisters whose already-unstable lives are thrown into further chaos when James' character, Deb, discovers she's pregnant. Meanwhile, Ollie (Thompson) is about to finish her probation. Both women hustle to make ends meet in the economically depressed North Dakota town where they live. Surviving in a world ravaged by the opioid epidemic, housing crisis, and more, the two sisters make their way across a dangerous landscape in this searingly powerful indie film about what the "American Dream" actually looks like for some people.
Raging Bull (1980)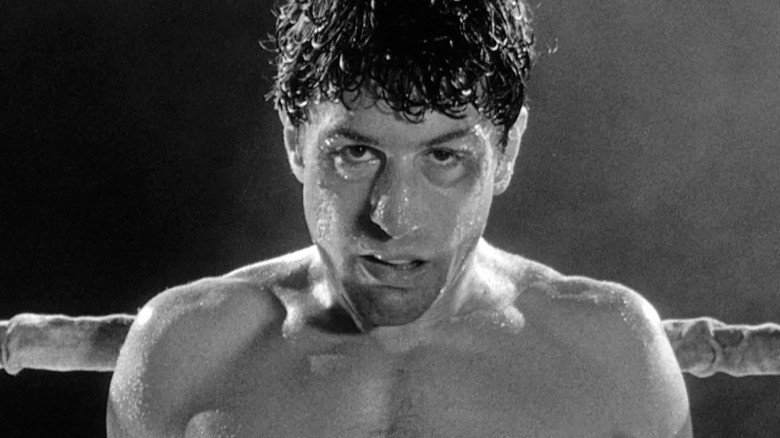 United Artists
When it comes to catching up on the classics, HBO Max has one of the best streaming catalogs around. This month, it adds a major one in "Raging Bull," the masterful boxing drama directed by Martin Scorsese with a screenplay co-written by Paul Schrader and "Mean Streets" scribe Mardik Martin. The movie puts an artistic spin on the true story of Jake LaMotta, an incredibly violent boxer with a toxic marriage and tumultuous life, all directly related to his own anger issues.
Scorsese directs Robert De Niro in one of his best performances, the kind of on-screen turn that you can tell the actor put his real blood, sweat, and tears into. Jake is a hateful figure, and the film doesn't portray his life as a tragedy so much as a hell of his own making. Shot in stark black and white that somehow highlights its purposeful brutality instead of tamping it down, this may not be Scorsese's best film, but it's certainly one of his most striking and relentless.
Movies and Shows Coming To HBO Max in November 2022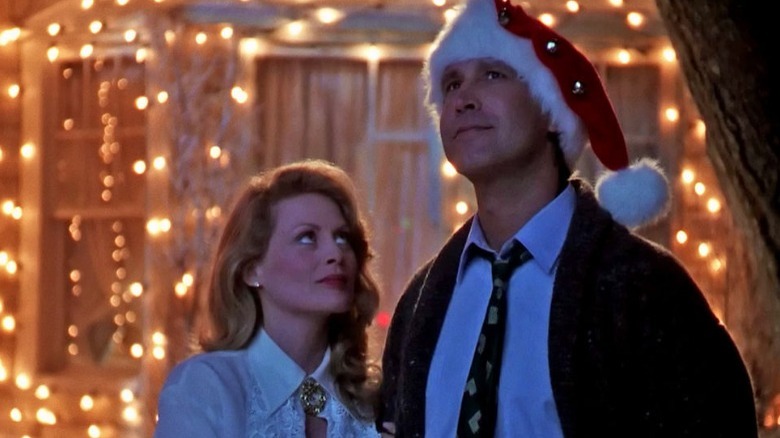 Warner Bros.
November 1
!Three Amigos!, 1986 (HBO)
(500) Days of Summer, 2009 (HBO)
50 First Dates, 2004
Accepted, 2006 (HBO)
Amazing Grace, 2006 (HBO)
American Boy: A Profile of Steven Prince, 1978
Arthur Christmas, 2011
The Automat, 2021
The B-Side: Elsa Dorfman's Portrait Photography (HBO)
The Big Shave, 1967
The Bucket List, 2007
Caddyshack, 1980
A Christmas Dream, 1984
City Hall, 1996 (HBO)
Devil's Due, 2014 (HBO)
Draft Day, 2014 (HBO)
Equals, 2015 (HBO)
Excess Baggage, 1997 (HBO)
From Dusk Till Dawn 2: Texas Blood Money, 1999 (HBO)
From Dusk Till Dawn 3: Hangman's Daughter, 1999 (HBO)
A Guy Thing, 2003 (HBO)
Harry Potter and the Chamber of Secrets, 2002
Harry Potter and the Deathly Hallows: Part 1, 2010
Harry Potter and the Deathly Hallows: Part 2, 2011
Harry Potter and the Goblet of Fire, 2005
Harry Potter and the Half-Blood Prince, 2009
Harry Potter and the Order of the Phoenix, 2007
Harry Potter and the Prisoner of Azkaban, 2004
Harry Potter and the Sorcerer's Stone, 2001
Harry Potter and The Sorcerer's Stone: Magical Movie Mode, 2001
Ingrid Goes West, 2017 (HBO)
It's Not Just You, Murray!, 1974
Italianamerican, 1974
Leatherface, 2017 (HBO)
Legion, 2020 (HBO)
Little Woods, 2018 (HBO)
Lizzie, 2018 (HBO)
Loser, 2000 (HBO)
The Man With Two Brains, 1983 (HBO)
A Midsummer Night's Sex Comedy, 1982 (HBO)
A Million Ways to Die in the West, 2014 (Extended Version), (HBO)
Miss Sloane, 2016 (HBO)
Morris From America, 2016 (HBO)
Mr. Mom, 1983 (HBO)
Murder In The First, 1995 (HBO)
My Beautiful Laundrette, 1985 (HBO)
National Lampoon's Christmas Vacation, 1989
The Next Karate Kid, 1994
Never Goin' Back, 2018 (HBO)
Neighbors, 2014 (HBO)
Pieces of April, 2003 (HBO)
A Prayer Before Dawn, 2017 (HBO)
Prom Night, 2008
Race, 2016 (HBO)
Raging Bull, 1980 (HBO)
Richard III, 1995 (HBO)
Se7en, 1995
See How They Run, 2022 (HBO)
Shutter, 2008 (Extended Version), (HBO)
Slice, 2018 (HBO)
Star Trek Generations, 1994 (Director's Cut), (HBO)
Star Trek II The Wrath Of Khan, 1982 (HBO)
Star Trek III The Search For Spock, 1984 (HBO)
Star Trek IV The Voyage Home, 1986 (HBO)
Star Trek The Motion Picture, 1979 (Director's Cut), (HBO)
Star Trek V The Final Frontier, 1989 (HBO)
Star Trek VI: The Undiscovered Country, 1991 (Director's Cut), (HBO)
Star Trek: First Contact, 1996 (HBO)
Star Trek: Insurrection, 1998 (HBO)
Star Trek: Nemesis, 2002 (HBO)
Stargate, 1994 (Director's Cut), (HBO)
Time Freak, 2018 (HBO)
What's a Nice Girl Like You Doing in a Place Like This?, 1992
While We're Young, 2014 (HBO)
Yentl, 1983 (HBO)
November 3
Chris Redd: Why Am I Like This?, Max Original Premiere
Low Country: The Murdaugh Dynasty, Max Original Premiere
My Sesame Street Friends, Max Original Season 3 Premiere
Sesame Street, Season 53 Premiere
Titans, Max Original Season 4
November 4
Magnolia Table with Joanna Gaines, Season 7
November 5
Bugs Bunny Builders, Season 1B
November 8
Batwheels Season 1C
Craig of the Creek, Season 4D
Say Hey, Willie Mays!, 2022 (HBO)
November 9
All Rise, Season 3A
Hard Knocks: In Season: The Arizona Cardinals (HBO)
November 10
HBO First Look: The Menu (HBO)
The Big Brunch, Max Original Season 1 Premiere
The Critic (El Crítico), Max Original Premiere
November 11
The Craftsman, Season 2
Entre Nos: The Winners 3
For the Love of Kitchens, Season 2
Fruitvale Station, 2013
Ian Lara: Romantic Comedy (HBO)
November 13
Hazlo Como Hombre, 2017
Luna's World (aka No Mundo Da Luna), Max Original Season 1 Premiere
November 16
Entourage, 2015 (HBO)
Master of Light (HBO Documentary)
November 17
A Christmas Story Christmas, 2022
Muxes, Max Original Premiere
Paradise (Paraíso), Max Original Season 2 Premiere
Santa Camp, Max Original Premiere
The Sex Lives of College Girls, Max Original Season 2 Premiere
November 18
Camilo: El Primer Tour De Mi Vida (HBO)
Food Affair with Mark Wiens., Max Original Premiere
November 19
2022 Rock & Roll Hall of Fame Induction Ceremony (HBO)
November 20
King Tweety, 2022
November 21
Ben Is Back
November 23
Shaq (HBO)
November 24
A Christmas Mystery, 2022
Holiday Harmony, 2022
Love, Lizzo, Max Original Premiere
November 25
We're Here, Season 3 Premiere (HBO)
November 29
My So-Called High School Rank (HBO Original Documentary)
Piano Y Mujer 2