Why Ice Cube Wanted First-Time Directors Working On The Friday Franchise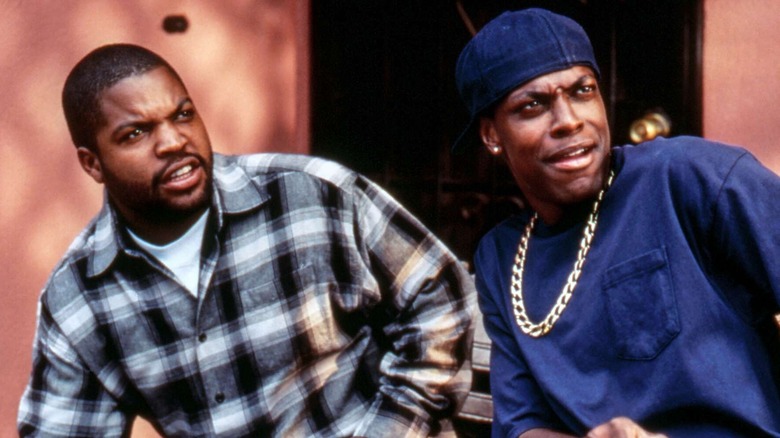 Warner Bros.
Most fans of the original comedy classic "Friday" and its subsequent sequels might assume that star Ice Cube actually stepped behind the camera to direct one, if not all, of the entries in his beloved neighborhood stoner trilogy. But in fact, he didn't direct a single installment in the franchise. Ice Cube did try his hand at directing in the late '90s with "Players Club," a story about a single mother who turns to the underworld of exotic dance to make ends meet. (Set in LA, "Players Club" would probably be a fun double feature with the Starz stripper series "P-Valley" that our own BJ Colangelo promises is the best show you're not watching right now. But anyway.)
Aside from an ESPN episode of "30 for 30" about the Oakland Raiders' move to Los Angles in 1982, "Players Club" is the only directing credit for Cube, who prefers to share the limelight with other directors. This is especially true with the "Friday" series where the rap mogul liked hiring first-time directors. Telling SPLICEDwire in an interview conducted right when "Friday After Next" was being released, Cube admitted new directors "need a little help, but there's no egos at the door, and we still keep the spirit of the movies." Another reason for the iconic lyricist to back away from directing himself may be because he just doesn't want to be tied down to one project. The man has a lot going on, and has become a producing powerhouse over the years.
You only get one shot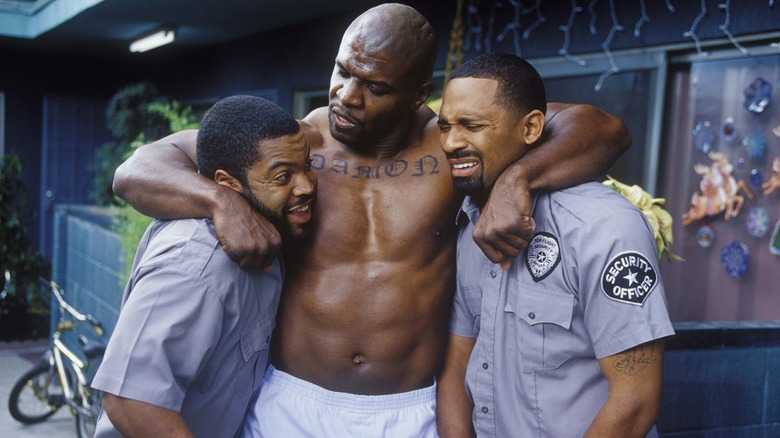 Warner Bros.
Director F. Gary Gray (who helmed one of the best "Fast and the Furious" films) first connected with Ice Cube on the music video for "Today Was a Good Day," which is probably considered to be the performer's most famous song. (After a lot of in-depth investigating by a hardcore fan, the actual day Cube was talking about was revealed to be January 20th, 1992, by the way). F. Gary Gray's first feature was "Friday" and he went on to have an incredible career directing films like "The Italian Job" and "Straight Outta Compton." Gray is also still attached to a new M.A.S.K. movie based on the '80s toyline (yes, please). Steve Carr ("Daddy Day Care") helmed the sequel "Next Friday" and Marcos Roboy, another music video director, was behind the camera for the Christmas set "Friday After Next." 
Ice Cube really just had one edict for the "Friday" films and that was to just keep them light-hearted and fun. Telling SPLICED, "They're all upbeat type of things, and I don't want nobody coming in with their own way of doing things, you know? I want people to come in and join our team — collaborate on making it a good movie." He also admitted that it's just too much of a time commitment for him to direct his own "Friday" movie. "I like having a director, because I don't wanna be working on this thing for a year and a half. I've done two or three projects since we finished, and our director is still on this! I didn't want to be tied down to it." Cube was speaking about director Marcos Roboy's hard work on "Friday After Next." Seriously, that is a loooong time to be thinking about a "Friday" movie.
Should Ice Cube direct the fourth Friday film?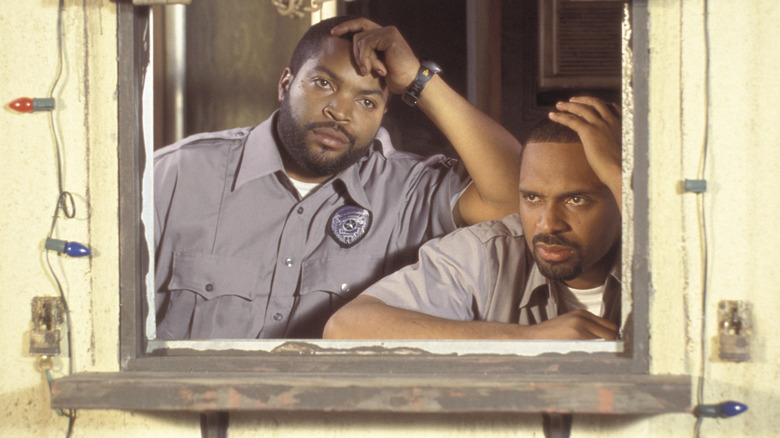 Warner Bros.
Would Ice Cube ever want to take on directing duties? He's become a mega-successful producer, but one wonders if he could be talked into taking a seat in the director's chair? That could potentially be a selling point for Warner Bros. who have reportedly been reluctant to revisit the franchise. /Film has reported in the past that there has continued to be a great deal of tension between Ice Cube and the executives over at Warner Bros. Chris Tucker isn't interested in portraying a stoner on screen anymore for religious reasons, but maybe we'll see him in "Rush Hour 4" sometime in the next decade. 
Mike Epps, who played Day-Day in "Next" and "After Next," is certainly down to do another one that originally revolved around Craig and Day-Day going to jail for selling weed. Ice Cube just appeared on the "Drink Champs" podcast during L.L. Cool J's Rock The Bells festival (I highly recommend attending) and said Warner Bros. rejected that idea, but then suspiciously "had all these movies about going to jail." The multi-hyphenate performer revealed that "the other script was about the youngsters in the hood having beef with the OGs, and Craig has to come back and squash that. Smokey's [Chris Tucker's] son is the new Deebo [Tommy Lister Jr.], and he's wilding." 
Maybe Ice Cube could sweeten the deal by directing the tentatively titled "Last Friday" himself or maybe even original director F. Gary Gray could make a triumphant return. Even with the tragic losses of actors John Witherspoon (Craig's Dad), "Tiny" Lister Jr (Deebo), and A.J. Johnson, a "Last Friday" could be great. Maybe the right director is all they need.