The White Lotus Season 2 Stars Tease An Even More Shocking Story Than Season 1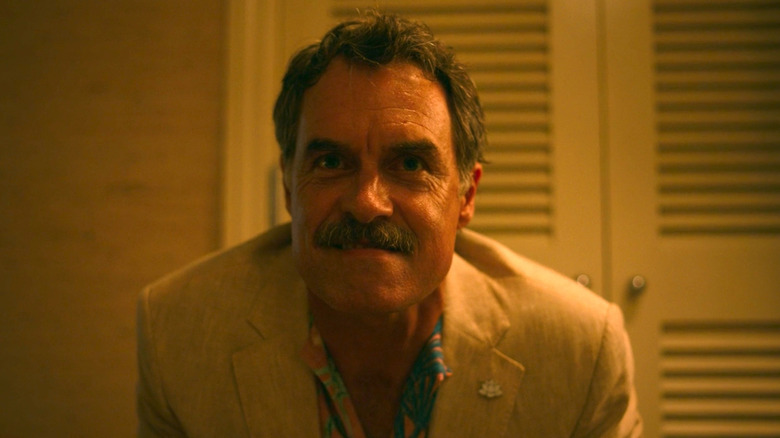 HBO
Pack your bags, folks — the time has finally come for another stay at "The White Lotus." Just make sure to line those suitcases with something protective because when rogue hotel managers decide to seek vengeance, they really don't hold back.
The first season of Mike White's HBO hit took viewers to an exclusive Hawaiian resort where wealthy hotel guests hoped to relax and rejuvenate in paradise. Unbeknownst to them, relaxation was never really in the cards; the first episode began by promising a week that ends in at least one death. This time around, the miniseries turned anthology will take place in Sicily, where a new group of vacationers are looking to relax at a White Lotus resort. Will their vacation also be interrupted by disaster? Absolutely! In fact, according to returning star Jon Gries, the upcoming season will be even more shocking than the first.
Speaking to The Hollywood Reporter at the Los Angeles premiere, Gries promised that this season "is going to shock people quite a bit more than the first, the last two episodes particularly." He added that "a few faces are going to be frozen in total shock."
Another jaw-dropping twist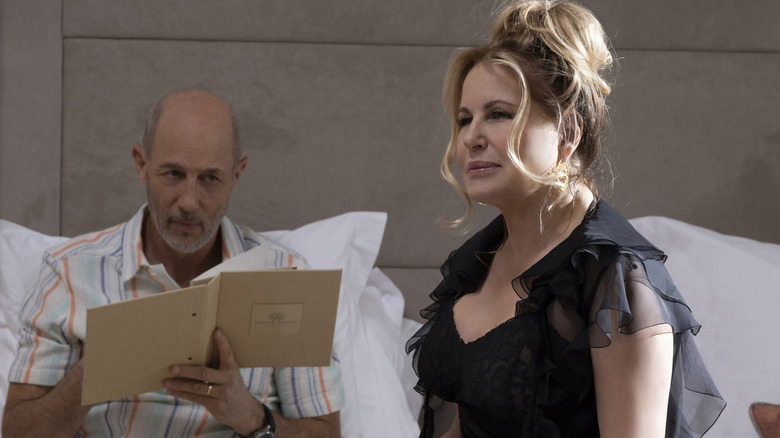 HBO
Given all that we witnessed in the "White Lotus" season 1 finale, I'd expect nothing less than my jaw hitting the floor — but the tease is still very exciting. Last time around, we were poised for a surprise: a body lay on the horizon and the series waiting until its final episode for that big revelation. But that death wasn't the episode's big kicker. That honor goes to Murray Bartlett's Armond taking a s*** in a suitcase. So is that the kind of surprise we can expect from the upcoming season? Thankfully, not quite.
"I don't know if it'll be as scatological as that," White told THR. "But I think the finale has some water cooler moments for sure."
With Murray Bartlett out of the picture, who will carry the finale shock baton? As Greg, Gries is always a possibility. He's one of two familiar faces in the upcoming season — the other being his onscreen wife, Jennifer Coolidge as disastrous entrepreneur Tanya McQuoid. Since neither of them was directly involved in last season's dramatic climax, perhaps this will be their chance! They certainly have stiff competition though. Besides Coolidge and Gries, the season largely features White Lotus newcomers who have no idea that their Italian getaway will be plagued with drama.
The cast includes Aubrey Plaza, Will Sharpe, Theo James, and Meghann Fahy, as two very different couples taking a vacation together; F. Murray Abraham, Michael Imperioli, and Adam DiMarco as three generations celebrating their Sicilian roots; Tom Hollander as an English expat; Leo Woodall as a mysterious and magnetic guest; and Federico Ferrante and Sabrina Impacciatore as the White Lotus hotel staffers who will no doubt suffer at the hands of their guests.
The White Lotus will tackle more doomed marriages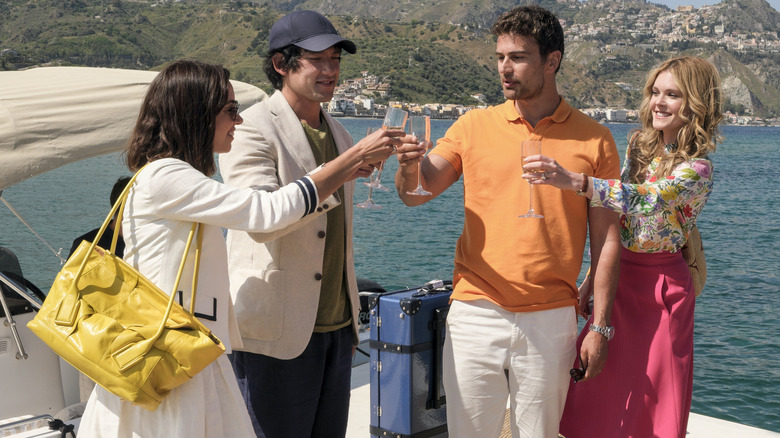 HBO
Where the first season of "The White Lotus" saw its guests and staffers confronting questions of wealth and privilege, this cast promises a season that is more about individual relationships. Gries told THR that season 2 is about "the inability of people to properly communicate." He added, "It's very subtle and slow — it's like taking a long walk with a pebble in your shoe."
In some ways, it sounds a lot like the season 1 relationship between Jake Lacy's Shane and Alexandria Daddario's Rachel, which slowly crumbled before our eyes. Theo James also hinted that the relationship drama would be at the forefront this time:
"It's about sexual politics, it's heavily about gender and gender roles. Obviously, they were peppered in but they were different themes in the first season, whereas I think this season those are the predominant themes and Mike tackles them in the way he does so well. It's funny but it's also quite hyper-political and very rich in social satire."
The relationship between the two younger couples is particularly interesting. The trailer hints that Harper (Plaza) and Ethan (Sharpe) have only recently moved up in the world. That newfound wealth is bound to change their relationship, especially with their rich friends Cameron (James) and Daphne (Fahy) making matters worst.
So what will be the end result? Will someone's suitcase be soiled? Or will the White Lotus body count get a new addition? Most likely, Mike White will find another unexpected way to get Twitter ablaze with conversation. Thankfully, we won't have to wait for very long to find out.
"The White Lotus" season 2 debuts on HBO and HBO Max on October 30, 2022.