Howard Hawks Had One Rule When It Came To Writing A John Wayne Romance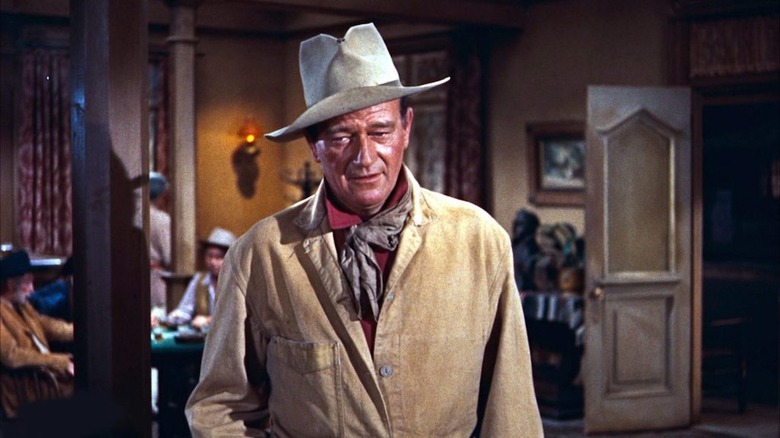 Warner Bros.
All leading men are not created equal. This is especially true when it comes to playing a love scene. Clark Gable was a man of action; when he lavished his affections on a woman, he knew they would be reciprocated. Cary Grant's approach was more playful; he used banter as foreplay, and let the woman decide when to take their sparring to the bedroom.
And then there was John Wayne. He was trickier. The Western superstar was adored primarily for his unruffled nature. He was the toughest guy in every scene, and we never truly believed his opponent could lick him or outdraw him. Romance was, at best, a secondary concern for him, but when a woman had her mind set on wooing him, he didn't exactly shoo them away. He might've been stolid, but he wasn't made entirely out of stone.
John Wayne needs a take-charge woman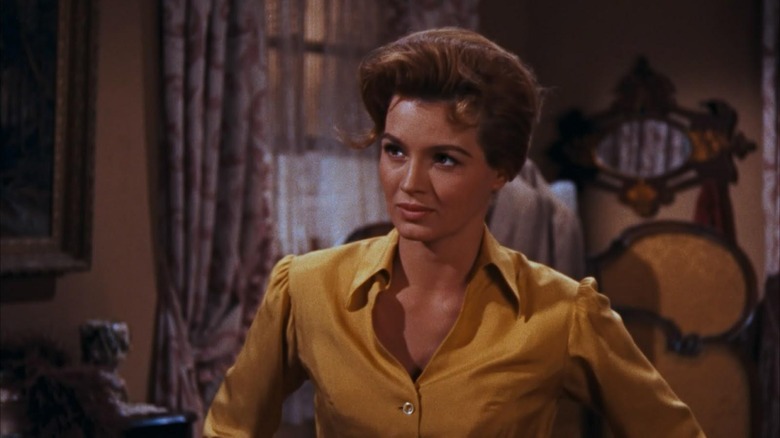 Warner Bros.
Howard Hawks, who made five movies with The Duke, understood this well, which came in handy when they shot the classic "Rio Bravo" together in 1957. As Sheriff John T. Chance, Wayne has his hands full with a collection of hired guns working for the nefarious Nathan Burdette (John Russell). He is badly outgunned. This doesn't stop Feathers (Angie Dickinson), the ex-wife of a poker cheat, from putting the moves on Chance. This wasn't unusual in a Wayne film, but Dickinson's relative inexperience posed a challenge. She was only three years into her acting career, and, at 28, was half The Duke's age.
Hawks realized this, and explained how he handled the situation in Scott Eyman's "John Wayne: The Life and Legacy."
"Dickinson's problem was that she was playing the sexual aggressor — a part she wasn't used to. 'Wayne is better when the girl is forcing the issue,' said Hawks, comparing it to the way Clark Gable forced the issue in a love scene. 'If you've got a love scene in a Wayne picture, you adjust it to his personality. He just wouldn't be effective if he were aggressive toward a woman. Partly that's because of his size. He's too big to be a Rover Boy like Gable was.'"
John Wayne was no Rover Boy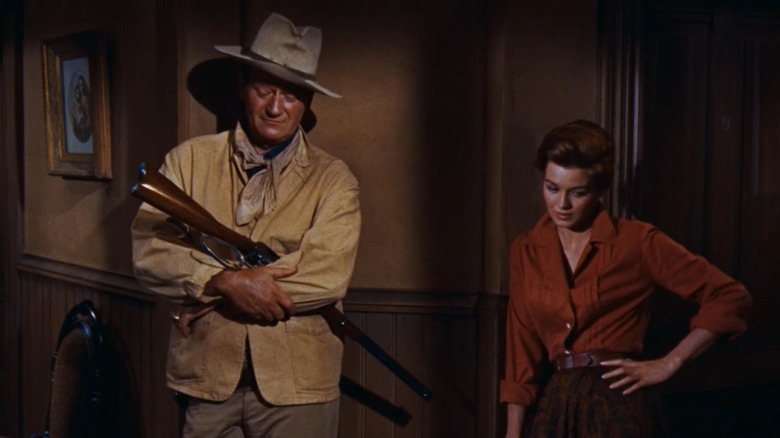 Warner Bros.
In case you're wondering, "Rover Boy" is a reference to a series of early 20th-century books that follow the exploits of four brash, adventurous brothers. They were troublemakers, the kinds of kids Wayne would like to take over his knee and spank.
In any event, Wayne played the scene as Hawks directed, and Dickinson, who had reason to worry her far more accomplished co-star would grouse about her inexperience, found Wayne to be a terrific acting partner. "Never once did he appear to be impatient," said Dickinson. "And for a star of his caliber, working with a green actress, that was remarkable. Never, not for a second, did I feel he didn't approve of what I was doing."
Indeed, Dickinson is terrific in "Rio Bravo." Her fun, flirtatious performance turned her into a movie star. Of Wayne's many leading ladies, Dickinson is one of the few who could throw him (metaphorically, as it would be difficult for a person of any stature to literally throw John Wayne, though I wouldn't put it past Maureen O'Hara). "Rio Bravo" wouldn't be one of the greatest Westerns ever made without her.