Bruce Willis Didn't Expect To Be Making Action Movies For His Entire Career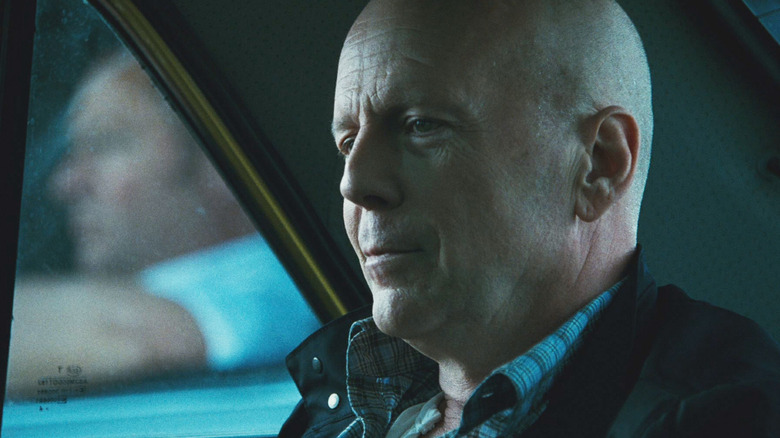 20th Century Studios
There's a cheeky little gag in 2019's "The LEGO Movie 2: The Second Part" where the Master Builder Lucy, aka Wyldstyle (Elizabeth Banks), crosses paths with the LEGO version of Bruce Willis (voiced by the real Willis) while crawling around in an air duct. "I spend a lot of time in air ducts. I definitely don't live up here. I have a home," he awkwardly assures her before crawling away.
While the joke is an obvious riff on Willis' air duct hijinks from "Die Hard," it also doubles as a wry nod to the fact he spent much of his career acting in action movies (right up until his retirement in 2022 after being diagnosed with aphasia) thanks to his star-making turn as John McClane in John McTiernan's 1988 hit. It was certainly an unexpected fate for the actor, who first made a name for himself with his screwball detective antics in Glenn Gordon Caron's popular '80s series "Moonlighting." But by that same count, it was also Willis' everyman presence and wit that set him apart from the macho, muscled-out action stars of that era, allowing him to bring something fresh to the genre.
Nobody, it would seem, was more surprised by this turn of events than Willis himself. In a 2005 interview with Pop Entertainment to promote his role in the film "Sin City," the actor admitted he never anticipated he would still be saving the day and cracking wise on-screen by that point in his life.
Willis kept honing his craft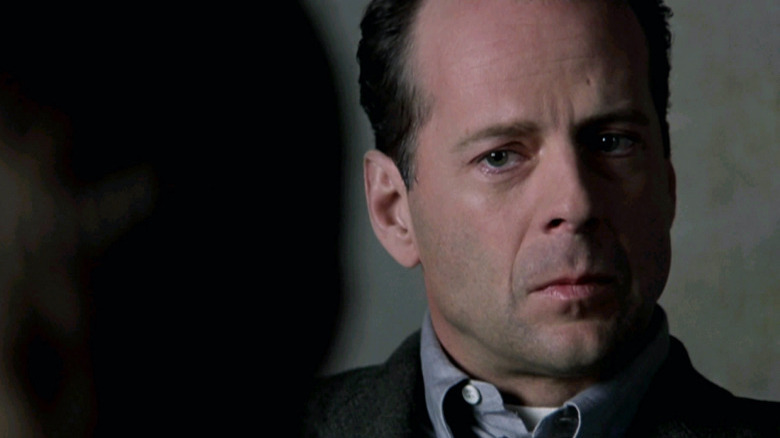 Buena Vista Pictures Distribution
After "Die Hard," Willis pivoted away from the action genre to play a traumatized Vietnam War veteran in Norman Jewison's 1989 drama "In Country," a role in which Roger Ebert said Willis was "well cast, almost disappearing into the sad, silent survivor." Yet, even as he flexed his comedy muscles in films like "Look Who's Talking" and "Death Becomes Her," Willis kept finding himself back in the action movie arena. (Starring in Brian De Palma's notorious 1990 misfire "The Bonfire of the Vanities" probably didn't help in that respect.)
By the time he turned 40 in 1995, Willis was better known for his action movies than his work in other genres. ("I always thought that by the time I was 40 I would be given better scripts and different scripts," he told Pop Entertainment.) Still, he continued to branch out after that, tackling dramatic roles in films like "12 Monkeys" and "Hart's War" on top of teaming up with M. Night Shyamalan for "The Sixth Sense" and "Unbreakable." This was also the period in which Willis delivered my personal favorite comedic turn of his in Barry Levinson's underrated 2001 crime-comedy flick "Bandits."
Speaking to Pop Entertainment, Willis stated that he never stopped trying to hone his craft, even as he increasingly found himself being typecast in action films:
"I'm still learning how to act and I've learned stuff every time from different films that I do. I've learned more than anything from films that haven't been successful that bombed and in some places just sucked. I try hard every time."
Trying to break the stereotype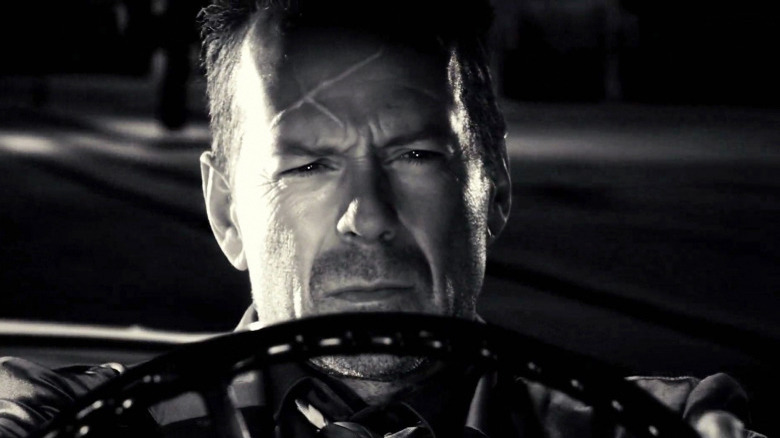 Miramax Films
In Willis' eyes, 2005's "Sin City" was a chance for him to "go a long way in breaking that [stereotype]." Robert Rodriguez's highly-stylized, ultra-violent movie adaptation of Frank Miller's equally graphic, er, graphic novels casts Willis as John Hartigan, a grizzled but decent cop whose life is turned upside-down after he saves a young girl from a serial child killer and rapist (who also happens to be the son of a powerful politician). "This guy is emotionally crushed and I couldn't have done this film 18 years ago without having been a father or being loaded up with that emotional weight," Willis added.
Sadly, "Sin City" was not the springboard away from the action genre Willis had hoped it would be. It's a shame, too. For as much as I enjoy watching Willis do his John McClane thing in the "Die Hard" movies (the good ones, that is) and films like "The Fifth Element," I would have loved it if his likable, melancholic turn in Wes Anderson's "Moonrise Kingdom" was the rule and not the exception when it came to his later career offerings.