Andor Episode 7 Introduces Us To The Star Wars Equivalent Of A Sandals Resort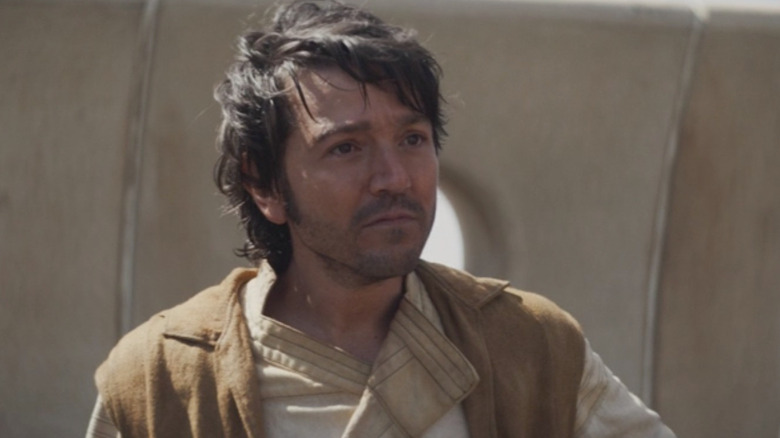 Lucasfilm
Have you been thinking about a beach vacation? Are you dreaming of sandy shores, a relaxing hotel, and some drinks poolside? Take a break, and come to the all-inclusive resort planet Niamos! They have everything here, from beach sports to lounge chairs to great spots to watch the sea roll in and out. All species are welcome on Niamos, no matter which planet you're from. (Discounted space fares are available if you're coming in from the Outer Rim.) 
Niamos has everything your vacationing heart(s) desires. Need a towel and a Sabacc set? It's included! Hoping for a cooler in your hotel room? Included! Would you like to refresh your Gardulla without paying more for it? Niamos has you covered! For one low, low price, you get everything from water sports to open-toed footwear, no matter how many toes you have. Local vendors are available for souvenir hunters, and they carry the latest flavors of every popular brand, from Peezos to Revnog. 
Find your peace and quiet in Niamos, and return to sanity. Our Shoretroopers* are on hand to keep you safe and secure as you soak in the beach air, dip your many feet into the ocean, and relax in the sun.
*Guests are required to follow all posted signs. A copy of the Imperial rules will be given to each tourist upon arrival. Failure to submit to search and seizure or disobeying Shoretrooper instructions will result in arrest. All rights reserved.
Sounds lovely, right? You don't really think of "beach resort" and "Star Wars" in the same sentence, despite seeing Scarif's sand and sun in "Rogue One." In fact, you don't usually think of the citizens who aren't part of the Imperial forces or the Rebellion most of the time in the "Star Wars" universe. Still, even droids need some rest and relaxation, and we saw such a planet on this week's "Andor."
'The greenie green ones'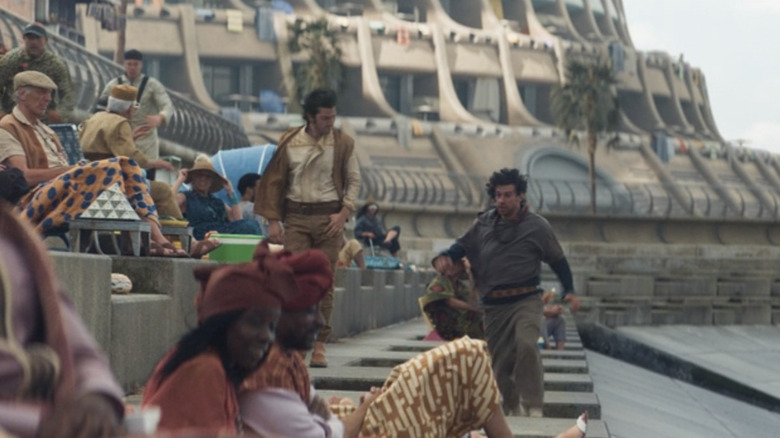 Lucasfilm
It appears that we have something like an all-inclusive Sandals resort here, with Cassian (Diego Luna) changing his name and trying to find a corner of the galaxy where he can lie low for a while. It's easy to see why. Niamos was filmed in the seaside town of Cleveleys, England, and it looks delightful — on the surface, anyway.
"Andor" episode seven gave us a glimpse of not only what the regular folks do for a vacation here, but also how far the Empire is willing to go to keep the peace. Some of the characters think that's great because it will stir up the Rebellion even more, while others like series MVP Mon Mothma (Genevieve O'Reilly) are worried that more people will simply suffer for it. Not that any of these people appear to be suffering. Especially not that guy above, on the chair in the vest and hat. He doesn't seem to mind that there are probe droids flying overhead and Shoretroopers patrolling. 
It's easy to ignore what's happening under your nose when you're not the one being targeted ... but if they got Cass for walking and looking around for the greenie green Revnog and the new flavors of Peezos, they can take anyone. Perhaps he should have gone to Arkie's for the latest flavors for Windi (Katrina Nare) instead. 
You cannot outrun who you are, Cassian, and you are a rebel — one who should never set foot on a tropical planet, as "Rogue One" makes clear.
"Andor" is currently streaming on Disney+.