Veteran Muppet Performer Bill Barretta On The Most Difficult Scenes To Shoot With Muppets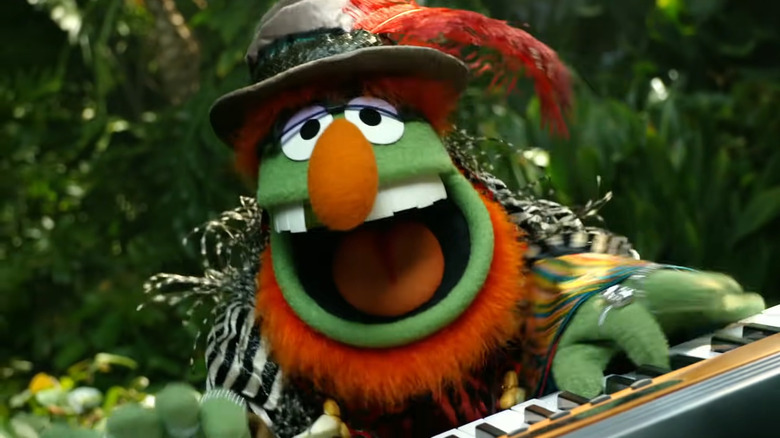 Walt Disney Pictures
When you hear about people suffering for their art, you probably think about Dickens, Plath, Kafka, or Van Gogh. But Jim Henson and his merry band of Muppets performers should probably be somewhere on that list. During production on 1979's "The Muppet Movie," the team created a whole assortment of innovations to allow Kermit, Fozzie, and the whole gang to interact with the real world as regular people do. For example, the Studebaker featured in the iconic musical numbers "Movin' Right Along" and "Can You Picture That?" had a monitor and a steering wheel in the trunk so that it could be driven from the back while Henson and Frank Oz were hidden in the floor and dashboard at the front of the car.
But that's just the tip of the iceberg for the precarious positions that Muppets performers have found themselves in over the years. And following a recent appearance at New York Comic Con, veteran puppeteer Bill Barretta (whose characters include Pepe the King Prawn, Rowlf the Dog, and Dr. Teeth) gave us some insight into the challenging situations in which he's had to perform and the ways that his other job with the Muppets aims to make things easier for the person behind the puppet.
'The first thing I talk about is the logistical side of it'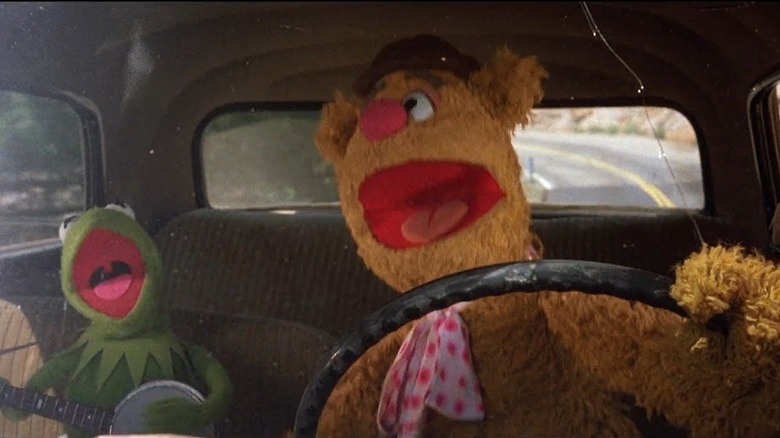 Walt Disney Pictures
While promoting the upcoming Disney+ series "The Muppets Mayhem" at this year's NYCC, Barretta talked to members of the press about some of the more difficult scenes he had to shoot for the new show, which included squeezing the entire roster of the Electric Mayhem into a small car with Lilly Singh or having Dr. Teeth in a hot tub. However, he went on to explain that every shoot with the Muppets has its own challenges, many of which he's seen performers deal with before:
"Whenever I go into some new project, the first thing I talk about is the logistical side of it. It's always a challenge no matter what you do, because we're creating this illusion that these characters are living in the real world like we do. Getting in a car doesn't mean we can get in a car because there's just no room for everybody to lay down and be under the buckets, right? We have to remove the bottom of a car or the bottom of their Electric Mayhem van or bus, so that we can get down below and work through there. I've been in a stunt plane [and] underwater. This show wasn't any more challenging than another."
In order to help other Muppets cast members deliver the best performances possible, Barretta has also been working as a coordinator for the troupe. For this role, he makes sure that the actions in the script are actually things that are doable for the puppeteers. This includes being an advocate for them in the writers' room by telling his fellow co-creators Adam F. Goldberg and Jeff Yorkes what Muppets can and can't do easily. 
'When they pulled him out, he couldn't stand up straight'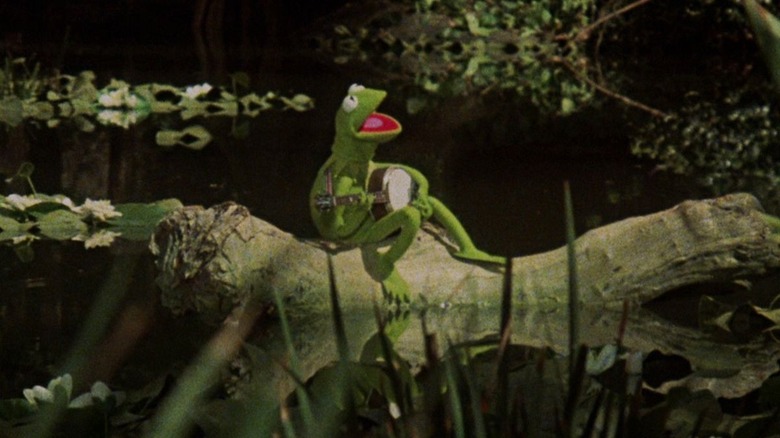 Walt Disney Pictures
But Barretta didn't accumulate the knowledge required to take on a gig like this overnight. It took decades, and that's why he knows that scenes should start with Muppets in a room rather than having them enter, since the latter can take a considerable amount of time to pull off. But as with all things Muppets, it all started with Jim Henson himself.
"You learn over time, right? Jim Henson, the famous shot of him [where] Kermit is on the log, [Jim] was in a barrel underwater with an oxygen line. He was in there for hours. When they pulled him out, he couldn't stand up straight.

I've been doing the coordinating side of [this] for 20 years at least. And so, over time you learn, 'Okay, you know what? We've been down that road. How do we make this a little more easy to get through and protect people, so that they feel safe and the performances are great?' It's about how do you find the balance of the pain that we have to be in — because it can be very painful — and making sure it still is a great performance. Otherwise, what's the point? It's all about what ends up going through that camera, so if they're in real bad pain and they can't perform and they're squished, it's not worth it."
Basically, if he can help it, Bill Barretta doesn't want anyone involved with The Muppets to suffer for their art. Slight discomfort? Maybe. But definitely no more suffering. We'll see how well that works out for "The Muppets Mayhem" when it debuts sometime in 2023.