10 Underrated Paul Newman Movies That You Should Check Out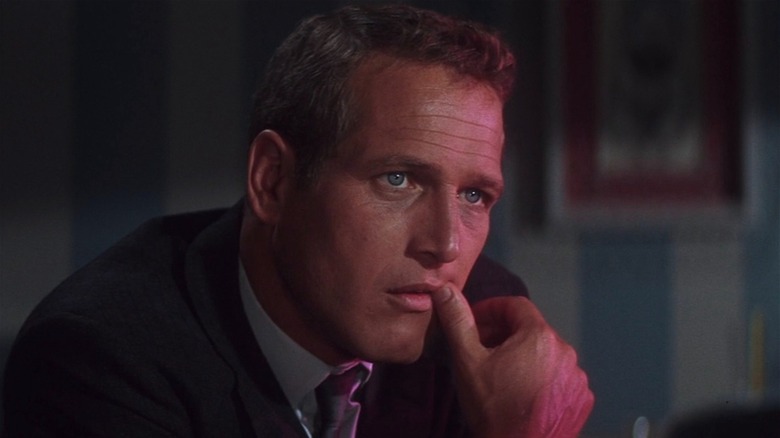 Warner Bros.
Paul Newman had a storied career — spanning the '50s-era studio films through New Hollywood and into the modern era. The man even appeared in a Pixar film! Toward the end of his life, Barbara Walters asked Newman what he imagined his epitaph would be. "That I was part of my times," the actor replied. He was that, but he was also a man who could adapt to whatever a film required with Hollywood charm and sparkling eyes. Ethan Hawke, who directed the docuseries "The Last Movie Stars" about Newman and his decades-long relationship with Joanne Woodward, had some thoughts on his marriage of charisma and talent. Hawke told A.Frame, "They weren't movie stars; they were actors!... I realized they're the last people where being an actor was what it took to be a movie star."
His decades-long career debuted some stone-cold classics — like "Cat on a Hot Tin Roof," "Butch Cassidy and the Sundance Kid," and "The Sting." But his other, smaller films haven't stuck around in the cultural memory quite as much. After seeing his best work in movies like "The Long, Hot Summer" and "The Hustler," here are ten underrated Newman-starring films to check out next.
The Rack (1956)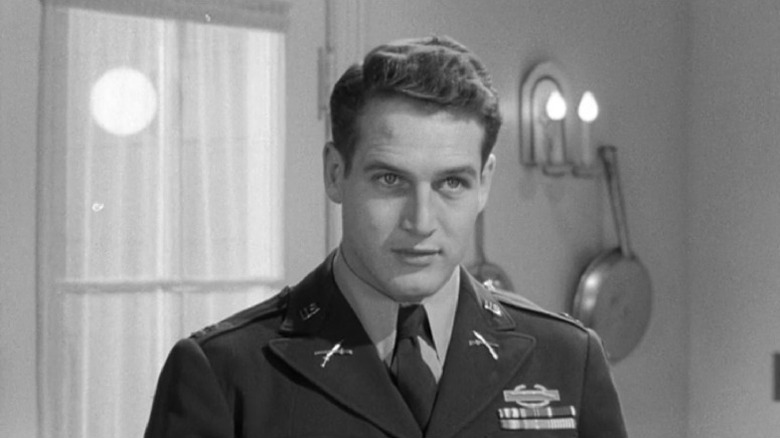 MGM
One of Newman's earliest and best performances came in the little-seen film "The Rack." He stars as Edward W. Hall Jr., a Korean War veteran wracked with guilt. Based on a teleplay by Rod Serling, "The Rack" follows Hall, a POW, who returns to the United States to go on trial for collaborating with the enemy. The film sees collaborating with the enemy as a cut-and-dry unforgivable crime: After all, this was the 1950s. Indeed, some characters in the movie feel like the embodiment of the phrase: "we must support our troops!" However, Stewart Stern's ("Rebel Without A Cause") screenplay has more on its mind than the black-and-white setup suggests.
"The Rack" lives in the grey areas — a movie that wants us to consider that the men who make up the Armed Forces are human. They're people who have emotions, inner lives, and, understandably, a breaking point. Torture may cause them to do something that doesn't necessarily reflect their essential character. "The Rack" is a dialogue-heavy film, and its latter half contains a lengthy courtroom sequence. But Newman is more than up to the task. His delivery in the scene where he testifies is harrowing. Watching "The Rack," it's easy to see why he became a superstar.
The Left Handed Gun (1958)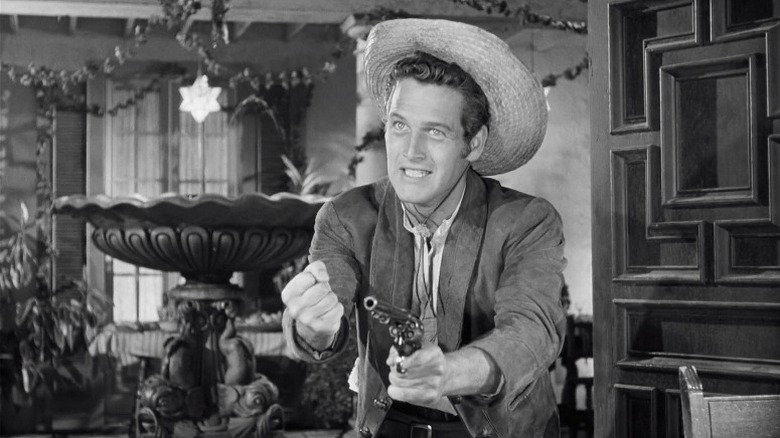 Warner Bros.
1958 was a banner year in the early career of Paul Newman. He starred in "The Long, Hot Summer" and "Cat on a Hot Tin Roof," two films that would make him a bonafide star — the latter even earned him his first Oscar nomination. Less iconic was his turn in "The Left Handed Gun," a Western where he plays Billy the Kid. Still, the movie is worth checking out.
Directed by Arthur Penn — who redefined cinema a decade later with "Bonnie and Clyde" — "The Left Handed Gun" feels exciting and interesting around its edges. The movie buzzes with oddball energy – thanks to Newman's performance of Billy the Kid. He plays the infamous outlaw as mostly an excitable and over-his-head youngster filled with formless anger rather than a towering criminal who became a legend. That's what the movie is explicitly about: As Billy the Kid's reputation for thrilling villainy grows, those who meet him are dissatisfied and confused. They find him far less interesting than rumors suggest. Written by Leslie Stevens and based on Gore Vidal's play of the same name, "The Left Handed Gun" feels like an early revisionist Western, interrogating the genre's function as a form of American mythmaking. Newman would later star in one of the most influential revisionist Westerns, "Butch Cassidy and the Sundance Kid" – making his work in "The Left Handed Gun" an interesting early attempt.
Sweet Bird of Youth (1962)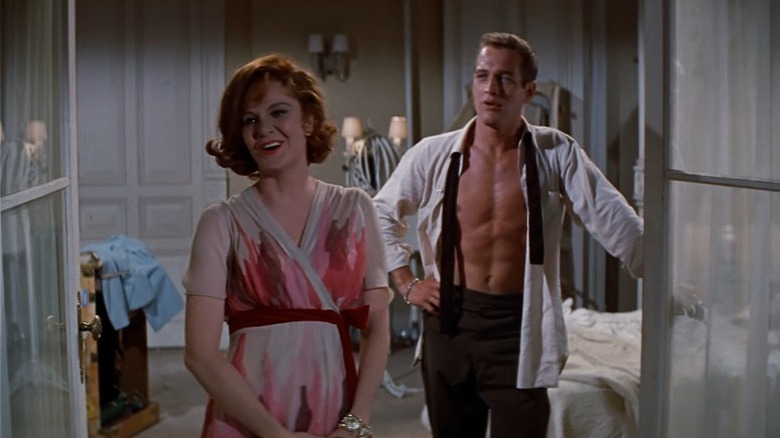 Warner Bros.
"Cat on a Hot Tin Roof" is the Paul Newman-starring Tennessee Williams adaptation that gets all the buzz — perhaps rightly so. Newman also directed Joanne Woodward in a well-received film version of "The Glass Menagerie." However, fans shouldn't miss Newman's performance in another Williams story, "Sweet Bird of Youth." He was rarely more charming or seductive than he was here: His line reading of "Ma'am, if we'd'a made love, you'd'a remembered it" is a contender for cinema's most swoon-worthy delivery. Thanks to the film's vibrant Metrocolor photography, his eyes rarely looked so blue.
In the film, Newman plays Chance Wayne, a social-climbing hanger-on (read: escort) who links up with an aging movie star, Alexandra Del Largo (Geraldine Page). He thinks it'll do wonders for his career. Chance brings her back to his hometown, hoping to win over his ex-girlfriend, but realizes he's ashamed of his life. Newman was excellent at these sorts of characters — men reconsidering their choices, hiding their pain and anguish behind signature wit and sparkling eyes. Also, Page delivers an excellent performance. (Although it says a lot about Hollywood then that they cast a woman in her '30s as a has-been.) Their chemistry makes the movie crackle. Sure, "Cat on a Hot Tin Roof" is tightly-written and better, but "Sweet Bird of Youth" deserves a place on the list of anyone looking to dive into Newman's filmography.
A New Kind Of Love (1963)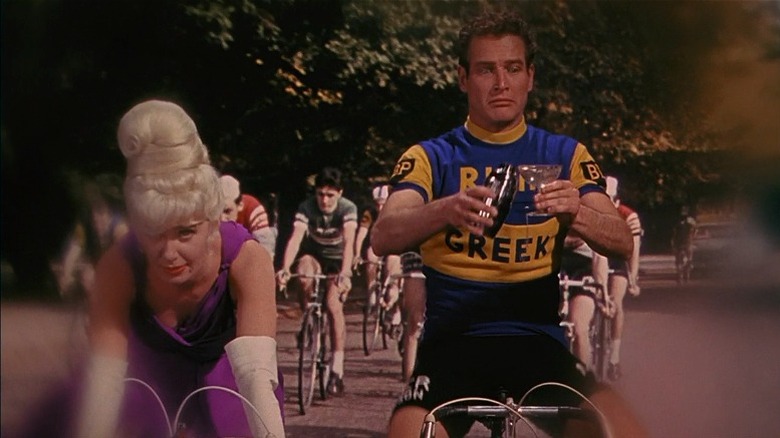 Paramount Pictures
During "The Last Movie Stars," we learned that Newman initially didn't want to make "A New Kind Of Love." His daughter recalled, "My mother brought the script to my dad and said, 'I really want to do this script.' My dad read it and said, 'This is a horrible, horrible script.'" However, Joanne Woodward told her husband he owed her for raising their kids. She wanted to make this film where she got to dress up in extravagant costumes and gallivant around Paris. "This is a great script," Newman then replied. "I can't wait to start."
Honestly, they're both right. "A New Kind Of Love" is a sex farce that's ridiculously silly and full of regressive ideas on gender roles. Its story feels more like several slapstick vignettes than a plot. But sometimes, silly fun is worthwhile. The gender stereotypes in this film are so out of date that they somehow warp into being charming. Newman is one of cinema's greatest horndogs, and in "A New Kind Of Love," he practically gets to go full Tex Avery wolf, making grabby-hands at Woodward and all but shouting "a-WOO-ga!" There are fantasy scenes where Newman sings like Maurice Chevalier (featuring Maurice Chevalier!), makeovers, outrageous mod fashions, and so many wigs. Some Paul Newman films are challenging, but this one's just fun.
The Prize (1963)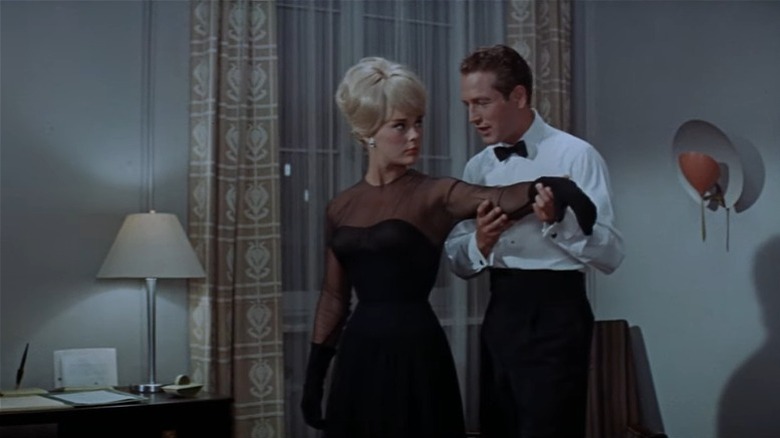 MGM
A trailer for "The Prize" calls it "the most exciting star role of Paul Newman's meteoric career." That may be overselling things a bit. Still, "The Prize" is a fun comedic thriller that fans of Newman's work should check out. He plays a booze-soaked writer named Andrew Craig, who has somehow won the Nobel Prize for literature despite not having released a book in five years. He travels to Stockholm, eager to claim the cash prize that comes with the award. However, he stumbles into a Cold War conspiracy plot against one of his fellow honorees (Edward G. Robinson). Along for the ride is Elke Sommer, playing a Swedish foreign service agent assigned to keep him out of trouble. Of course, they fall in love. Their snappy banter makes their romance a perfect counterbalance to the film's espionage antics.
Mostly, it's a chance for Newman to be charming. "The Prize" is best watched as an excuse to see Newman bouncing around Stockholm, wise-cracking and wooing women. In one sequence, the writer takes cover at a meeting of nudists — blatantly, a plot point used as an excuse to have Newman disrobe. (But who are we to complain?) They just don't make 'em like this anymore — neither movies like "The Prize" nor movie stars like Paul Newman. Few actors today could pull off this role with the same charisma — George Clooney, perhaps, but the list might end there.
Harper (1966)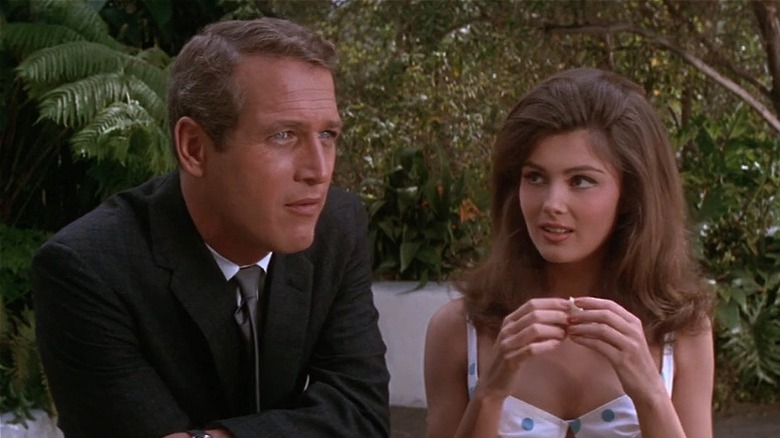 Warner Bros.
A hit movie that spawned a sequel the following decade, "Harper" shows Paul Newman portraying a down-on-his-luck hardboiled detective. However, the film seems to have fallen out of the conversation about Newman's iconic roles. "Harper" is vibrant, and its ultra-60s fashions and set make it all the more visually compelling. It also features delightful supporting turns from a cast of legends, including Julie Harris, Robert Wagner, Janet Leigh, and Shelley Winters. Filming took place on the same lot as "The Big Sleep," "Harper" also starred Lauren Bacall — fitting choices considering Phillip Marlowe was the inspiration for Newman's detective.
The film follows Harper on the case to find a missing man. The man's wife (Bacall) thinks he's run off with a woman, but Harper learns there's much more going on here. The case takes him crisscrossing areas around Los Angeles — from the beaches to the mountains. He comes into contact with everything from a sultry piano bar to a religious cult. As in any good detective story, there are plenty of femmes fatales, copious excuses for our hero to down a beer while dropping a quippy line, and lots of gunfights. Newman's voice is gruffer here, making his diction more gravelly. Overall, it's a treat to watch him doubly acting as Harper gets into character, taking on Southern drawls and slumped shoulders to get the information he needs.
Torn Curtain (1966)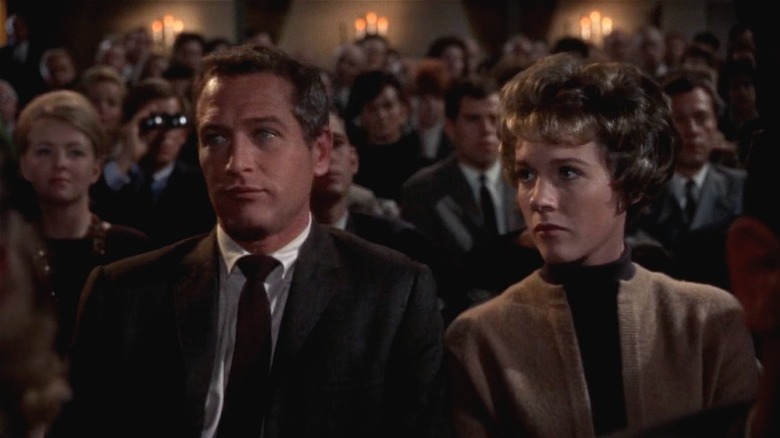 Universal Pictures
Alfred Hitchcock released at least three undeniable classics in the 1960s — "Psycho," "The Birds," and "Marnie." But as the decade stretched on and his output became less frequent, his other films in this era are underrated. "Torn Curtain" is especially worth a look for fans of Paul Newman's work. In the film, Newman romances Julie Andrews and plays a spy. (What more could you want?)
Newman and Andrews' contrasting performances drive the film. Of course, Newman plays his usual suave and horny self while Andrews plays a more prim, proper character. Hitchcock mines a lot of enjoyable tension out of this juxtaposition. However, the film's Cold War elements feel extremely procedural — especially for Hitchcock. It's a careful thriller whose form reflects its content. The characters go here to get information about this person who tells them to go there, just as Hitchcock's camera moves in this way to show you that object which gives you information for the next shot. Unlike Hitchcock's other films, which are about the evils of humanity, "Torn Curtain" is about the evils of slow-moving bureaucracy, of institutions too large and terrible for any one human to change.
Hitchcock also knows Newman's strengths as an on-screen heartthrob. He was famous for those blue eyes, and Hitchcock knew how to use them. In one startling sequence, Newman's eyes are filmed in extreme close-up — reflecting the light of a doctor's flashlight and shining brighter than ever.
WUSA (1970)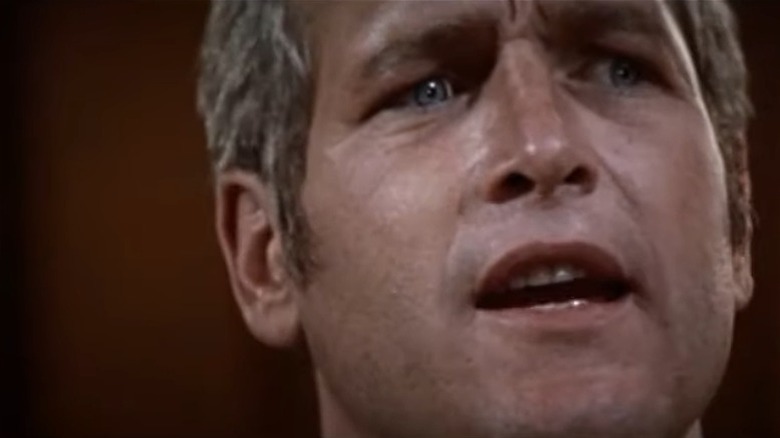 Paramount Pictures
"That new patriotism... It's more extreeeeme," drawls "WUSA," a paranoid conspiracy thriller from 1970. Paul Newman plays against type as the despicable Rheinhardt, a conservative radio host who drinks himself unconscious every night to cope with the bile he spews on the air. Newman's characters could be irascible but were often redeemable. But in "WUSA," he's a morally craven opportunist and it's frightening. His station is intentionally stoking racist division — much to the consternation of a social worker (Anthony Perkins) — and it all leads to an explosive, climactic white supremacist rally that ends with a chilling tragedy. "Americans, remember, no matter what anyone says... We are okay!" Rheinhardt chants over scenes of shocking violence and mayhem. It feels like a peek into the id of a society roiling with rage and fear. After all, "WUSA" came out shortly after the riots at the Democratic National Convention and the assassinations of Martin Luther King Jr. and Robert F. Kennedy.
"Do you think this is how it's going to be now?" a character asks Rheinhardt toward the film's end. He means: Is America now a place where outbursts of violence replace civil discourse? In 1970, audiences weren't sure how to respond. Halliwell's Film Guide called it "a farcical melodrama for the intelligentsia," but they also logged Newman's opinion: "The most significant film I've ever made, and the best." Over 50 years since its release, "WUSA" feels more prescient than ever.
Sometimes A Great Notion (1971)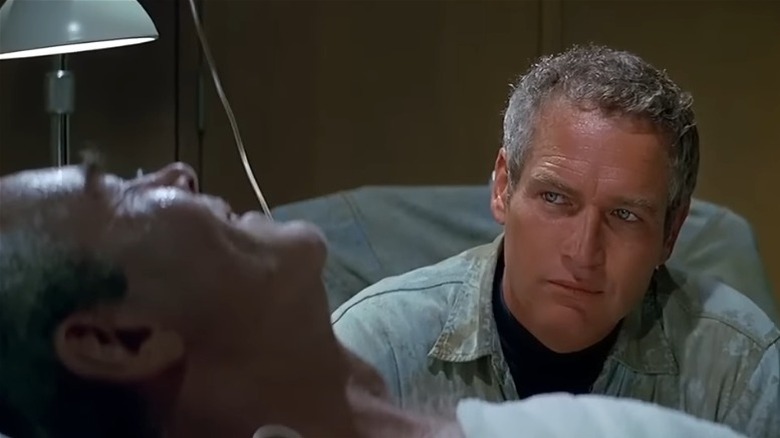 Universal Pictures
Paul Newman and Henry Fonda star in "Sometimes A Great Notion," a film that Newman directed and contains one of the most harrowing sequences in his filmography. The movie is a drama about a stubborn clan of Oregon loggers whose family business keeps afloat even as the logging union forces a work stoppage among companies in their area. The locals become outraged as the strike chokes their town's economy. But the Stamper family refuses to make any gesture of solidarity. After all, the family motto — burned into a cut of wood hanging above the fireplace — reads, "Never give an inch."
The movie follows the daily life of several generations of loggers. Fonda portrays the patriarch in the Stamper family whereas Newman plays his son, Hank. He has a brother, Joe Ben (Richard Jaeckel, who received a well-deserved Oscar nomination for the part), and a half-brother named Leeland (Michael Sarrazin) — the latter returns home after spending the past years with his mother. Lee Remick is excellent as Hank's mild-mannered wife. In the film's final act, however, the Stampers' stubbornness catches up to them and the floor drops out of their lives. While it's stunning filmmaking — the lush Oregon forests are gorgeously photographed –, the film's events are utterly haunting. Newman is incredible both as an actor and director. "Sometimes A Great Notion" is a must-see film.
Twilight (1998)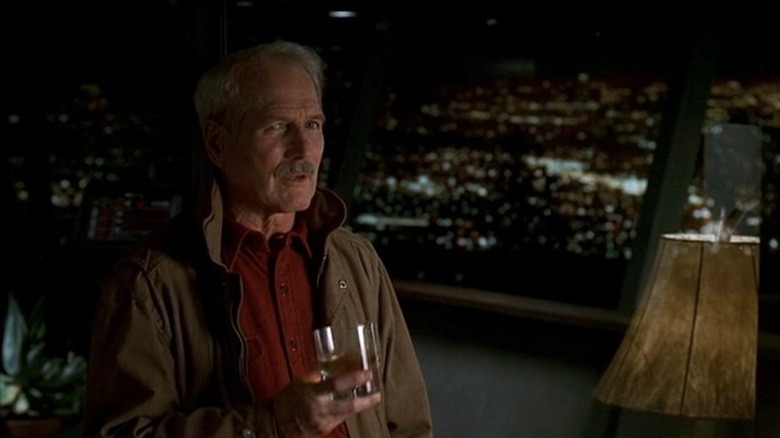 Paramount
"Twilight" — no, not that "Twilight" — features one of the most underrated late-career performances from Newman. This is a quiet, thoughtful detective story about aging and beauty that finds Newman as charming as ever. Set in Los Angeles, "Twilight" follows Harry Ross (Newman) who is exasperated by the overwhelming vanity of movie stars moving like gods among the rest of us. "Don't you ever get tired of the beautiful people?" asks a world-weary James Garner late in the film. Of course, there's irony at play here — as Newman is one of Hollywood's hunks. "Twilight" wants us aware of that, of the way that Newman holds the handrail when he goes down the stairs. When he kisses, it's not as hungry. When he's punched, he stays down.
Detective Ross becomes involved with screen star Catherine Ames (Susan Sarandon) when he locates her runaway daughter (Reese Witherspoon). He finds himself investigating the disappearance of Ames' husband several decades earlier. He's tired of having to rediscover how disappointing humanity is. Yes, "Twilight" is a little slow and methodical, but that's okay. We have decades of affection for Newman; no, we're not tired of him. Let him take his time, and he'll get us where we need to go.