Black Adam's Aldis Hodge Had To Factor In Imaginary Wings When Memorizing Fight Choreography [Exclusive]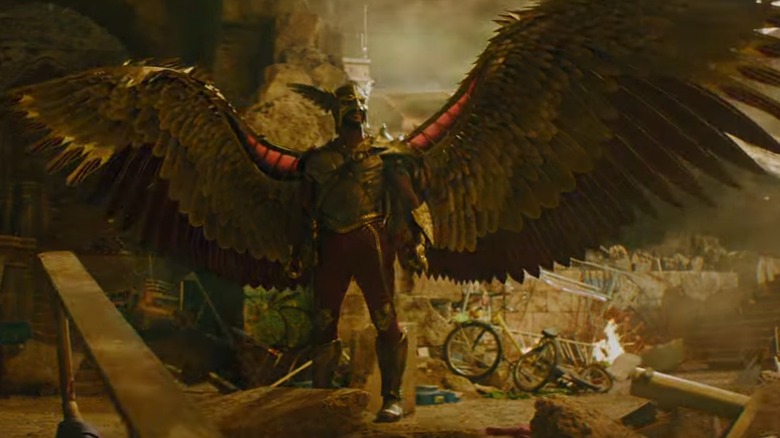 Warner Bros.
When "Black Adam" finally hits theaters this week, it won't just introduce audiences to the antihero Teth-Adam (Dwayne Johnson), but to a whole cadre of heroes who could end up playing a major part in the future of the DCEU. The team is called the Justice Society of America, and trailers for the movie have already given us a great first look at their impressive, assorted powers.
Among them is Hawkman, the leader of the JSA who can be spotted body-slamming Black Adam into a building in clips from the movie. Hawkman, whose real name is Carter Hall, sports a pair of gorgeous and intimidating gold and red wings and a golden helmet with its own wing-like pattern. But the actor that plays him, "One Night in Miami" and "The Invisible Man" star Aldis Hodge, apparently had to make do with imaginary wings while on set.
/Film's Jenna Busch interviewed Hodge ahead of the film's release, and asked the actor about how he incorporated wings into his training regimen for the action-heavy film. After joking that he does have real "fluffy and furry" wings, Hodge revealed that the mechanical set of wings we see on screen is created entirely via visual effects. "I don't put on any wings," the actor shared, before explaining that he got to see what they might look like during production, which helped him conceptualize where the effect would end up in the final product.
'We mimic movements knowing that the wings are there'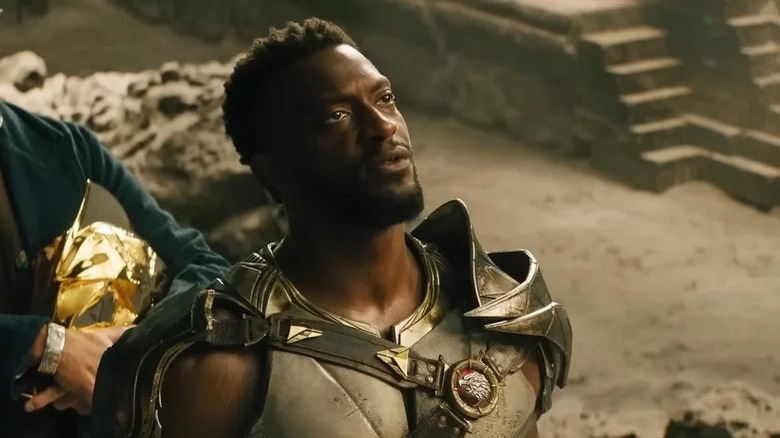 Warner Bros.
"When we train, we mimic movements knowing that the wings are there," Hodge explained, "And then what they do is they videotape us training, creating these fights, and then they put it into pre-vis, where they show a digital mock-up of what the fight looks like, and how the wings would move and things like that before we get to set." Pre-vis is a filmmaking term that can apply to any number of different styles of mock-ups that help cast and crew visualize CGI-heavy scenes ahead of time. In this case, Hodge is referencing virtual pre-vis, in which a scene is digitally storyboarded ahead of filming.
"So as we're moving and creating, it's simply me twisting or twitching a specific way, where I know I'm moving my wing for something very deliberate. That's how we go," Hodge revealed. Often, performances that incorporate considerable VFX feature a sort of placeholder outfit in the form of a motion capture suit – like Robert Downey Jr. sometimes wore to create his Iron Man suit – but it sounds like Hodge's massive wings didn't have that. If done well, that would make his performance — and the nifty movie magic that brings the wings to life — all the more impressive.
It's great that the "Black Adam" VFX team has Hawkman's wings down to a science, because this may not be the only time we see them. Early footage from the film has already revealed that Hawkman will be a sort of ethical counterbalance to Johnson's skull-knocking Black Adam, and this summer at Comic Con, Hodge told /Film that there's enough "rich history there" in the Hawkman comics to justify one or more standalone films following the superhero.
"Black Adam" hits theaters on October 21, 2022.