Cool Stuff: Dredd Is Getting An Exclusive Poster And Vinyl Soundtrack Release From Mondo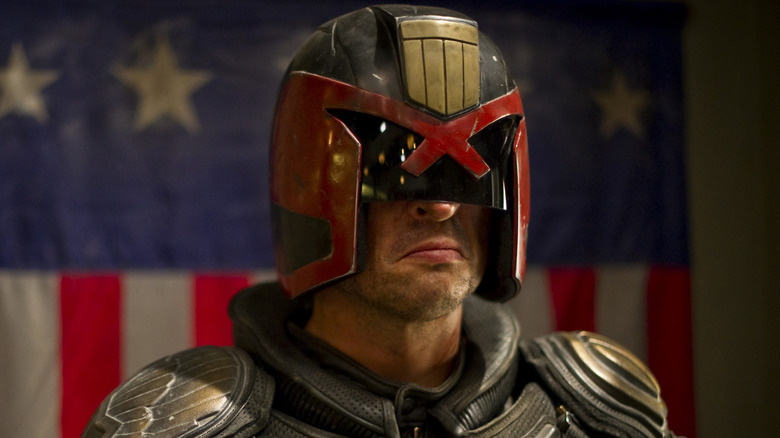 Lionsgate
"Dredd," the 2012 sci-fi-action extravaganza that unfortunately bombed at the box office but went on to become a cult classic, is officially 10 years old. While I wish that I were writing up news about a sequel, at least we get to celebrate a bit with some neat new collectibles from Mondo! 
Empire Online announced that Mondo will be releasing a special edition vinyl soundtrack and a gorgeous poster created by artist Luke Preece. Both will be limited edition and going on sale on MondoShop.com on November 16, 2022, so make sure you have your wallets ready to go if you want in on these fabulous bits of "Dredd" memorabilia. 
While "Dredd" may not have been the massive hit that it should have been, it has a die-hard cadre of fans that know how to keep their faces grimaced and their voices gravely as they talk about the law in no uncertain terms, and we Dredd-heads are gonna have to snatch these up. 
Bring the sounds of 2000AD to your home stereo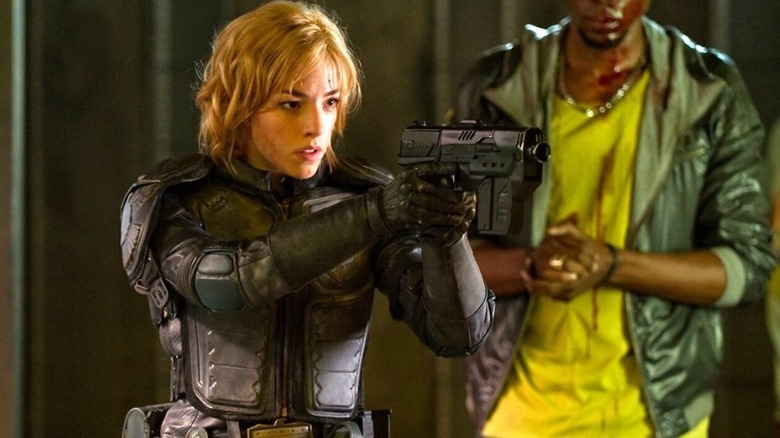 Lionsgate
"Dredd" is based on the Judge Dredd character from the 2000AD anthology comics, and was previously made into a movie starring Sylvester Stallone in 1995. While that movie is a wild mid-90s mess, the 2012 version is a high-octane kick in the pants with a perfect lead in real-life nerd Karl Urban. The limited edition poster paying tribute to the movie is limited to 150 prints and costs $60, and it's an absolutely stunning work of art that captures both the film's aesthetic and the look of the original comics:
"Dredd" also has a killer soundtrack from electronic composer Paul Leonard-Morgan, and you can soon bring it home on vinyl. The album, produced in collaboration with Thought Bubble, is a two-record set pressed on eco-recycled vinyl. The vinyl is created using random color pellets, so each disc is completely unique and potentially as colorful as the film's "slo-mo" drug sequences. The vinyl will include a bonus disc of remixes from Mogwai, John Tejada, and PT Adamcyzk, along with three neo-classical piano versions of songs by Leonard-Morgan. This will be limited to only 300 copies, which means Dredd-heads better act fast.
You can snag the poster and vinyl from Mondo on November 16, and if you're in the U.K., you should head over to the Belgrave Music Hall in Leeds on November 10 to catch the soundtrack and poster launch in-person. The launch will feature DJ sets from Mogwai and Crash Records and live performances by Dream Division. Just don't lose your helmet.