Mackenzie Davis Brought Plenty Of Lived Experience To Her Performance In Station Eleven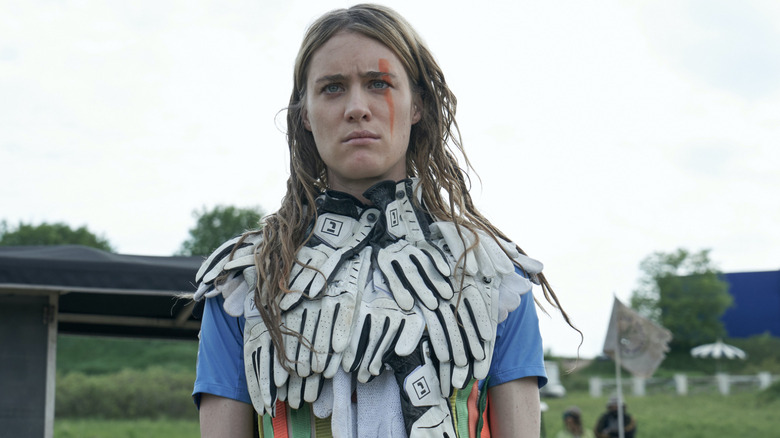 HBO Max
Timing, in a sense, was both against and on the side of "Station Eleven" when it premiered in December 2021. Created by Patrick Somerville and adapted from Emily St. John Mandel's 2014 novel of the same name, the HBO miniseries centers on the outbreak of a deadly flu virus. Over the course of one fateful chilly night, those lucky enough to avoid being infected barricade themselves in their homes with whatever supplies they can find. Meanwhile, power grids crash and planes plummet to the ground outside.
For many, a series about a pandemic was understandably the last thing they wanted to watch two years into our own global health crisis. But for others, "Station Eleven" offered a cathartic viewing experience, namely because the show isn't really about a virus wreaking havoc on the planet (not the way a film like "Contagion" is, anyway). Instead, much of the series takes place either right after the outbreak begins or 20 years later when a new world order of sorts has risen and the survivors have slowly, but surely, begun to form something resembling civilization.
Among those survivors is Kirsten Raymonde (Mackenzie Davis), a member of a traveling acting troupe, known as the Traveling Symphony, whom we first meet as a child actor (Matilda Lawler) on the night the pandemic gets fully underway. "Station Eleven" jumps back and forth between Kirsten's life as a kid and as an adult throughout the course of its run, mirroring the ways the grown-up version of the character is constantly reminded of her past. It's an experience Davis came to know all too well in her real life in the early days of COVID-19, as she explained in a dual interview she and Lawler gave to Vulture in January 2022.
Memory and the past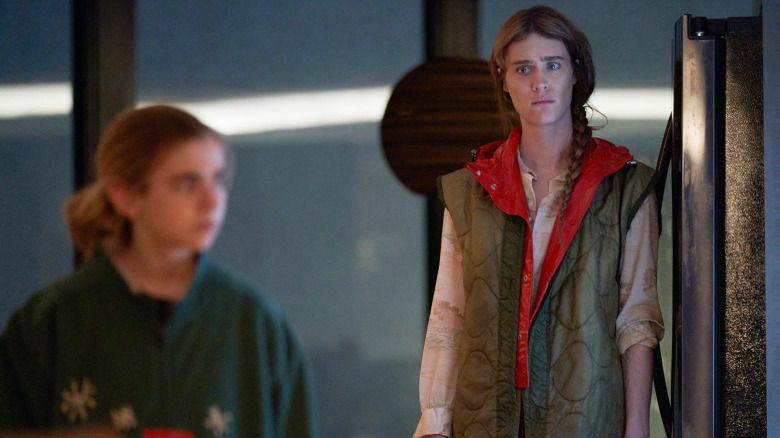 HBO Max
Filming on "Station Eleven" started in early 2020 before pausing due to the pandemic. "It definitely amplified the connection to the material, to put it lightly," Davis told Vulture. In the months that followed, while the lockdowns were in place, Davis said she and Somerville kept in touch virtually, discussing their experiences and "collecting data for the show and what we're going to put into it." In time, however, they came to realize that "data" wasn't actually helpful since the series was about the post-apocalypse, not the events leading into it.
Far more useful, Davis said, was the newfound "relationship to memory and place" she experienced during the lockdowns, which was unlike anything she had gone through before:
"I kept touching things and having really intense flashbacks to walking down the street with strawberries in Budapest or going to a tapas bar in Madrid or being in Vancouver — just these sort of lives that had been lived. These things felt so distant and far away but also like they were still ongoing. I don't know if it's on purpose or not, but with the time jumps, it feels like the show echoes this sort of displaced relationship to time that I felt was, on reflection, the most intense part of the pandemic."
One can definitely see how this informed Davis' rich performance on "Station Eleven," not least of all in the scenes where the grown-up Kirsten imagines herself being able to walk around and interact with her own memories as a child. By that same count, though, it's hard to blame anyone who's yet to watch "Station Eleven," feeling there's little of value for them to take away from the series after their similar experiences these past few years.
"Station Eleven" is streaming on HBO Max.