Why Sauron Didn't Reveal Himself Until The Rings Of Power Season Finale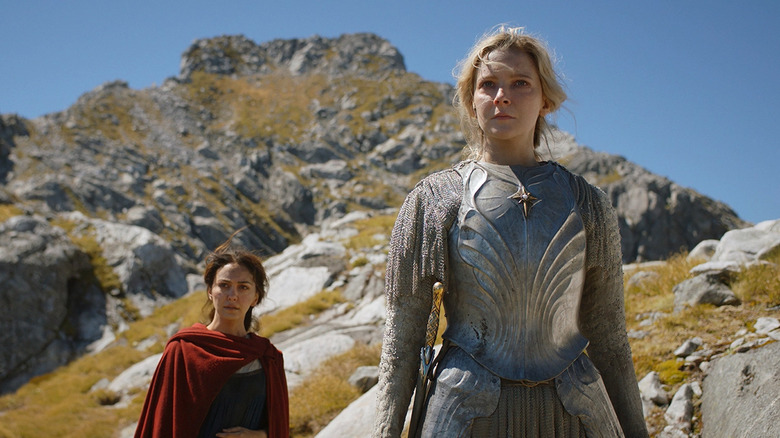 Prime Video
Warning: major spoilers below for the season finale of "The Lord of the Rings: The Rings of Power."
"The Lord of the Rings: The Rings of Power" has a lot going for it, but if any aspect of the series has baffled me, it's its sense of pace. The show's many plotlines seem to gain incredible momentum, only to let it dissipate unexpectedly before ramping up again later. It's kept its connections to J.R.R. Tolkien's text pretty ambiguous, until the moments it suddenly reveals hugely important references to its roots. But the show's first season finale pretty deftly side-stepped the poor pacing allegations by delivering a satisfying, surprising, and heartfelt conclusion that revealed the secret identities of two of its major characters.
According to showrunners J.D. Payne and Patrick McKay and Halbrand actor Charlie Vickers, the Sauron reveal was always going to come at the end of the season. Why? Well, if the world-class deceiver was able to trick the people of Middle-earth into following him multiple times, it only makes sense for him to trick some of us too, right? "We didn't want to make a show that was about the hunt for Sauron, but we love the idea of Sauron as a deceiver who could, hopefully, deceive some of the audience," McKay told The Hollywood Reporter in the wake of the finale.
A Sauron origin story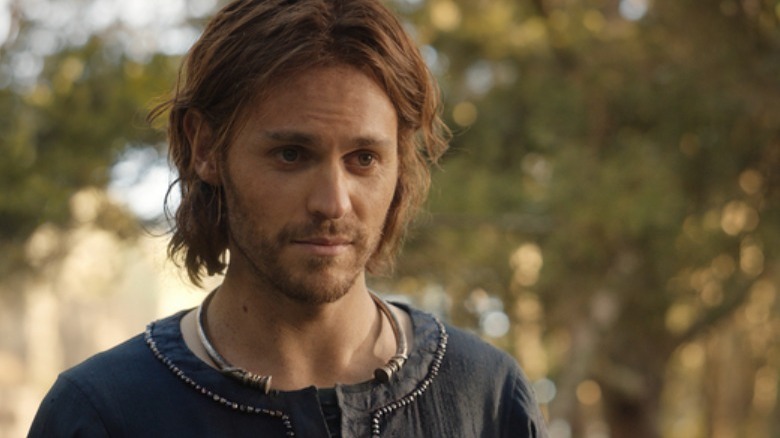 Prime Video
He also explained that it was important that Sauron come across as a real person, as opposed to some faceless, looming evil. "We felt Sauron should be a character in his own right," he explained. "We wanted to study the currents running within him in a way that hopefully would reward audiences as they follow him moving forward as he becomes the Dark Lord." McKay goes on to say that the writers wanted viewers to know him as more than a name, and that season 1 in some way serves as "an origin story for Sauron."
Although the time period covered in season 1 doesn't actually line up with the very beginning of Sauron's story, it does adhere to a specific point in the villain's personal timeline of tyranny. "You have to think of it in terms of where we're meeting Sauron during his repentance stage. Tolkien says pretty explicitly in the 'The Silmarillion' that he is repentant — if not out of fear," Vickers told THR, referencing back to Sauron's textual roots. "So the question is not whether he was repentant, it was whether that repentance was genuine."
Vickers also addresses one of the questions Tolkien fans might have about the man formerly known as Halbrand, saying:
"Because I do think, "Well, why would the second-greatest Tolkien villain, in terms of power, why would he be getting a job as a smith in Númenor?" If his repentance is genuine, then he is seeking a new life and trying to really run away from evil. But if his repentance is not genuine, if he's faking it, then perhaps it's a tactic where he can buy some time and make himself look busy in Númenor while he waits for things to unfold."
Penance or manipulation?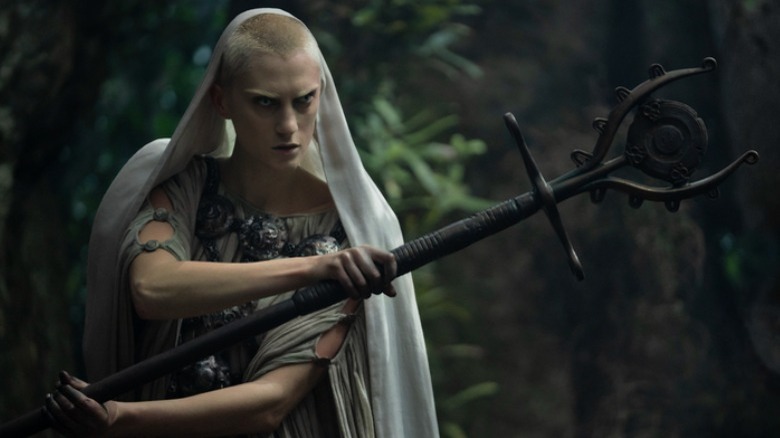 Ben Rothstein/Prime Video
The actor says he played the character with just one of these two interpretations in mind, but appreciates that both are possibilities. He also cites Halbrand's entrance — as a castaway at sea — as an example of him being "brought low," and "humiliated, almost humbled." As for his role as a smith, Vickers says it's a craft both Sauron and Halbrand know well, so it makes sense for him to lie low while taking on the job he's known for while he bides his time — or repents, if you buy that story. "Tolkien talks of Sauron re-emerging, and that he lingered in Middle-earth for a long time, and very slowly came back to power," Vickers tells THR. "These are the words he used."
If the first season of "The Lord of the Rings: The Rings of Power" could be summed up in a quote, it wouldn't be one by Tolkien, but by the French essayist and poet Charles Baudelaire. "The greatest trick the devil pulled," the most famous translation of his story "The Generous Gambler" says, "was convincing the world he doesn't exist." The same could be said of Sauron, hidden in plain sight. In the end, for all of fans' guesswork and prognostication, it still turned out to be a pretty great trick.
Season 1 of "The Lord of the Rings: The Rings of Power" is now available in its entirety on Prime Video.