Playing Vincent Van Gogh Earned Kirk Douglas A Dressing Down From John Wayne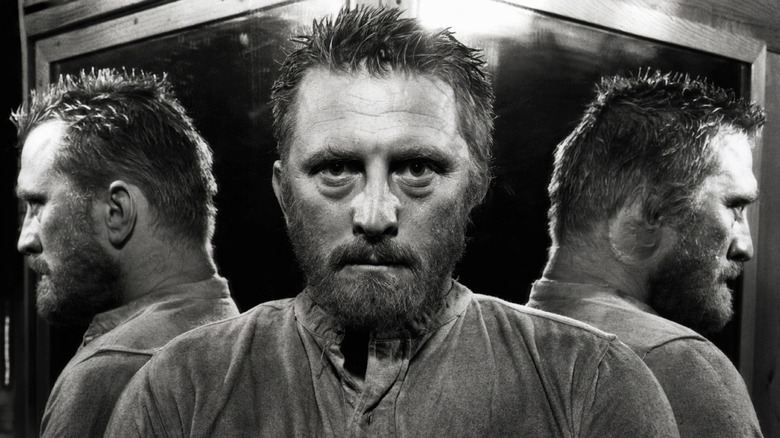 Metro-Goldwyn-Mayer
Kirk Douglas was one of the most well-regarded actors of the 20th century, and for good reason. He starred in countless great films, such as "Spartacus," "Paths of Glory," and "20,000 Leagues Under the Sea," bringing a unique mix of classical acting ability and charisma. He was such a great performer that he achieved movie stardom without that even being his intention.
One of Douglas' most famous roles was that of tragic painter Vincent Van Gogh in "Lust for Life" in 1956. A biographical film about the Dutch artist, "Lust for Life" was praised by critics for its fabulous design that was reminiscent of Van Gogh's art, as well as Douglas' performance as the artist, for which he received an Oscar nomination for Best Actor. While, to most people, the role was yet another success in Douglas' long line of excellent performances, one of his peers in particular was not a fan of Douglas' work. That peer was John Wayne.
John Wayne was a very different figure than Kirk Douglas. While Douglas was a fantastic actor who fell into stardom based on his pure ability, Wayne was much more of a traditional movie star. While his acting was good, Wayne's true talent was his presence and charisma, which allowed him to slot in as the leading man in almost any film. Wayne was best known for his work in Westerns, where he'd often play the leading man.
While they were two of the biggest stars of their era, these men were quite different, and Wayne did not enjoy Douglas' performance as Vincent Van Gogh. However, it was not Douglas' acting Wayne took issue with, but the fact that he took the role at all, according to an Express piece.
The masculinity police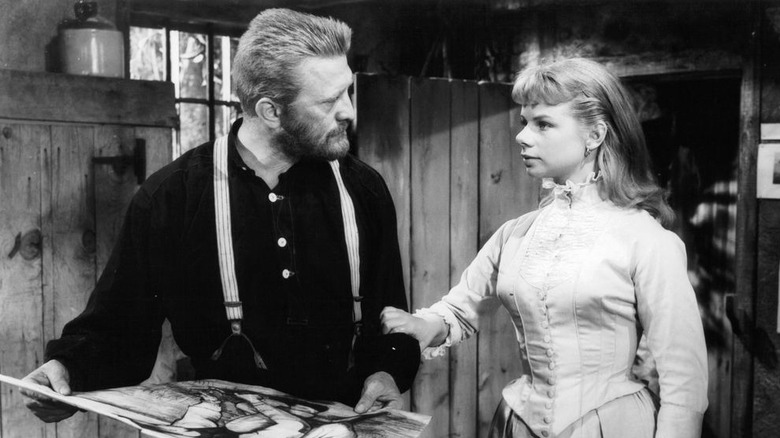 Metro-Goldwyn-Mayer
To the public, John Wayne was a paragon of goodness, a beacon of light in a dark world. In his movies, he'd always do what was right and act like a man, in the traditional way that folks loved back then. Behind the scenes, however, he was a much saltier character. He was known for his hostility and bad politics, which would often get him into fights. But for a star like him, these personality defects certainly wouldn't keep him out of movies.
It's not surprising that Kirk Douglas was among the people Wayne rubbed the wrong way. When Wayne saw Douglas' performance as Vincent Van Gogh in "Lust For Life," he was scathing in his review. After a private showing of "Lust for Life," John Wayne had a few drinks and approached Douglas. In an interview with James Bawden and Ron Miller in Conversations with Classic Film Stars, Douglas described their interaction.
"Afterwards, he motioned to me to go out on the veranda with him, and he berated me! He said, 'How the hell could you play a goddamn character like that?

And I said, 'What do you mean? I'm an actor. He's a fascinating character.'

And Wayne said, 'No, no. We should never play those kinds of weak, snivelling characters. I don't ever want to see you in a part like that again! They have no dignity!'"
Even out of character, John Wayne wanted to act as the masculinity police for his fellow performers. I'm thankful that Douglas did not take this criticism to heart, as it allowed him to continue exploring a far more interesting and diverse pool of roles for the rest of his career. John Wayne can keep playing that same cowboy.