John Wayne's Politics Nearly Cost Him His Part In The Cowboys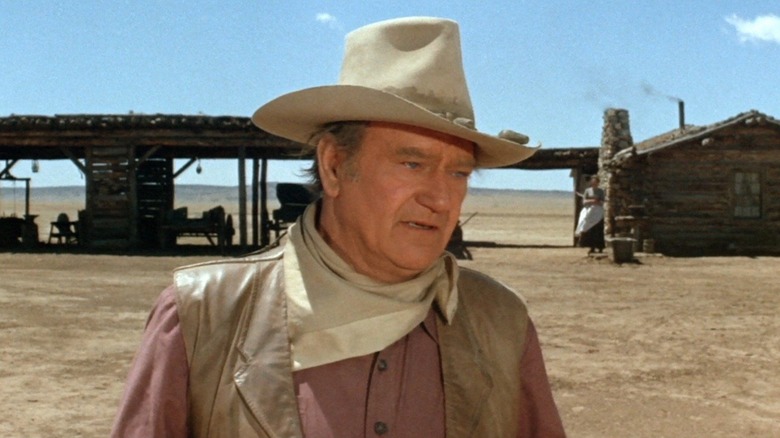 Warner Bros.
Hollywood in the early 1970s was unkind to many of the industry's surviving golden-age legends. The smartest of the bunch had either retired, moved to television, or segued to supporting roles in disaster films. Unlike our current era, there wasn't much nostalgia for the good old days. The '50s and '60s were a time of social upheaval during which Black Americans struggled mightily to fight and win basic civil rights. Meanwhile, the Vietnam War was only getting bloodier. People were not in the market for old-fashioned entertainment. They wanted edgier, angrier movies. Those who wanted more of the same could stay home and watch the same when it reran on the afternoon movie.
Where did this leave John Wayne, the Western icon who'd become the big-screen personification of everything that was right (morally and politically) about America at the time? After scoring his first Best Actor Oscar as the alcoholic U.S. Marshal Rooster Cogburn in 1969 with "True Grit," he'd fallen back into his oater rhythm with serviceable films like "Chisum," "Rio Lobo," and "Big Jake." He was older and crustier, but still very much The Duke. This turned problematic when he gave Playboy a notoriously cranky interview, in which he voiced his support for "white supremacy until the blacks [sic] are educated to a point of responsibility." This might've played well in Peoria, but it was anathema in Hollywood.
The Duke goes where he's not wanted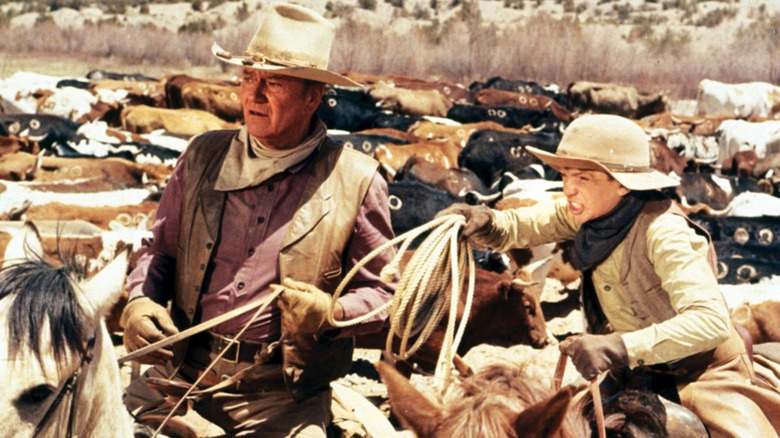 Warner Bros.
It was at this point that Wayne grew restless. He didn't want to make small-scale Westerns. He yearned for the epic scope of Howard Hawks' "Rio Bravo" and John Ford's "The Searchers." He found this project in Mark Rydell's "The Cowboys," which was based on a novel by William Dale Jennings. The tale of an aging rancher forced to hire a group of adolescents to drive cattle over a rough 400-mile trail stretching from Montana to South Dakota was a perfect companion piece to "True Grit." Less fitting was Jennings' background. The author, a World War II veteran (something Wayne famously was not), was an openly gay man who co-founded the Mattachine Society. Wayne's feelings on homosexuality were exactly as uncharitable as his views on racial justice.
Wayne either didn't know or didn't care about Jennings' sexual preference. Of chief importance to him was the story, which entailed him turning a bunch of recalcitrant whippersnappers into first-rate cowboys. Jennings, however, who'd been involved in the adaptation process along with the screenwriting duo of Irving Ravetch and Harriet Frank Jr., wanted no part of Wayne. He'd written the character of Wil Andersen for George C. Scott.
Rydell concurred. According to Scott Eyman's "John Wayne: The Life and Legend," the director dug his heels in until the star finally broke down his defenses.
"'I did not want John Wayne for 'The Cowboys," said director Mark Rydell. 'But Warners was heavily invested in John Wayne, with whom I was at polar opposites politically and emotionally and every possible way. I did not admire him. But he seduced me mercilessly. 'I promise you I will do the best job I possibly can,' he said. 'Let's not talk about anything but acting. Not politics or religion, just acting.' He completely won me over and I agreed he should play the part.'"
The Duke must die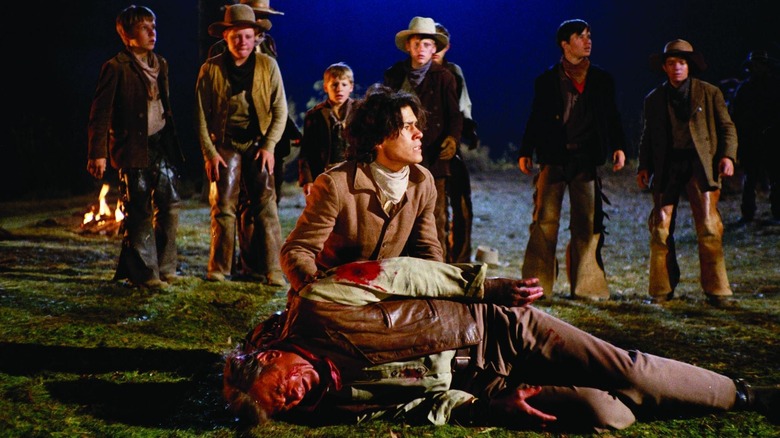 Warner Bros.
Rydell told Eyman that Wayne kept his politics to himself on the set. Though Rydell quietly amused himself by casting the formerly blacklisted Allyn Ann McLerie as Wayne's wife, he basically reciprocated, and the two turned out an emotionally satisfying Western bolstered in a big way by John Williams' magnificent, Aaron Copland-inspired score. (One wonders if Wayne knew Copland, the greatest of all American classical composers, was gay as well.)
"The Cowboys" isn't a terribly progressive film, but it did require Wayne to get gunned down by long-haired Bruce Dern after barely besting him in a fight. Wayne rarely died in movies, especially after "Stagecoach" made him a star in 1939, so his death in this movie hits hard, particularly viewed through the worshipful lens of the children he's trying to protect. Wayne's worldview was deplorably out of step with the times, but he was not, in his last decade, too precious about his image. He saw the end coming and realized that life, in the long run, is a losing battle. His art tells a far more fascinating tale than his existence.