Kevin Smith Is Bringing The Snyder Cut Of Justice League To Theaters, But There's A Catch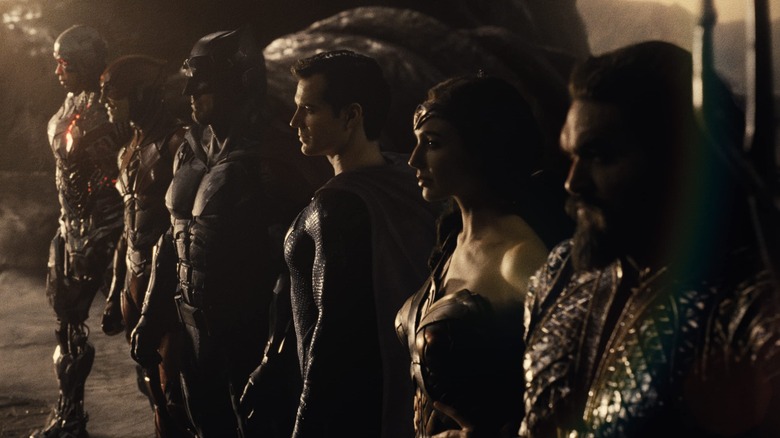 Warner Bros
Kevin Smith is an incredibly busy guy. In addition to recording his plethora of podcasts, writing stories for his new comic book imprint, and appearing at conventions and pop-ups around the world, he's still making movies and touring with them, which is what he's currently doing with "Clerks III." On top of all that, he also owns an excellent comic book store in Red Bank, New Jersey. Although, that isn't the only business that the acclaimed filmmaker is running these days.
Earlier this year, Smith became a co-owner of the Atlantic Moviehouse in Atlantic Highlands, New Jersey. This was the theater that the filmmaker frequented with his family as a child while he was growing up in the Garden State. Now rebranded as Smodcastle Cinemas, the theater is set to include a View Askew merch store in the lobby, a "film school camp" for young people with movie-making aspirations, and a curated program of special screenings, Q&As, and marathons.
So far, the schedule has consisted of a screening of his most recent film that closed out his Quick Stop trilogy, then a special presentation of "Tusk" paired with a taping of the "Hollywood Babble-On" podcast. But now Smith has announced a new series for the theater that will bring some of the biggest directors in Hollywood to New Jersey in order to screen their movies and engage with fans. And among the first films announced is "Zack Snyder's Justice League."
Justice is served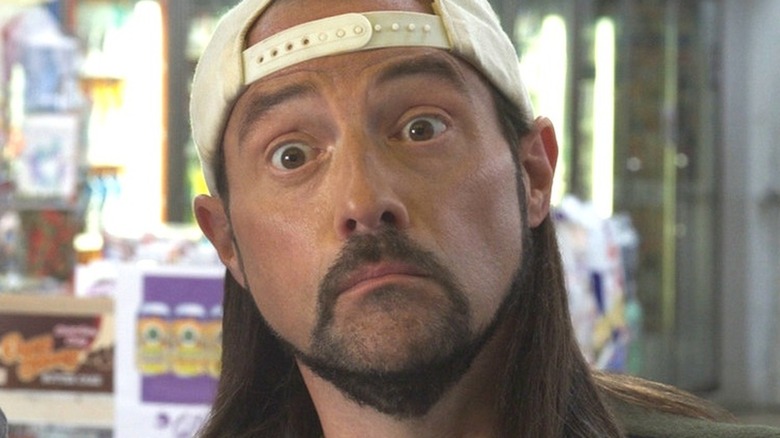 Lionsgate
On the latest episode of the "Fatman Beyond" podcast, Kevin Smith unveiled a series of screening and Q&A sessions at his New Jersey theater called "Directly Responsible: Face-to-Face With Filmmakers At Smodcastle." Included in the first wave of this highly-anticipated program are "Juno" and "Ghostbusters: Afterlife" director Jason Reitman, Joe and Anthony Russo of "Avengers: Endgame" and "The Gray Man" fame, and the aforementioned Snyder.
Smith shared that Snyder's involvement came about because Snyder had "never shown 'Justice League' in a theater once," so the man behind Silent Bob encouraged his colleague to bring the film to his newly acquired theater for the fans to enjoy with him. 
Technically, this screening will mark the fourth time that "Zack Snyder's Justice League" would screen in a theater. On July 19, 2021, the black and white version of the film dubbed the "Justice Is Gray Edition" was a part of three exclusive screenings in Los Angeles, New York City, and Austin that benefitted the American Foundation for Suicide Prevention. While it would make sense for him to bring the black-and-white version to Kevin Smith's hometown considering how a black-and-white movie launched his career, we assume that Snyder will bring the color cut of the movie to Smodcastle Cinemas.
Other than the promise of these screenings happening next year, there is currently no date for the first "Directly Responsible: Face-to-Face With Filmmakers At Smodcastle" event. However, if you follow Kevin Smith's social media feeds, he will most definitely share that news when it becomes available.