The School For Good And Evil Trailer: The Good Do Not Room With The Evil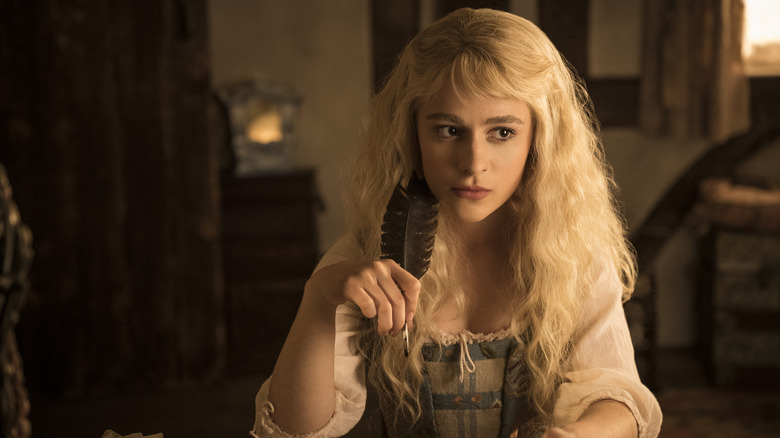 Helen Sloan SMPSP / Netflix
There is only one week to go before Netflix releases the new film "The School for Good and Evil." To celebrate the streaming adaptation of the best-selling series of the same name by Soman Chainani, we have a brand new trailer that gives a deeper look at what's coming. If you aren't familiar with the story, two best friends in the village of Gavaldon are taken off to a magical school by a giant flying creature. Sophie (Sophia Anne Caruso) wants to be a princess, and Agatha (Sofia Wylie) has all the makings of a witch. 
These two friends get kidnapped and sent to the School for Good and Evil, but on the opposite side of where they wanted to go. Agatha ends up on the Princess side of things, sent to the "groom room" for pretty frocks and lovely flowers. Sophie is trying to use her blond hair as a reason to get out of evil witch school. They're in the wrong place ... or are they? 
Watch The School for Good and Evil trailer
As a sucker for all things fairytale, this actually looks like a whole lot of fun. We already know that Charlize Theron can play evil very well as she did in "Snow White and the Huntsman," so seeing her as a teacher on the darker side of things is perfect. I'm not going to lie. I would 100 percent take evil classes with her. Kerry Washington is a professor on the good side, and yes, I would take princess lessons from her as well.
The film, which is directed by Paul Feig also stars Laurence Fishburne, Michelle Yeoh, Jamie Flatters, Kit Young, Peter Serafinowicz, Rob Delaney, Mark Heap, Patti LuPone, and Rachel Bloom. Broadway star Patti LuPone? Goddess of all movies right now Michelle Yeoh? This sounds beyond delightful. Plus, Cate Blanchett is narrating the whole thing. You really can't get more magical than that!
Just throwing out there that the evil side looks like a lot more fun, and those princesses seem kind of mean.
True love's kiss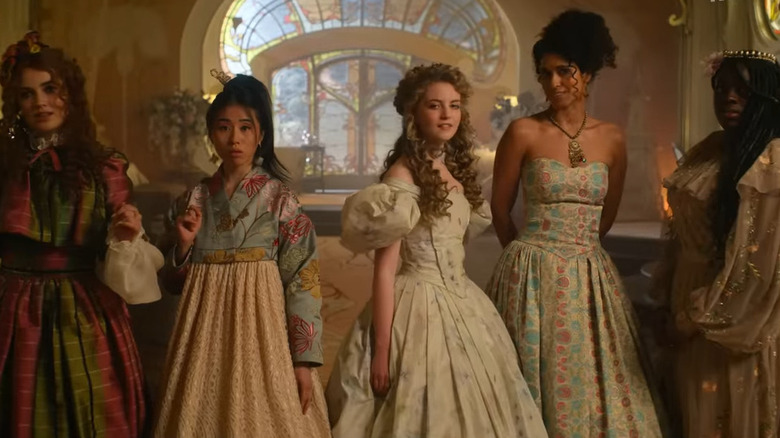 Netflix
Here is the synopsis for the film:
In the village of Gavaldon, two misfits and best friends, Sophie (Sophia Anne Caruso) and Agatha (Sofia Wylie), share the unlikeliest of bonds. Sophie, a golden-haired seamstress, dreams of escaping her dreary life to become a princess, while Agatha, with her grim aesthetic and offbeat mother, has the makings of a real witch. 

One night under a blood red moon, a powerful force sweeps them away to the School for Good and Evil — where the true stories behind every great fairy tale begin. Yet something is amiss from the start: Sophie is dropped into the School for Evil, run by the glamourous and acid-tongued Lady Lesso (Charlize Theron), and Agatha in the School for Good, overseen by the sunny and kind Professor Dovey (Kerry Washington).

As if navigating classes with the offspring of the Wicked Witch (Freya Parks), Captain Hook (Earl Cave), and the dashing son of King Arthur (Jamie Flatters) wasn't hard enough, according to the Schoolmaster (Laurence Fishburne), only true love's kiss can change the rules and send the girls to their rightful schools and destiny. But when a dark and dangerous figure (Kit Young) with mysterious ties to Sophie reemerges and threatens to destroy the school and the world beyond entirely — the only way to a happy ending is to survive their real life fairytale first.
"The School for Good and Evil" premieres on Netflix on October 19, 2022.