The School For Good And Evil Has Cast Cate Blanchett For Its Narrator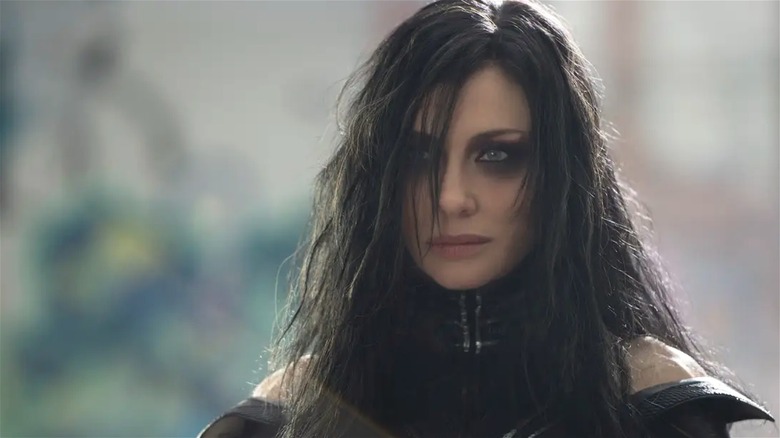 Marvel Studios
Here's some major news for those looking forward to Netflix's fantasy drama, "The School for Good and Evil." Cate Blanchett has joined the star-studded cast of the upcoming film and will be playing the role of the narrator, per director Paul Feig (via The Wrap):
"And actually, we just got Cate Blanchett as now the narrator, so we're very excited about that. It hasn't actually been announced yet — it's out there."
Blanchett is the latest addition to the ensemble cast that includes Charlize Theron, Kerry Washington, Michelle Yeoh, and Laurence Fishburne. "The School for Good and Evil" is an adaptation of Soman Chainani's popular YA fantasy book series, and Netflix's first look teaser seems to be based on the first novel in a series of six.
Chainani's "The School for Good and Evil" takes the basic premise of good versus evil and inverts the trope significantly with the aid of its two central characters. The tale begins in the village of Gavaldon, in which two children are kidnapped and taken to the School for Good and Evil, wherein people either become heroes or villains, depending on their personal affiliations.
Navigating a thematically rich, strange world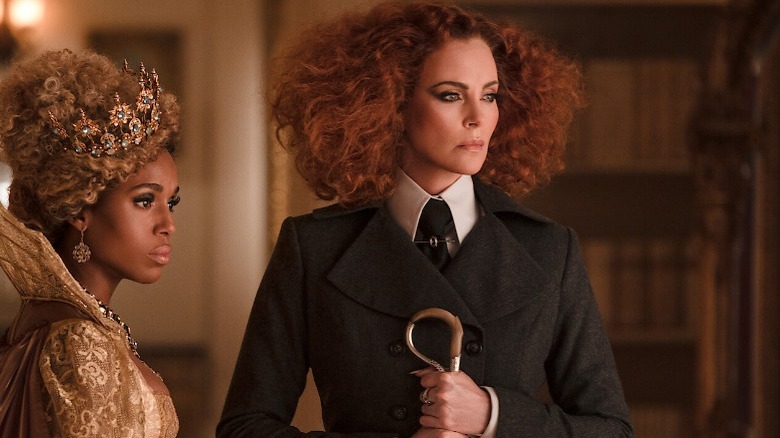 Netflix
Sophie (Sophia Anne Caruso) wishes to end up in the "good" school and become a princess, while Agatha (Sofia Wylie), is considered perfect for the school's "evil" branch. However, after the two are whisked away to the destination, their expected roles are reversed, as Sophie is a "Never" student in the School for Evil, while Agatha is an "Ever" student in the School for Good. While the former is expected to train with Lady Lesso (Theron), the latter is supposed to work under the guidance of Professor Dovey (Washington).
This proves to be challenging for both girls, as they are disillusioned with the paths they are supposed to take, and are in turn determined to make their way back to each other and be reinstated to their rightful branches. There is an ever-present fairy tale element in the narrative, incorporating tropes such as True Love's Kiss and the trope of proving one's worth in order to step into a magical threshold.
Fishburne will be playing the school's Head Master, while Yeoh will star as Professor Anemone. Blanchett, who acts as narrator, might reflect the tone of the character in the books, as the narrator in Chainani's novel, while not unreliable, is one devoid of warmth, and often unpleasant in the way in which they describe the events that unfold. This is a deliberate decision, meant to evoke feelings of restlessness in the reader, and the viewer, with regard to the film.
"The School for Good and Evil" is slated for a September 2022 release on Netflix.