The Daily Stream: Paddington Will Win Your Heart And Make You Believe In The World Again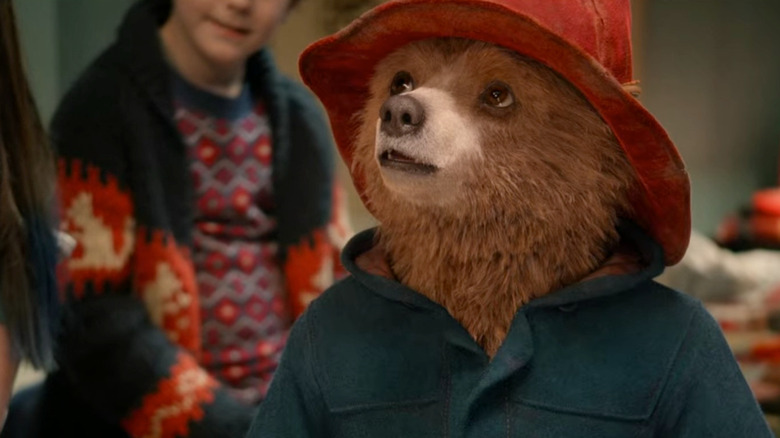 StudioCanal
(Welcome to The Daily Stream, an ongoing series in which the /Film team shares what they've been watching, why it's worth checking out, and where you can stream it.)
The Movie: "Paddington"
Where You Can Stream It: Netflix
The Pitch: There are apps for peace and meditation. There are online yoga classes and breathing techniques available at all times of the day. However, if you really want to find your bliss again and restore your joy, it will take you exactly one hour and 35 minutes to do so, in the form of the film "Paddington." Though you will hear grand and very well-deserved praise for "Paddington 2," the first film occupies a special place in my head. 
You see, I saw this film after its sequel, which I loved with all my heart. I will sometimes watch the prison scenes from that film if I'm having an especially bad day (which sounds odd if you don't know that it involves pink uniforms and dainty cakes). I wasn't sure any film could move me like the second, which had me both laughing and crying enough to disturb my waterproof mascara. 
I don't know if "Paddington" tops the sequel so much as lays a foundation for the sweetness of this bear and his little coat and hat, which surprised me in a way I could never have anticipated. 
Why it's essential viewing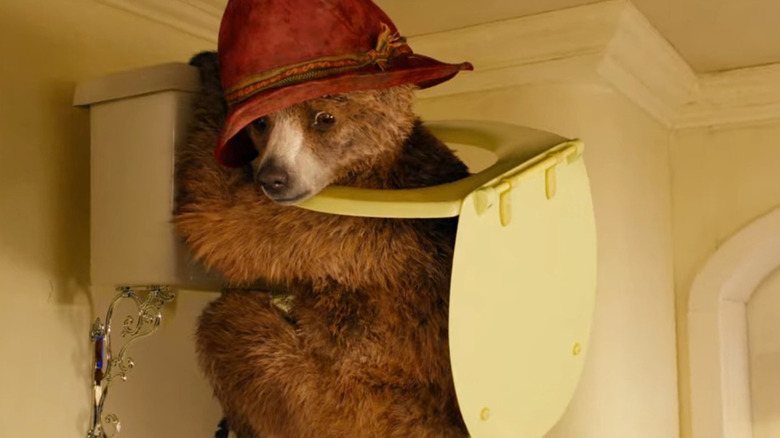 StudioCanal
Before I gush, let me lay some foundation for you. The film is full of stars like Nicole Kidman who plays the villain of the tale, and Hugh Bonneville as Henry Brown, the father of the family that takes in this little bear without a home. Sally Hawkins is Mary Brown, the mom. Peter Capaldi, Jim Broadbent, Imelda Staunton, Michael Gambon, and Matt Lucas all join the fun. The CGI is great, and you forget you're watching a created creature. 
Fun fact: Ukrainian President Volodymyr Zelensky, who used to be an actor, voiced Paddington in the Ukrainian dub. Just in case you needed a little extra push.
Paddington is a bear from "darkest Peru," whose species was discovered by an explorer 40 years ago and introduced to marmalade sandwiches. Poor little Paddington has just lost his uncle, and his aunt sends him to London for a while. So we're dealing with a little guy who doesn't know the city, has only a vague idea of what London even is, and is searching for a home. He's missing his aunt and grieving his uncle. When he finds the Browns, they take him in temporarily, but we know where that's going. 
This fuzzy guy is a bit of a mess. He's clever but very accident-prone, flooding the bathroom and messing up the Brown's house. He also brings them together in a way they hadn't been before. It's a simple story and an adorable one about found families and seeing the best in people — and bears — even if you have to dig for it a bit. That's not what makes it so special though. 
Give that bear a marmalade sandwich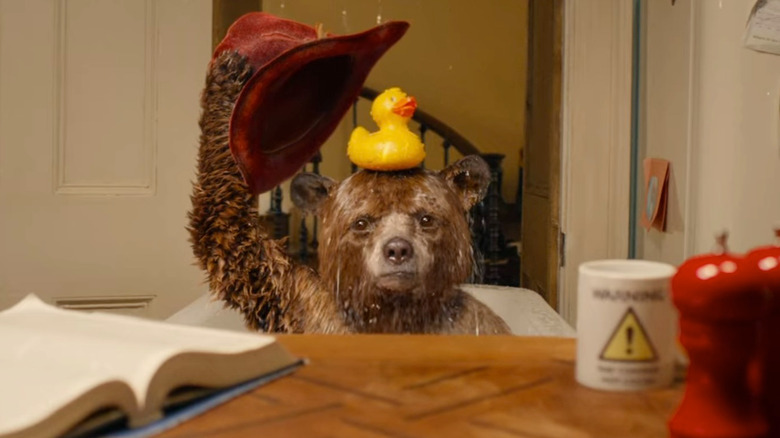 StudioCanal
The charm of this film lies in its sweetness, but not in its cuteness. That sounds odd, I know, but it's true. So many movies for kids "cute up" the main character. Everything is pastel and cloying, and every child in it is preternaturally precocious. Here we have instead a bear that looks like a bear. I mean, he wears a hat and coat and speaks, but there is no attempt to make him cutesy. In fact, his entire appearance breaks every rule of "cute." He doesn't have a little child's voice or the giant eyes that make our lizard brains want to care for him. There are no tricks here to make you love Paddington. 
Instead, he has the adult voice of Ben Whishaw. His eyes are small. He messes up quite a lot. He's endearing though for what he does and what he says rather than visual cues. Don't get me wrong. Whishaw really nails the role. It's just that the writing here has to make up for what most films would do with his appearance and vocal style. There are no cheats. At its core, this is just the most heartwarming story. You fall in love with Paddington because of who he is, not how he looks. I mean, he's sweet, but he doesn't look like the stuffie that most of us had as children (or, um, currently sitting on my bed). 
I hope you love this film as much as I do. Truly, it's one of those titles that, when I hear someone hasn't seen it, I try to sit that someone down immediately to watch with them. I want it to bring you as much joy as it has brought me.