Eddie Murphy's Success With Trading Places Was Worrying For Robin Williams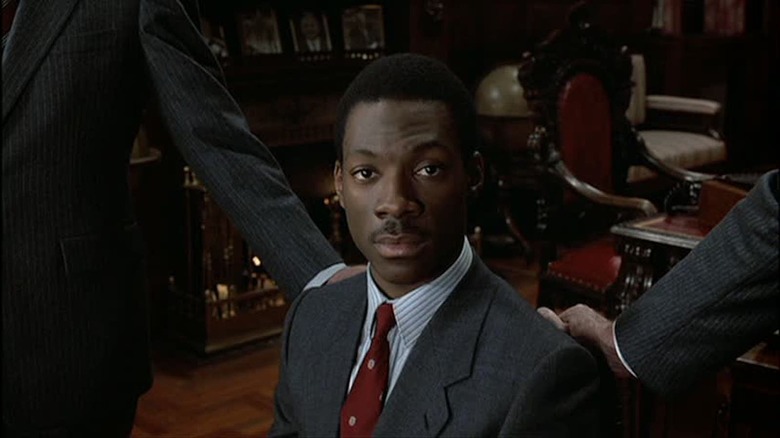 Paramount Pictures
Stand-up comedians are some of the neediest people on the planet. Their livelihood hinges on their laugh-provoking expertise, and every single performance can feel like a make-or-break referendum on their funniness. Even the greats feel this pressure. In the 2002 documentary "Comedian," Jerry Seinfeld observes that an established, widely beloved comic only gets a slim grace period between taking the stage and delivering the goods. People are paying a two-drink minimum — they expect to laugh.
Every comedian has an off-night, but I have a hard time envisioning what that looked like for Robin Williams. Ditto, Eddie Murphy. With Williams, you knew he was going to remove the restraining bolt from his brain and access that deep reservoir of jokes and references and spot-on impersonations with dizzying speed. Murphy was different. He exuded confidence, deftly gliding from bit to bit, secure in the knowledge that he could only kill. Maybe that's why he's resisted entreaties to do a new stand-up special. He's a tad too wealthy and content to desire that approval.
Williams and Murphy followed a similar trajectory at the outset of their career. Both were breakout television stars. Williams was the catch-phrase spouting extraterrestrial Mork from Ork, while Murphy single-handedly saved "Saturday Night Live." Murphy, however, made a speedy and wildly successful transition to films with "48 Hrs.," "Trading Places," and "Beverly Hills Cop." Williams enjoyed box-office success with "Popeye," but struggled to find the right vehicle that would exploit his comedic brilliance. This futility hit him hard during the summer movie season of 1983.
Surviving The Survivors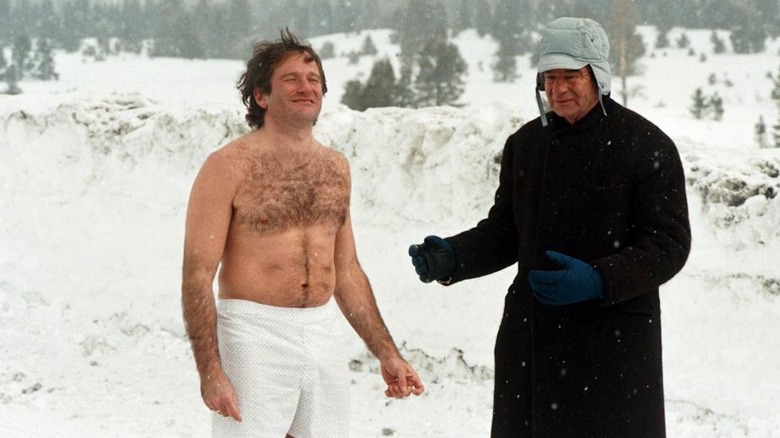 Columbia Pictures
The general public wasn't as obsessed with box-office returns in June 1983, so no one realized that there was a battle of two-hander comedies looming between John Landis' "Trading Places" and Michael Ritchie's "The Survivors." The former was a buzzy pairing of former (Dan Aykroyd) and current (Murphy) "SNL" stars, while the latter boasted the odd-couple clash of Williams and Walter Matthau. Landis' film was first out of the gate on June 6, and built off the momentum of Murphy's December 1982 smash, "48 Hrs." Critics dug it, and moviegoers, who were once again staying home on Saturday nights to watch one particular Not Ready for Primetime Player, flooded theaters.
Two weeks later, "The Survivors" was DOA. It opened in eighth place to an anemic $3 million and was drubbed critically by everyone save for, surprisingly, The New Yorker's finicky Pauline Kael.
Entertainment journalists might not have been keeping score, but Williams was. According to Dave Itzkoff's biography "Robin:"
"The comedy marketplace, as Robin saw it, was a zero-sum game: for someone to rise, it meant that someone else had to fall, and if Aykroyd and Murphy were in ascendance, what did that mean for him? Murphy, in particular, seemed to be making the transition from television to movies so effortlessly, with an ease that eluded Robin. 'Eddie is ideal — he knows exactly what he does and how to get it out on film perfectly,' Robin said. 'I don't – I keep trying different things.'"
It's Eddie's turn to cry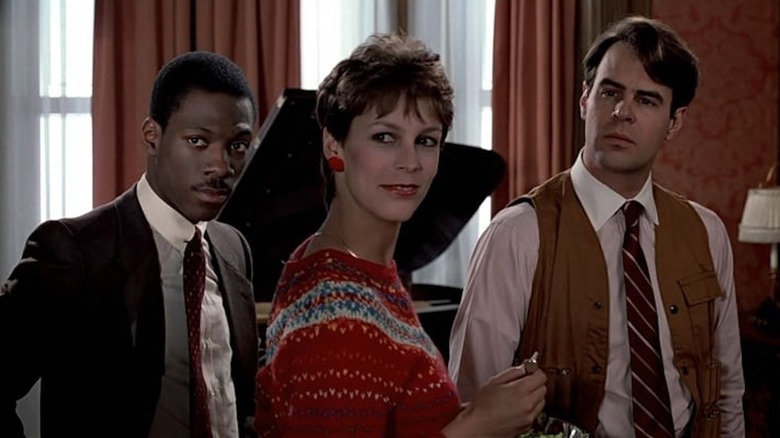 Paramount Pictures
"Mork & Mindy" had been canceled the previous year, which only amplified Williams' anxiety. He needed a hit. According to Itzkoff's book, he called his friend Bennett Tramer, and asked for his honest take on "Trading Places." Tramer, who told Williams the film was quite good, makes it clear that the comic's interest wasn't about wanting to hear the worst about the film.
"'It wasn't like he rooted for other people to fail—he was a classy guy,' Tramer said. 'But it was kind of weird. Maybe not weird. Maybe it makes total sense. He was very happy for them and really liked them, but it was like, When's my turn coming? When's my turn going to come to have a hit movie?'"
Williams' turn finally arrived in 1987 with his Oscar-nominated performance in Barry Levinson's blockbuster "Good Morning, Vietnam." Ironically, Williams' big-screen rise would roughly coincide with Murphy's first legit commercial stumble in 1989's "Harlem Nights." While Williams racked up box-office successes via "Dead Poets Society," "Awakenings," "The Fisher King," "Aladdin," and "Mrs. Doubtfire," Murphy wouldn't fully pull out of his commercial tailspin until 1996's "The Nutty Professor." 
The public is fickle when it comes to movies, but I still refuse to believe either of these men bombed a single time at a comedy club.