Kate Mulgrew Explains Why She Never Directed An Episode Of Star Trek [Exclusive]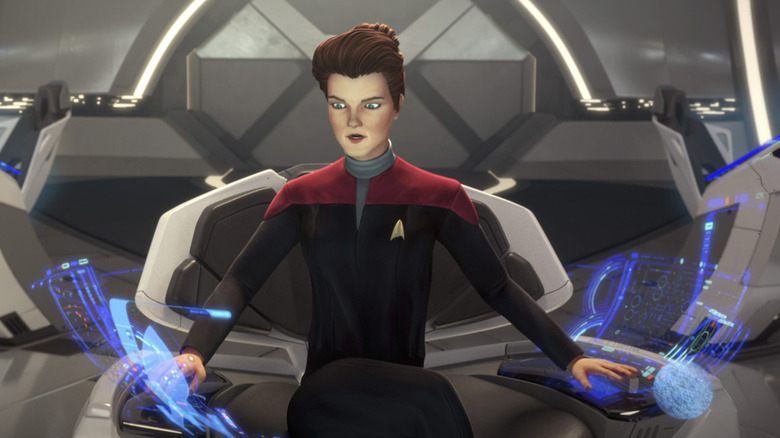 Paramount
"Star Trek" is notoriously kind to its cast. If an actor manages to secure a small role in one episode of "Star Trek," it becomes more likely that they will be invited back for reappearances, either as the same character or as a new character. Actor Mark Lenard appeared on the original series as a Romulan commander, only to be recast later as Spock's father Sarek. Armin Shimerman appeared as both a talking treasure chest (!) and as a Ferengi before landing the regular role of Quark on "Star Trek: Deep Space Nine." Jeffrey Combs has appeared as multiple alien/computer characters on various Trek programs, including three regular roles on "Deep Space Nine." Actor Vaughn Armstrong currently holds the record, having played 12 different Trek characters. 
This loyalty also extends to any cast members willing to make the move from acting to directing. Leonard Nimoy famously directed two Trek feature films with "Star Trek III: The Search for Spock" and "Star Trek IV: The Voyage Home" — the latter of which remains one of the most successful in Trek's film history. William Shatner directed "Star Trek V: The Final Frontier." Additionally, LeVar Burton directed 28 episodes of Trek, Jonathan Frakes helmed two feature films and 23 episodes of various shows, Patrick Stewart directed five, Michael Dorn directed four, and Gates McFadden directed one called "Genesis." 
The "DS9" cast helmed 20 episodes between them, and on "Star Trek: Voyager," the cast has collectively stepped behind the camera for a total of 21 Trek episodes. Roxann Dawson handled 12 herself. 
Kate Mulgrew, the captain of the Voyager and one of the more prolific Trek actors, has, however, never directed. In a recent interview with /Film, Mulgrew explains that directing simply may not be her calling. 
It was considered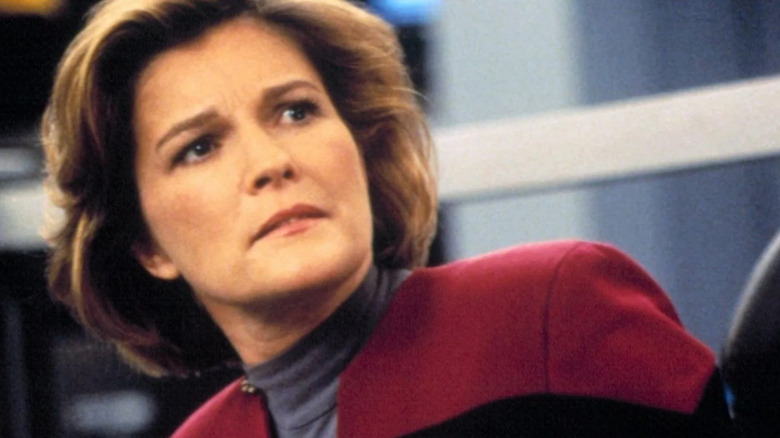 Paramount
Mulgrew, it should be noted, has — between "Voyager" and the animated series "Star Trek: Prodigy" — appeared in, to date, 181 episodes of Trek. That's considerably more than William Shatner and only a few less than Jonathan Frakes. She has played multiple roles besides, appearing as both Capt. Janeway and an older version of Capt. Janeway — simultaneously — in the final episode of "Voyager." On "Prodigy," she not only plays Vice Admiral Janeway, but also a hologram version of Janeway. The two characters are quite different.
Given her legacy, and Trek's generosity with letting actors sit in the director's chair, why hasn't Mulgrew made the jump? As it so happens, Mulgrew was simply never drawn to directing, feeling her calling to be more interior. When asked if she had considered directing, she said: 
"Yeah, of course I've considered it. And I've dismissed it. It's curiously just not my thing. I write. I'm a writer. So I think I'm — mine is an isolated kind of consciousness. I like to go in and down."
Mulgrew's career as an actress would be broad and impressive even if she had never come to "Star Trek," so one can understand that acting is more of her bag. To date, she has been nominated for a Golden Globe and a Daytime Emmy, and has won an Obie, a Saturn, and three SAG awards. Her attention, it seems, is elsewhere.
Mulgrew's writing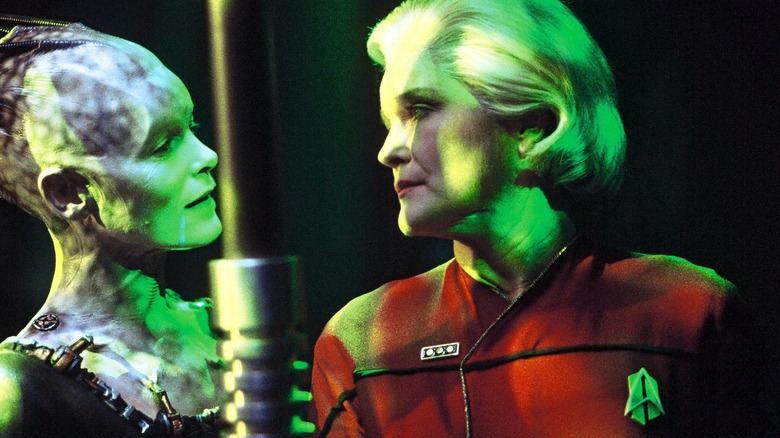 Paramount
To date, Mulgrew has written two memoirs, one in 2015 and one in 2019. Her first book, "Born With Teeth: A Memoir," Mulgrew recounts growing up in a large Irish Catholic family, her movement into acting, the trials of giving up a newborn daughter for adoption in 1977, and her wild life of acting, art, theater, and various love affairs. Mulgrew chose adoption as she didn't believe in abortion, and has even spoken out against the practice. She has since changed her opinion on the matter, supporting a woman's right to choose. In 2001, Mulgrew was reunited with her blood daughter, Danielle. The title is not just a metaphor of her memoir. It alludes to the fact that Mulgrew was indeed born with a full set of neonatal teeth. 
Mulgrew's second book, "How to Forget: A Daughter's Memoir," was specifically about the actress' relationship with her mother and father. Her mother was diagnosed with Alzheimer's Disease in the mid-2000s, and her father was diagnosed with lung cancer at the same time. "How to Forgot" is a recounting of Mulgrew's time back in her hometown of Dubuque, spending as much time as she could with her parents and reminiscing with them in the little time they had left. 
These experiences as a writer are, it seems, far more dear to Mulgrew than blocking, lighting, and giving other actors their motivation. While it seems to the outsider that directing would be a natural fit for Mulgrew, she would need to want to first. After such a long and fascinating career, she has earned the right to do what she wants.