Where You've Seen The Midnight Club Cast Before In Mike Flanagan's Netflix Shows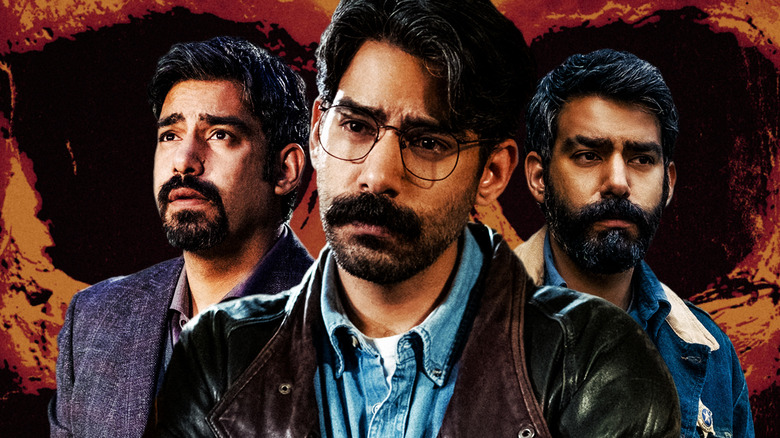 Netflix
The Mike Flanagan small-screen universe — or Flanaverse, as Netflix has officially dubbed it – is always growing. After impressing viewers with the emotional one-two punch of literary adaptations "The Haunting of Hill House" and "The Haunting of Bly Manor," the filmmaker created a profound and sweeping original story last year with the limited series "Midnight Mass." Now, he's back with "The Midnight Club," a series co-created by Leah Fong that pulls together the creepy YA stories of Christopher Pike.
Flanagan has long-since been known for employing actors he likes to work with again and again, often in the kind of richly layered roles that typically only come around once in a lifetime. More than most of his projects, "The Midnight Club" is like a playground for its performers, since its story-in-a-story structure lets its core cast play multiple characters, while guest stars can pop up at any given moment.
While the Flanaverse connections seem to be nearly beyond counting, we tried our best to gather up a roster of returning players who appear in the new series — including some blink-and-you'll-miss-them cameos.
Samantha Sloyan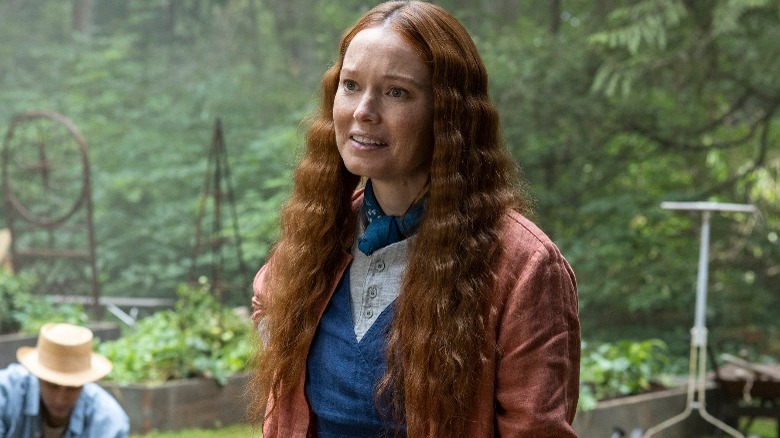 Eike Schroter/Netflix
If the appearance of friendly local alternative medicine expert Shasta made the skin on the back of your neck stand up, you're not alone. The character sets off alarm bells from the start, not because of anything she does so much as because of the particular connection Flanagan fans will have to actor Samantha Sloyan. Sloyan portrayed Bev Keane, the puritanical woman who ultimately became the main villain of Flanagan's island-set vampire saga "Midnight Mass." Sloyan was great as the exacting and terrifying Bev, and her performance as Shasta also carries an edge to it that makes her one of the season's most mysterious characters.
Zach Gilford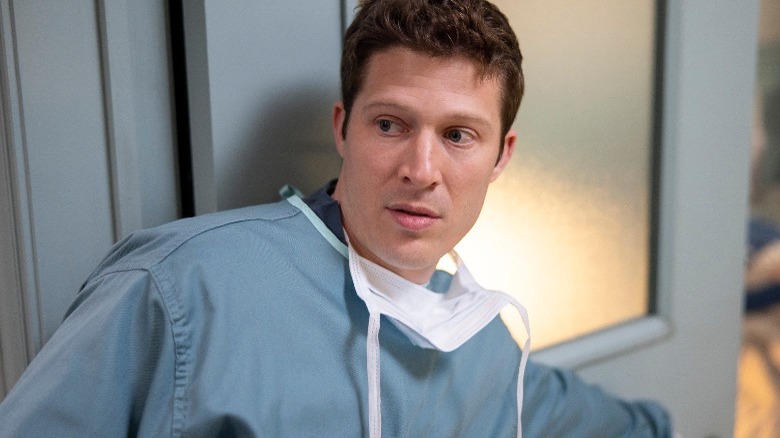 Eike Schroter/Netflix
Zach Gilford will always be resident "Friday Night Lights" good guy Matt Saracen to me, but in the Flanaverse, he's Riley, the traumatized and religiously cynical protagonist of "Midnight Mass" who starts off the series with the worst moments of his life. After going to prison for killing a woman while drunk driving, Riley returns to Crockett Island like a prodigal son — only to find the town has been infiltrated by a darkness of its own. In "The Midnight Club," Gilford plays Mark, the hospice home's nurse practitioner who gives Spence (Chris Sumpter) a pep talk when he worries about homophobia and his HIV diagnosis.
Annarah Symone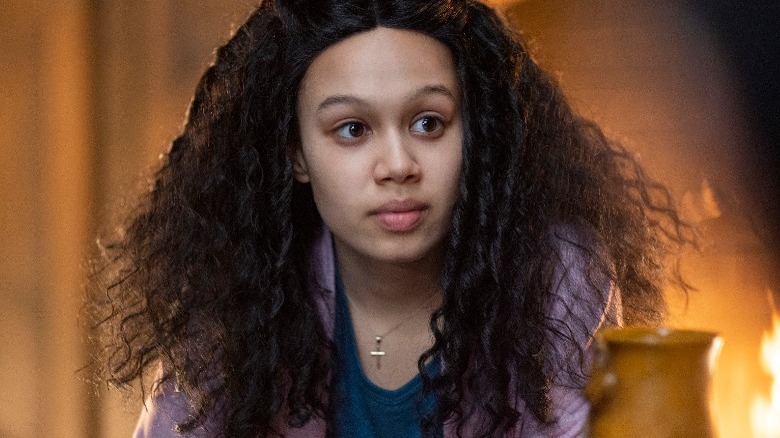 Eike Schroter/Netflix
The Midnight Club consists of a group of scrappy, smart teens and young adults who are all dealing with their mortality in different ways. Among them is Sandra, a hyper-religious girl whose Christian beliefs make her hesitant to join in when her friends' late-night hangouts start to get quasi-occult. Actor Annarah Symone also appeared in "Midnight Mass," where she played Leeza, the disabled teen who suddenly stops needing to use a wheelchair when Father Paul (Hamish Linklater) offers her the eucharist.
Igby Rigney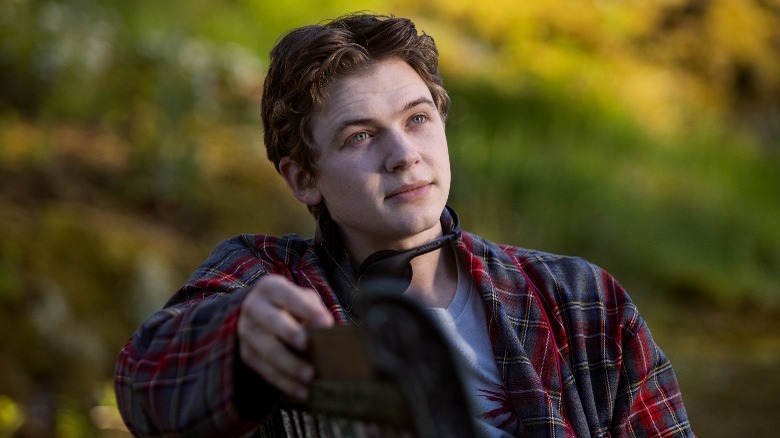 Eike Schroter/Netflix
Symone's "Midnight Mass" screen partner, Igby Rigney, is also among the core cast of "The Midnight Club." In the former, he played Warren, Riley's teen brother who ends up having a vital role — alongside Leeza — in that series' finale. The pair put in phenomenal work in the series, bringing home its themes of hope living in concert with hopelessness in an unforgettable scene. In "The Midnight Club," Rigney also puts in a solid performance as Kevin, the Midnight Club member who quickly strikes up a rapport with Ilonka (Iman Benson) and who is dealing with the pressure of being seen as his family's golden boy.
Henry Thomas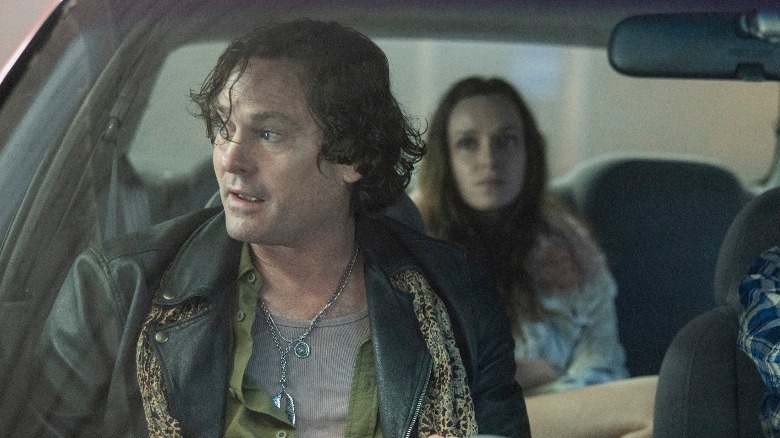 Eike Schroter/Netflix
In terms of sheer number of appearances, Henry Thomas just might be the reigning Flanaverse MVP. The actor has played a part in all four of the filmmaker's Netflix series, beginning memorably as young Hugh Crain in the Shirley Jackson adaptation "The Haunting of Hill House." From there, he played Henry Wingrave, the legal guardian of two orphaned relatives, in "The Haunting of Bly Manor," and appeared as Riley's dad, Ed, in "Midnight Mass." These are all pretty serious characters, but in "The Midnight Club," he gets to have some fun as Freedom Jack, one of the sketchy, hippy-like hitchhikers Natsuki's (Aya Furukawa) protagonist picks up in the episode "Road to Nowhere."
Rahul Kohli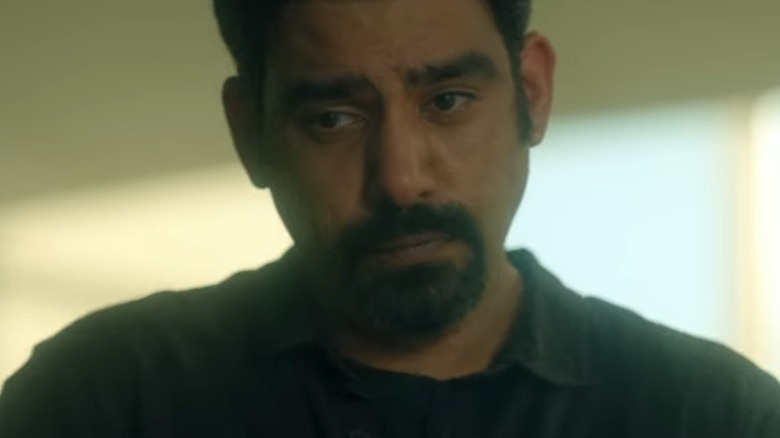 Netflix
One of the most popular breakout stars of the Flanaverse, Rahul Kohli first caught viewers' attention as Owen in the filmmaker's "Turn of the Screw" reimagining, "The Haunting of Bly Manor." Owen was the cook at By Manor, a total sweetie to its resident creepy kids, and a great love interest for Hannah (T'Nia Miller), the manor's housekeeper. In "Midnight Mass," Kohli returned in a totally different role, as Sheriff Hassan, an upstanding Muslim man who struggled to raise a son in an increasingly zealous Catholic community. Kohli's appearance in "The Midnight Club" comes in episode five, when Amesh (Sauriyan Sapkota) tells a story about a gamer who gets invited to demo the latest game from his favorite designer, Vincent Beggs. Kohli plays Vincent, a character who the story's protagonist idolizes, only to discover they share a surprising connection.
Matt Biedel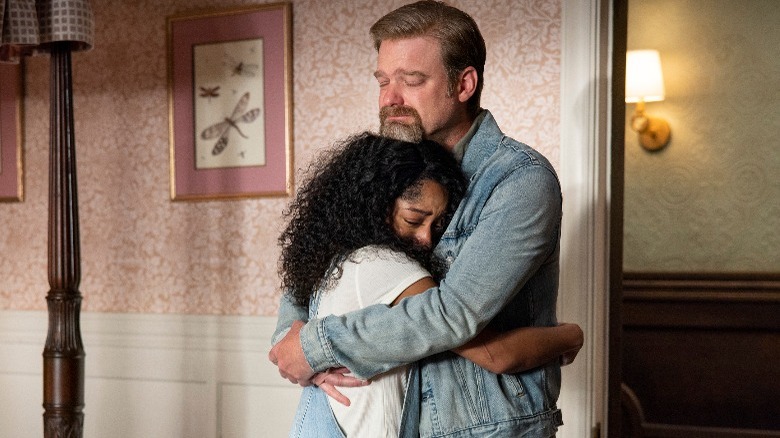 Eike Schroter/Netflix
Ilonka's foster dad, Tim, is another familiar face from the Flanaverse. A kind man who had to come to terms with his daughter's illness — and her choice to leave home for extended hospice care — Tim is a relatively minor character who nonetheless has a big impact on the emotional throughline of the story. Tim is played by Matt Biedel, who did great supporting work in "Midnight Mass," too. There, he played Sturge, Bev's follower who, despite his involvement in her crusade, never seemed quite as despicable as she was. He sports a huge beard as Sturge, so you'd be forgiven for not realizing cleaner-cut Tim is played by the same actor.
Robert Longstreet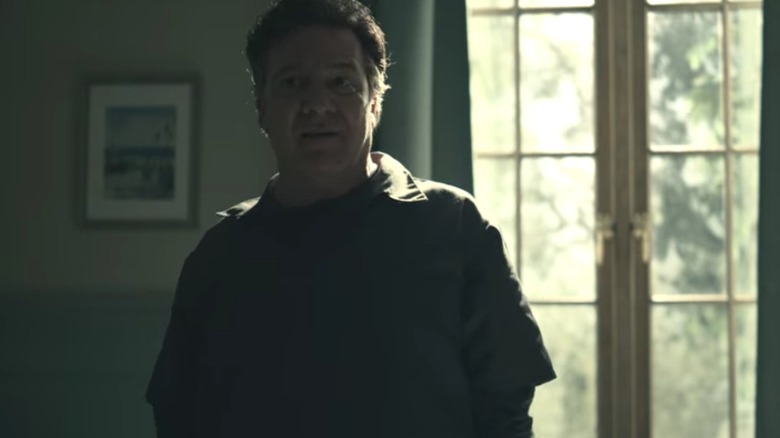 Netflix
Another great member of the supporting cast, Robert Longstreet gives soulful performances in "The Midnight Club," "Midnight Mass," and "The Haunting of Hill House." In "Hill House," he plays Mr. Dudley, the Hill House caretaker whose own family trauma becomes intertwined with the house's history. In "Midnight Mass," he's even more traumatized as Joe Collie, the town drunk whose life is in shambles after he accidentally shot and paralyzed Leeza. Finally, in "The Midnight Club" he plays a character simply credited as the janitor. Despite his lack of name, the janitor is an integral part of the story, as Natsuki meets him when he's cleaning rooms after a friend has died, and the pair exchange their own thoughts about death.
Alex Essoe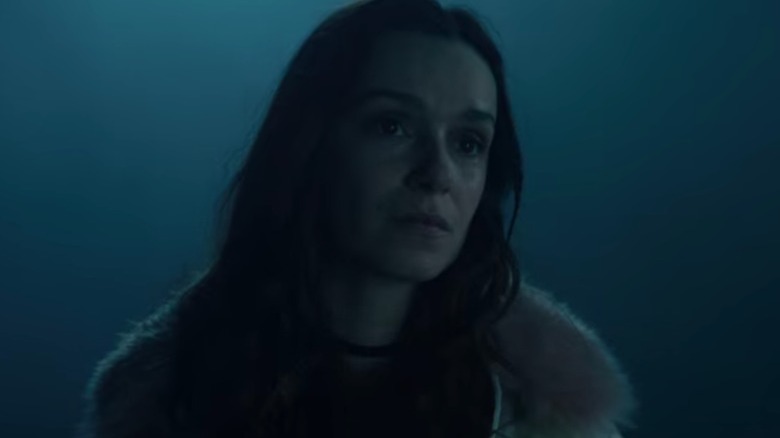 Netflix
Alex Essoe made her first appearance in Flanagan's Netflix horror landscape with "The Haunting of Bly Manor," where she played Flora and Miles' late mother, Charlotte. She crossed paths with Henry Thomas then, as viewers found out via flashback that she was having an affair with the kids' uncle before her death. Essoe next appeared in "Midnight Mass," playing aging town resident Mildred. You probably remember Mildred, as even before Paul's miracles helped her shed the years and become a young woman again, she was somewhat obviously a young actor wearing makeup to appear older. Essoe looks more like herself again in "The Midnight Club," though, as she reunites with Thomas to play his better half, hitchhiker Poppy Corn, in the episode "Road to Nowhere."
Katie Parker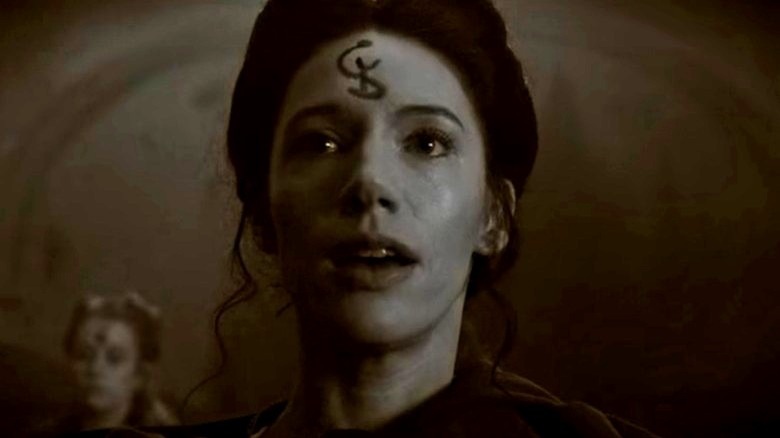 Netflix
A Flanagan muse whose appearance always seems to indicate we're about to get some major backstory, Katie Parker has played characters whose tragic backstories cast a shadow over old buildings three different times for the director. First, she appeared as Poppy Hill in "The Haunting of Hill House." Poppy was an apparently unstable woman whose delusions turned her into a restless soul upon her death. Second, she played Perdita in a memorable flashback episode of "The Haunting of Bly Manor," where she ends up locked in a complex and ultimately deadly scenario at Bly Manor alongside her sister Viola (Kate Siegel). Finally, Parker pops up again in "The Midnight Club" as Aceso, who ended up involved in the Paragon murder-suicide at Brightcliffe in the 1930s.
Patricia Drake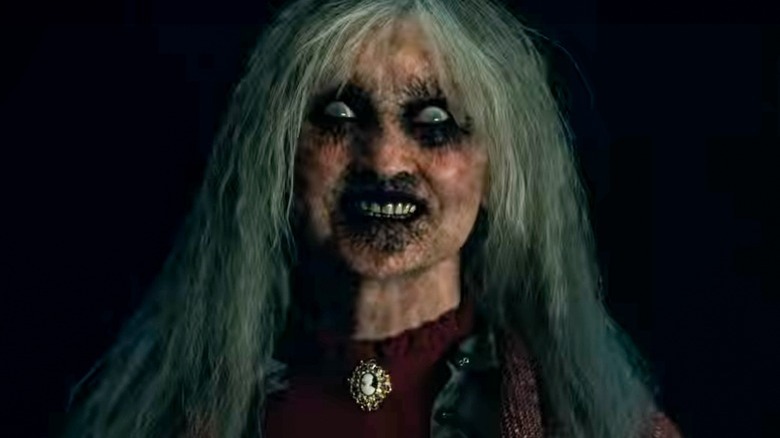 Netflix
Patricia Drake may not be instantly recognizable for Flanaverse fans, but that's because her two roles in his series are so drastically different. First, she appeared as Joanie in "Midnight Mass," a minor character who is the mother of drug dealer and walking vampire lunch Bowl (John C. McDonald). In the new series, she takes on an enigmatic role as a character credited as "cataract woman." The woman with cataracts pops up often in Ilonka's line of sight when she's alone at Brightcliffe, and moans more than once about being hungry. It's unclear at first who this ghostly figure is, but the season finale seems to hint that she could be Vera Freelan, one of the original homeowners from the late 1800s.
Crystal Balint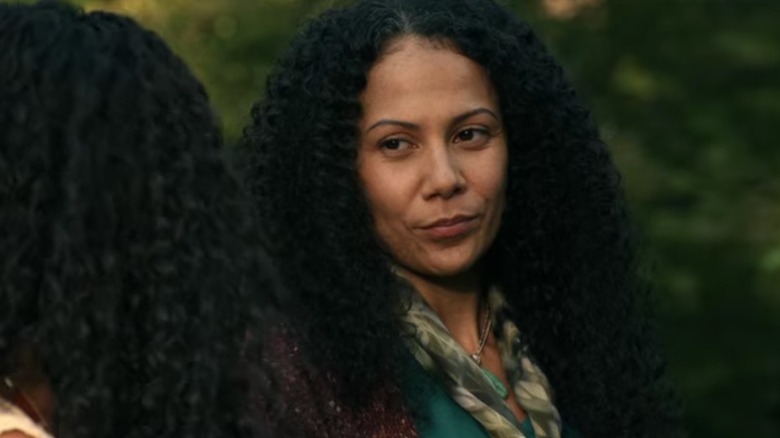 Netflix
Another former Flanaverse resident who appears in "The Midnight Club" just for the length of one story, Crystal Balint plays Maggie, Imani's witch mother, in Ilonka's story "Witch." While the narrator doesn't say as much outright, it's clear that Maggie stands in as a sort of surrogate mother for erstwhile foster kid Ilonka in the tale, and she returns in the season finale to share an important moment with her in-story daughter. Balint played mother to another member of The Midnight Club last year in "Midnight Mass," taking on the role of Leeza's awestruck mother Dolly. Dolly, along with many of her peers, end up being a strong believer in Father Paul after he heals Leeza.
John C. MacDonald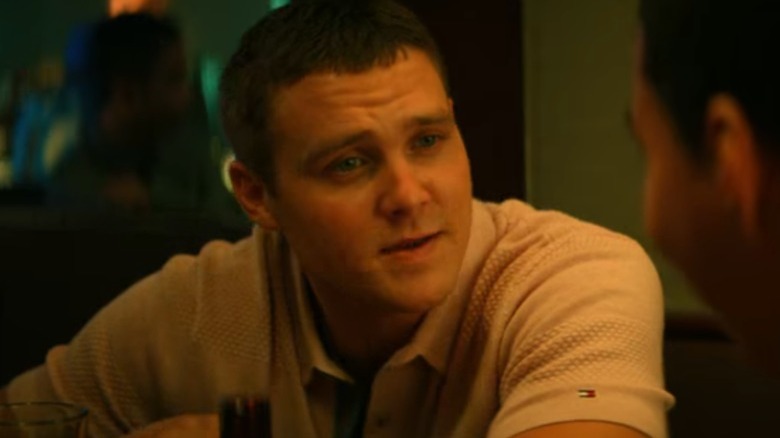 Netflix
This next Flanaverse actor has so far made pretty brief performances in the filmmaker's projects, although both have been memorable. In "Midnight Mass," John C. MacDonald played Bowl, the drug dealer who ends up meeting a grisly fate after he crosses paths with Father Paul one night. As Christopher in the episode of "The Midnight Club" titled "The Eternal Enemy," his screen time also involves a memorable death — or rather, near death. Spence tells a story about a college student named Rel who hits it off with a classmate named Christopher, only for the two to discover a VHS that can tell them the future. When Rel hears that Christopher is going to be killed, he rushes to save him, and the story takes an even weirder turn.
Jamie Flanagan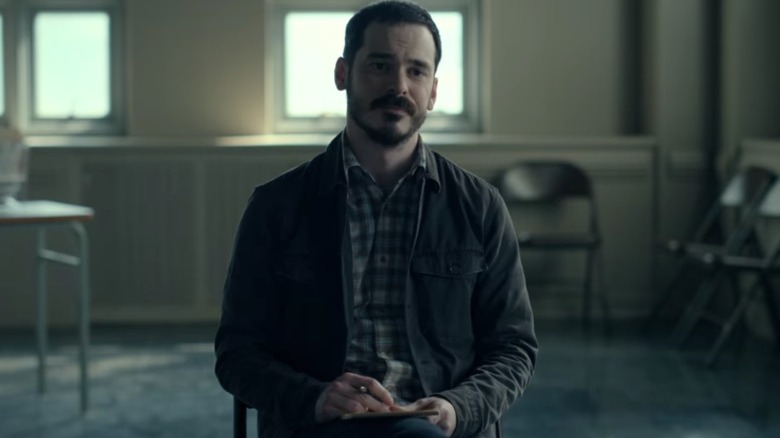 Netflix
Of course, what's a great body of work without some surprise appearances from the people who made it happen behind the scenes? While Mike Flanagan doesn't appear in "The Midnight Club" (or we haven't spotted him yet if he does), his sibling Jamie does make an appearance as the group therapy leader in the show's best episode, "Anya." Jamie Flanagan, who wrote that episode and worked as a story editor and staff writer on past Flanaverse projects, also played a funeral director in "The Haunting of Hill House," and has appeared in their brother's films "Oculus" and "Gerald's Game."
Cameos from Kate Siegel, Hamish Linklater, and Carla Gugino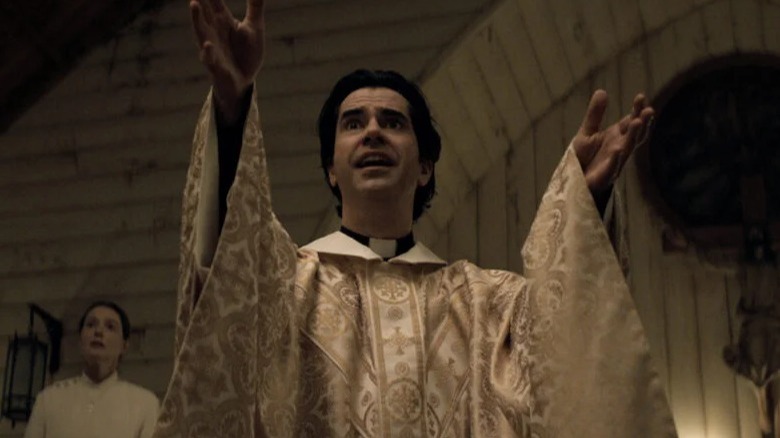 Netflix
Apparently, at least three more stars of the Mike Flanagan Netflix universe appear in extremely brief cameos in the new series. According to Netflix Geeked, notable alums Kate Siegel, Hamish Linklater, and Carla Gugino all pop up in "The Midnight Club," albeit in apparently very small ways. Linklater is, of course, Father Paul in "Midnight Mass," while Siegel has played Theo Crane, Perdita's sister Viola, and Erin Greene in past Flanagan shows. Gugino, meanwhile, has appeared as The Storyteller in "The Haunting of Bly Manor" and played Olivia Crane in "Hill House." While I don't want to spoil all the fun (and I still haven't found one of these cameos), I will say it's worth keeping an eye out for a character watching TV in the back half of the series.