SNL Showcases Brendan Gleeson And Colin Farrell As Best Friends And Cute Shy Boys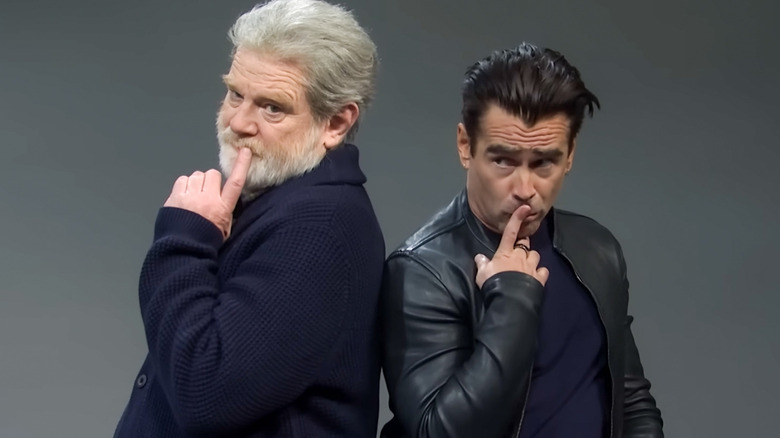 NBC
Making his "Saturday Night Live" debut, Irish actor Brendan Gleeson hosted the second episode of the sketch comedy show's 48th season. If you're not sure who Gleeson is, don't worry; he poked fun at exactly that in his opening monologue. Best known for his character acting, particularly as Mad-Eye Moody in the "Harry Potter" film franchise, comedy is not necessarily the first thing in Gleeson's wheelhouse. Thankfully, he got some help from an old friend.
Popping in at the beginning of the show to give the veteran actor an assist and to liven up the studio audience was fellow Irish actor, Colin Farrell. "Weird and wonderful" Farrell strolled on it with an incredibly ridiculous mustache, mentioning how he was just coming from a mustache shop before shyly asking the actor who his favorite costar was. This gave Gleeson the opportunity he needed to really liven things up.
With deadpan humor, he crushed Farrell's spirits with his first response: "Paddington Bear." The playful ribbing continues when Farrell tries to coax out the right answer from Gleeson, laying out hints like an Irish actor in their 40s whose first name begins with C. If you're first thought was Cillian Murphy, you're not alone. Gleeson answered in kind.
Laughing together, the two then wrap the monologue in a song. But this isn't the last we'll see of the two friends during the episode. No, we get the full breadth of their shy boy potential in another skit.
Irish shy boys end war
The two Irish actors reunite again in a sketch that is so-so in terms of overall humor execution. However, Gleeson looks like he's having way more fun and embracing his sillier side. Portraying the grandfather of "Saturday Night Live" cast member Michael Longfellow, Gleeson steps in just as his grandson is about to start having his headshots taken. Andrew Dismukes' photographer character is entranced by the older man. This leads him to throwing Gleeson in front of a camera, making him go through a variety of poses that help the actor lean into the silliness.
Just as the scene seems to have run its course, Colin Farrell walks in. Without hesitation, the photographer has Farrell team up with Gleeson, where both get to unleash their inner Blue Steel. In the final moment of awesome, the photographer asks them to channel their inner Irish shy boys. With a little hip tooch, and them coyly looking to the side, you can't help but laugh and appreciate the natural chemistry they have between each other.
The scene ends with an homage to Tiger Beat covers, featuring the two of them at peak Shy Boy with the headline "Irish Shy Boys End War!!!" Just throw in Cillian Murphy as the final touch, and we'd secure world peace for a good while.
You can catch both Farrell and Gleeson in "The Banshees of Inisherin" when it releases in theaters on October 21.