The Bruce Willis Movie That Was Completely Changed During Production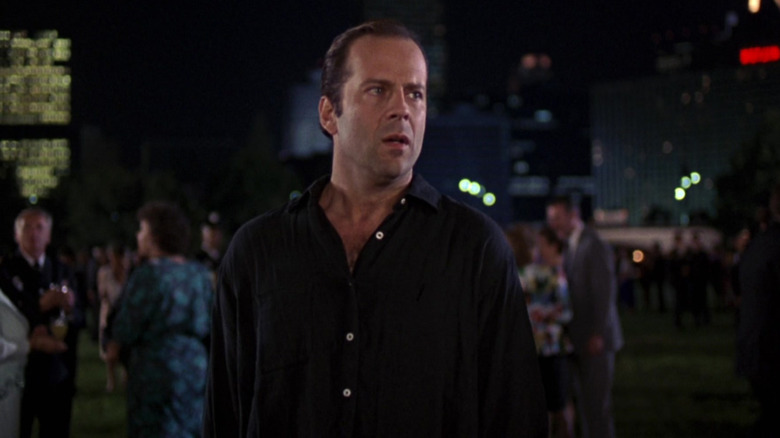 Columbia Pictures
Bruce Willis was unquestionably one of the biggest movie stars of the 1990s, but it's difficult to think of another actor of his stature who racked up, and survived, more box-office bombs during their commercial heyday. Between 1990 and 1995, he appeared in more flops than hits. Any one of "The Bonfire of the Vanities," "Hudson Hawk," "Billy Bathgate," "North," "Color of Night" and "Four Rooms" could've killed his career. But when things were at their bleakest, he'd bounce back as John McClane or knock out an unexpectedly brilliant film like "12 Monkeys," and all would be forgiven.
Much ink has been spilled recounting the nightmarish productions of most of the above titles, but "Striking Distance" has generally flown under the radar since its September 17, 1993 release. Perhaps this is because the $30 million production offset its poor domestic $24 million take with a respectable $53 million international gross. Or maybe it's due to the Rowdy Herrington-directed flick being a wholly forgettable '90s action-thriller. Whatever the reason, on the list of Willis debacles, "Striking Distance" ranks fairly high in the behind-the-scenes turmoil department, starting with the fact that, for a long time, it wasn't even called "Striking Distance."
Why did they put him on the water if they didn't want him to make waves?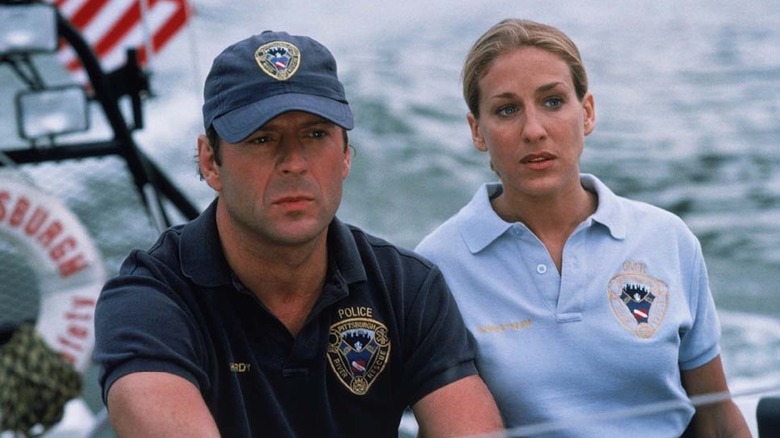 Columbia Pictures
Title changes happen all the time in Hollywood, and they're hardly an automatic sign of a troubled production, but it is strange that Columbia Pictures stuck with the banal moniker of "Three Rivers" for as long as it did. A reference to the film's Pittsburgh setting (where the Allegheny and Monongahela Rivers meet to create the Ohio River), audiences could've easily mistaken it for a sports drama about the city's beloved Steelers (who used to play at Three Rivers Stadium). Not that the film's actual plot was terribly exciting: two years after reporting his fellow officer and cousin for excessive force, a Pittsburgh cop gets busted down to river rescue patrol, where he begins to suspect a serial killer he formerly pursued is dumping bodies into the river for him to find.
Nevertheless, Columbia was high enough on the film's commercial prospects to slate it for a May 21, 1993 release. Then they test screened it. According to a February 1993 Entertainment Weekly piece, Herrington admitted that viewers found the now-titled "Striking Distance" confusing, saying, "The audience has to work too hard." Another, unnamed source told Wells, "It's 'Hudson Hawk' without the laughs." (As a fervent defender of Willis' 1991 fiasco, I'm just glad someone other than me acknowledged two years later that "Hudson Hawk" was funny.)
Catering to the artistic whims of Orson Willis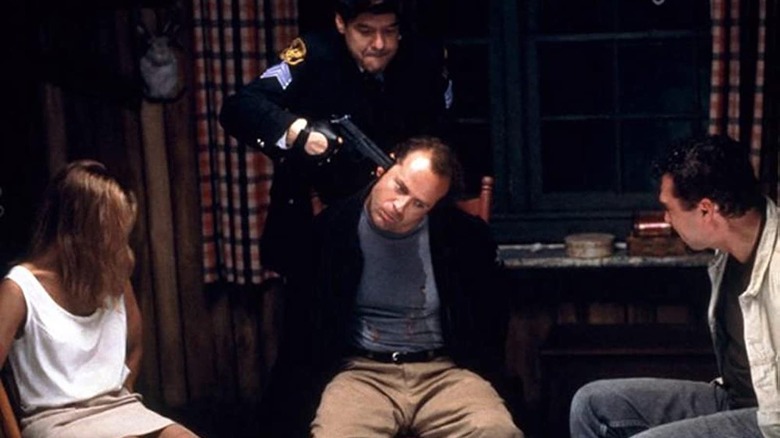 Columbia Pictures
Believing the film could be fixed, Columbia bumped "Striking Distance" to September, which is occasionally taken as a bad omen, though Michael Mann's "Last of the Mohicans" had moved out of summer to September the previous year, and that movie's a stone-cold classic. This was a different situation, however, in that Herrington had been saddled with a headstrong star who delivered his own rewrites, many of which were considered to be the source of the audience's confusion. According to one crew member, Willis "called the shots like he did on '[Hudson] Hawk' and like he used to do on 'Moonlighting.' He had scenes rewritten. He did what he wanted to do. We were working with Orson Willis."
The reshoots took place in Los Angeles, and they were largely focused on clarifying the narrative. Herrington also reshot the sex scene between Willis and Sarah Jessica Parker to make it steamier. Did any of this work? Not really. 
"Striking Distance" opened to mostly negative reviews, and a ho-hum $9 million gross that was good enough for the weekend's top spot, but nowhere near big enough for the film to have a chance at recouping domestically. The movie quickly vanished from theaters, and failed to find a second life on the weekend cable movie circuit. Having actually seen "Striking Distance," the best I can say is that it is far too stupid to be confusing. Herrington struck the smart-stupid jackpot with 1989's "Road House," but he couldn't work that trick with Willis trying to make a different movie at the same time.