Dwayne Johnson Had A Cursed Time On The Set Of The Mummy Returns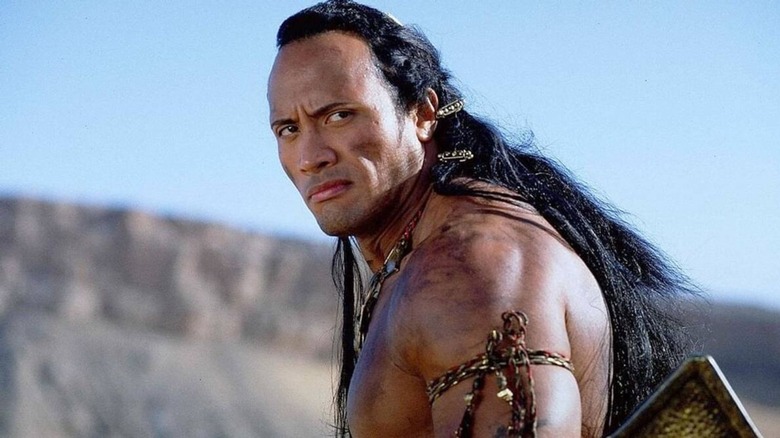 Universal Pictures
"The Mummy" franchise can be credited for kickstarting a few major Hollywood careers. After all, director Stephen Sommers' 1999 film propelled Brendan Fraser from goofy comedy actor to bonafide leading man. And 2001's "The Mummy Returns," the second installment in the action-adventure series, was the film debut of a certain famed WWE star — Dwayne "The Rock" Johnson.
The former wrestler might be a staple of action movies today, but long before he set his sights on acting, he was a massive name in the wrestling world. Johnson was an icon: and a single glimpse of him would send hundreds of thousands of wrestling enthusiasts into screaming bouts of insanity. It is his larger-than-life persona that Universal Pictures relied on and used to heavily market his film debut, despite the first-time actor having only a few minutes of screen time. You'd think a brief cameo would mean relatively easy work — but Dwayne Johnson had a pretty cursed time on the film set of his first-ever acting gig.
It's a miracle Dwayne Johnson could be in the movie at all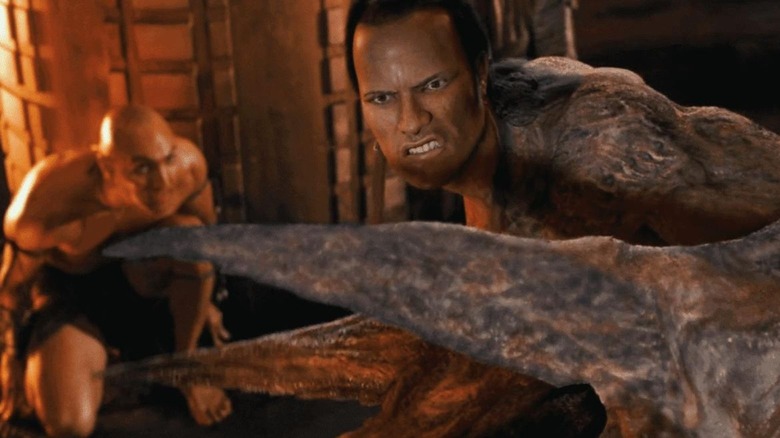 Universal Pictures
In the film, Dwayne Johnson's plays the villainous Scorpion King, who is first an actual human and later an infamous CGI monster. Every audience member remembers this viewing experience differently and probably has varying opinions about The Rock's then-humble attempt at acting (but no one has fond memories of that CGI).
In the film, Johnson appears as a bad guy who doesn't learn from his mistakes. After he fails to conquer the world with his army, he trades his soul for a jackal-like warrior army to do pretty much the same thing. Sounds straightforward, right? But Dwayne Johnson was so ill during filming that it is a wonder he managed to be in the movie at all.
During an interview with Entertainment Weekly, director Stephen Sommers explained how he only had Dwayne Johnson film for a day, which judging from his condition, was a miracle of the highest order. At the time, Johnson was down with food poisoning and also had heatstroke. Sommers stated that the actor was covered in blankets throughout his downtime, but charged forward as soon as they needed him:
"I only shot Dwayne for one day because he had to fly from the Sahara desert for a big wrestling deal. He had food poisoning and heatstroke. It was probably 110 degrees, and he would be covered in blankets, just shivering. I'm like, 'Dwayne, we've only got one day!' I go, 'Action!' Dwayne threw off the blankets and charged forward. We went all day."
His path to Hollywood has been incredible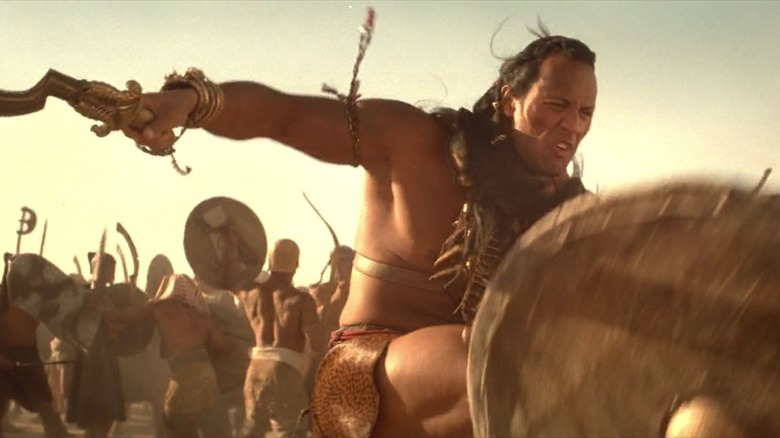 Universal Pictures
Dwayne Johnson had no dialogue in "The Mummy Returns" (unless you're counting his chants in Ancient Egyptian and his grunts as the messy CGI Scorpion King). His natural charisma and commanding screen presence were mired by the backlash against the laughable CGI creature his character transformed into by the film's end. His cameo was routinely mocked — but it still launched his acting career, earning Johnson his first leading role in "The Scorpion King," a spin-off film based on his character.
The rest is history — Dwayne Johnson became one of Hollywood's most bankable stars, appearing in films such as "The Rundown," "San Andreas," the "Fast and Furious" and "Jumanji" franchises, and will now make his superhero debut in DC's "Black Adam." Plus, he has his own production company and has produced numerous television shows and films over the course of his career. Johnson's work ethic speaks for itself — he took one role and made an indisputably successful career out of it. His journey from WWE to Hollywood has been incredible, and he still has a long way to go.