Details Kids Won't Catch In Hocus Pocus 2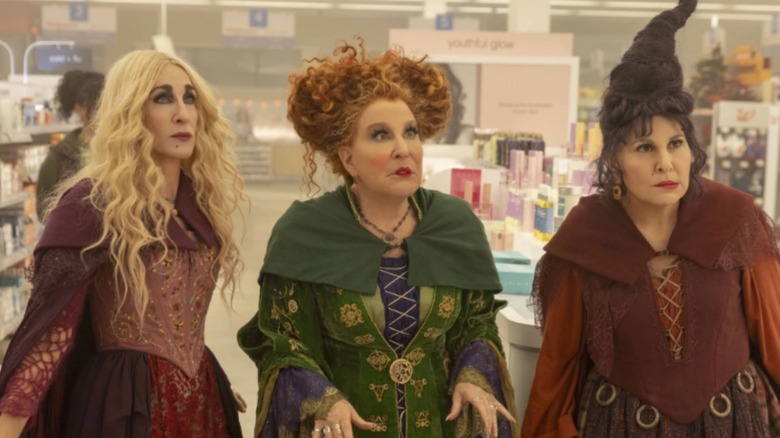 Disney+
It's been 29 years, but the long-awaited return of the devilishly delightful Sanderson sisters has finally arrived. "Hocus Pocus 2," now available on Disney+, is the direct sequel to the 1993 original, a film that was burned at the stake by critics and a box office flop but became a beloved cult classic and a Halloween movie marathon staple. If you never saw the original, here's a quick recap: Three kids move to Salem, Massachusetts, and accidentally release a trio of witches hellbent on consuming children's souls to become immortal. It's up to the kids, a magical talking cat, and a sentient book of spells with a single eyeball to stop the Sanderson sisters before it's too late. Ultimately, the sisters' dastardly plot fails, and they burst into sparkly dust when the sun rises never to return ... until now.
In the age of streaming and the limitless barrage of sequels, requels, reboots, and retreads, it was only a matter of time before this beloved property made a comeback. Adult fans of Winifred, Mary, and Sarah Sanderson are in for some especially wicked treats, as several jokes and callbacks will fly like a witch's broom right over most kids' heads. So let's conjure up a cauldron full of our favorite details, jokes, and Easter eggs kids will miss in "Hocus Pocus 2." 
A Ted Lasso favorite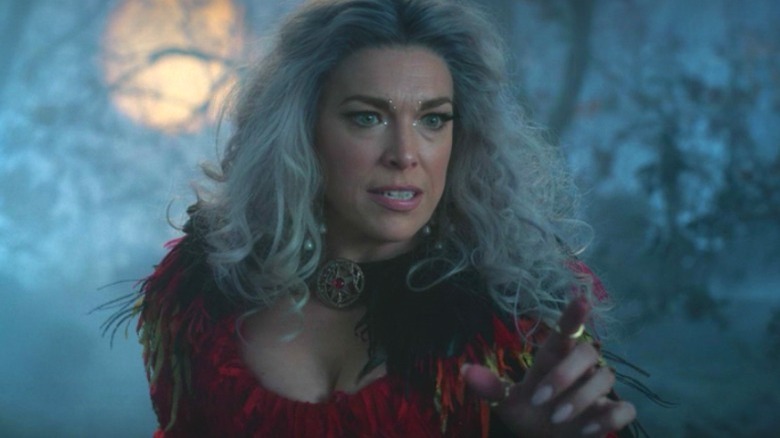 Disney+
The opening scene of "Hocus Pocus 2" is a bit of a prequel to the Sanderson sisters' origin story. In 1653 Salem, a young Winifred is causing quite the fuss in her puritanical town and is banished by Reverend Traske (Tony Hale). She and her sisters, Mary and Sarah, escape to the forbidden forest, where they are greeted by the Mother Witch who gives Winifred a book of spells for her16th birthday. Kids will find this scene funny and spooky, but adults will flip out the minute the Mother Witch arrives, and they realize she's played by "Ted Lasso" star Hannah Waddingham.
"Ted Lasso" is an unapologetically sincere and hilarious feel-good show that made us all believe again. It's no secret this show was a beacon of hope for audiences trapped at home and stressed out during the 2020 COVID pandemic. Hannah Waddingham plays Ted's boss, Rebecca, who initially hires the inexperienced Ted to make her ex-husband's beloved football team fail. Throughout Season 1, she slowly comes around to Ted's way of thinking and becomes the team's biggest supporter. It's a great arc, and she plays it masterfully, first keeping the audience at bay and eventually bringing them in for a big metaphorical hug. Fans may also remember Waddingham for a drastically different role as Septa Unella in "Game of Thrones." If you haven't seen that yet, all we can say is, "Shame! Shame! Shame!" 
A vegan curse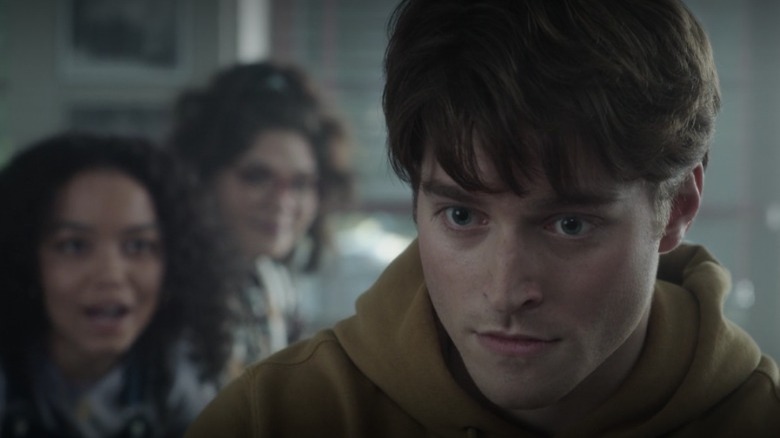 Disney+
The sequel's new trio of friends consists of best friends Becca (Whitney Peak) and Izzy (Belissa Escobedo) and their friend, Cassie (Lilia Buckingham), who they've lost touch with since she started dating the town jock, Mike (Froy Gutierrez). The bullies from the original, Jay (Tobias Jelinek) and Ice (Larry Bagby), were much more overt in their depiction, but Mike is a little more layered. He first comes off as a bit dense, teasing Becca and Izzy about their "witchery" but later expresses genuine remorse when he finds out they thought he was being mean. Earlier in the film, before Mike sees the light, Becca gets back at him in science class by whispering what he thinks is a curse. Only adults will realize she's listing off a vegan shopping list.
After Becca correctly predicts a pop quiz and Mike is convinced she used dark magic to see the future, she furthers his paranoia by chanting vegan ingredients: "Tempeh, soyrizo, aquafaba, garbanzo, cacao, spirulina, crimini, seitan!" Mike thinks she said "Satan" and freaks out. In his defense, they sound pretty similar, and Becca does a solid job amping up the spooky factor. It's hilarious for anyone who's gone out to dinner with their parents when they try to pronounce "quinoa" for the first time. And hey, maybe this bit can help introduce new vegan options to your kid's dinner menu. It's worth a shot.
What's a virgin?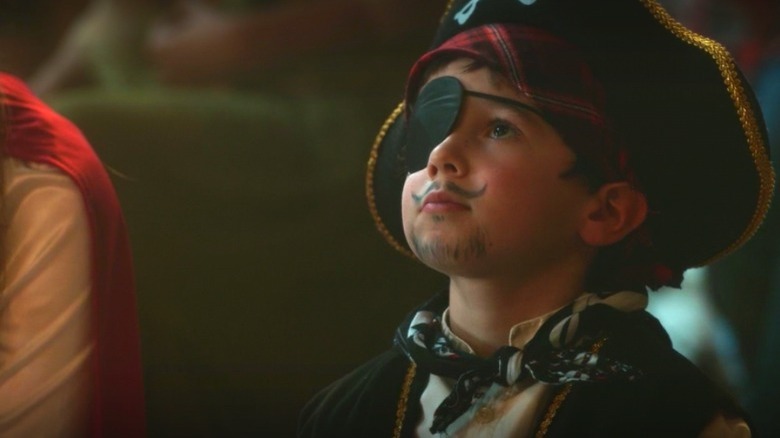 Disney+
The Sanderson sisters' home is now a magic and oddities shop owned by amateur magician Gilbert the Great (Sam Richardson). He recounts the original film's story to a handful of parents and children, catching the audience up on the first film's plot and dropping a few knowing jokes for the adult crowd. He warns that if a virgin lights the black flame candle on Halloween, the Sanderson sisters will return to wreak havoc on Salem again. An inquisitive youngster in the front row asks Gilbert, "What's a virgin?" to which he fumbles for an explanation and comes up with, "That is a person who has never lit a candle."
Anyone with kids will tell you that these "I'll tell you when you're older" questions pop up frequently during family movie nights. Compared to the original, which is chock full of questionable jokes, "Hocus Pocus 2" lessens the emphasis on virgins. As Looper's Casey Cipriani notes, "For a Disney movie aimed at kids, there sure is a whole lot of talk about virginity — It's also incredibly judgmental: Max's virginity is noted as a negative aspect of his personality — something he should be embarrassed by. Teenage dudes of this era weren't supposed to be virgins — but of course, teenage girls absolutely were, lest they be shamed." The sequel calls out the original's transgressions in a playful manner and swiftly moves on.
The Witches are back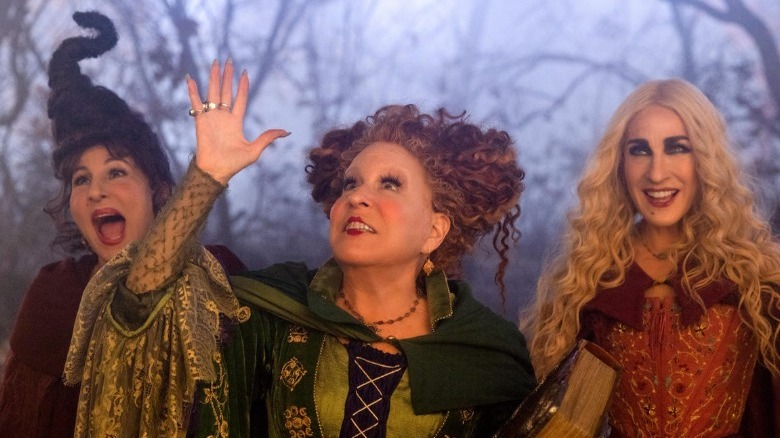 Disney+
Becca and Izzy go into the forbidden forest to perform their annual Halloween ritual, but this time, they've been given what they think is a fake black flame candle. Unbeknownst to them, it is real. Once lit, the candle unleashes the near three-decades-dormant witches, and their return is just as iconic as the first time. The ground cracks open with a red glow, lightning strikes, and they even black out the moon. When the lights come back up, Bette Middler, Sarah Jessica Parker, and Kathy Najimy appear and unleash a hilarious song and dance.
The song choice is "The Witches are Back," a playful and kid-friendly rendition of Elton John's "The B***h is Back." The randomness of the song is called out by Izzy twice, first when she says she doesn't know what to do, but she "literally can't stop watching them," and again when they are running from the singing trio and she asks, "Who are they performing for?" It's a wink to the audience that breaking into a song is ridiculous. The filmmakers know it, and they also know that fans will love it. Given one of the most iconic scenes from the original is when Bette Middler sings a witchy remix of "I Put a Spell on You," we'd welcome even more musical numbers if part three ever flies our way.
A trip to Walgreens for children's souls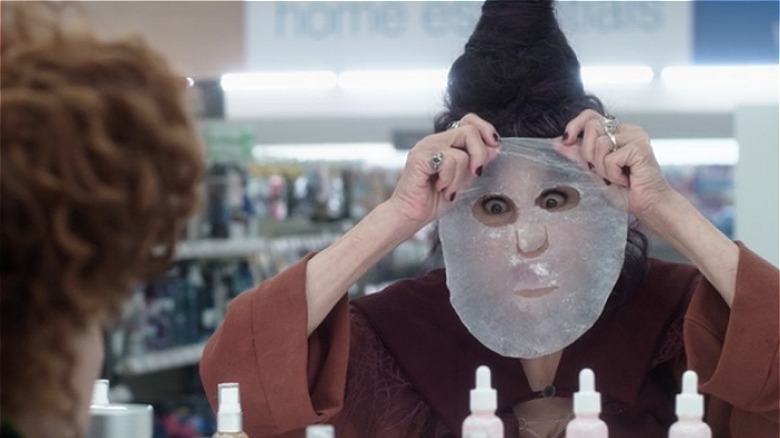 Disney+
Once cornered by the witches, Becca and Izzy think on their feet and claim to be 40-year-old witches who "eat young souls all the time." They also state that the Sandersons are their idols. Flattery will get you everywhere with Winifred and company. They further convince the witches that they no longer have to brew potions. They come with the souls already mixed in. Mary responds, "Oh, that's a great time hack. Thank you kindly." They head off to Walgreens to consume all the youthful energy they can find.
From confusing fluorescent lights with a witch in another coven to being terrified of automatic doors to the return of the iconic head-swivel walk from the original, this entire sequence is a joke-a-minute for adults. The real treat comes from the multiple mistaken delicacies they find in the skincare aisle. Winifred sips a lotion called "Baby Face" and claims it's "delicious, floral with a woodsy finish." Mary holds up a face mask (inherently creepy looking, though it works wonders) and says it's a child's face while gleefully nibbling. The physical comedy will keep the kiddos laughing, but the wordplay and fish-out-of-water gags will have the parents howling. The sequence is a much goofier nod to the Sandersons' penchant for eating children than much darker moments like what happened to poor Emily Binx in the original. 
Easter eggs galore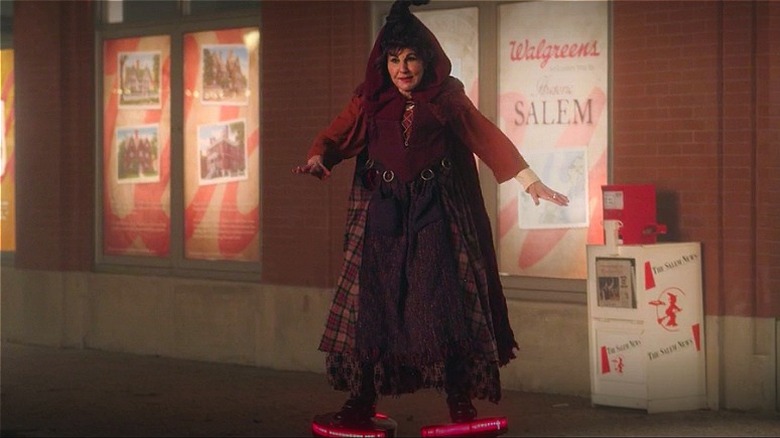 Disney+
As with any sequel, there are bound to be callbacks and Easter eggs a-plenty. "Hocus Pocus 2" does not disappoint. Modern-day Salem, now a town full of Sanderson superfans, is meta to the max thanks to the massive cult following "Hocus Pocus" has built over the years. Eagle-eyed fans will find countless nods to the 1993 film, but we've narrowed down a few of our favorites.
"Hocus Pocus 2" features perfect casting for the young witches and even recreates their calming circle when they feel vexed. The youngsters recite "soothing thoughts" like the smell of mud and the reverend's scream that are toned down from those of their adult selves ("rabid bats, Black Death, and mommy's scorpion pie"). Is it because they haven't grown into full-blown baddies yet, or is Disney lightening the original's darker edges?
The Sandersons' home, which has been turned into a mystic souvenir shop, is filled with visual gags. The cauldron used to mix the potion that turned Thackery Binx into a talking cat is now a bin of stuffed black cats. This is possibly a jab at the Disney merchandising machine.
The witches get upgraded modes of transportation, too. Most notably, Mary (Kathy Najimy) receives a pair of robot vacuum cleaners to replace her traditional upright, and her awkward sky skating is hysterical. Later, Winifred (Bette Midler) subtly breaks the fourth wall when she sees the original film's Gary and Penny Marshal scene playing on TV. The flash mob possessed by the Sandersons' latest catchy song has distinct choreography reminiscent of Michael Jackson's "Thriller," and you may have spotted a particular pointy Madonna costume.
The Halloween festival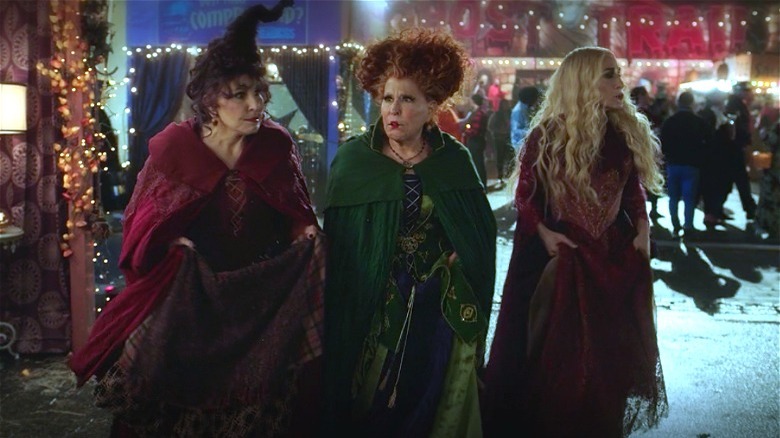 Disney+
Another setting loaded with visual gags and puns is the Salem Scare Fest. You'll have to pause multiple times to catch everything, so we'll do our best to list the more adult-skewed jokes. Various booths feature Halloween puns like "A Haunt Mess," "Lifestyles of the Witch and Famous," and a baked goods stand called "Eerie-sistable." There's also a barbecue booth, "Bone Appetit and Grave E," and a bar where you can "Lift Your Spirits." The Mayor (also played by Tony Hale) raves about "Sandy's Candy Cauldron," a nod to Disney World's "Candy Cauldron" confectionary shop. He says trying one of her apples "will change your life," possibly referring to one of Disney's original witches in "Snow White" and her life-altering apple recipe.
The Sanderson sisters misinterpreting the festivities are another gleeful source of chuckles for grown-ups. Mary sees two men bobbing for apples and comments, "They're drowning a man. How charming?" Another vendor is dressed as a witch, selling "poison" apples. Winifred smirks and advises her, "Oh, thou must never announce that they're poisoned, sister. No one will eat them if they think they're deadly. Amateur." 
Drag queen Sanderson sisters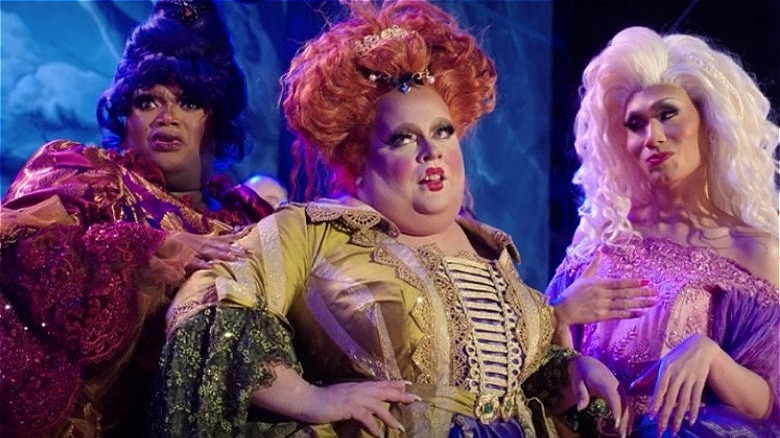 Disney+
When the Sanderson sisters take the stage, they unwittingly enter a costume contest based on them, featuring a trio of young girls, a husband and wife with their daughter, a few adult women, and three drag queens. These contestants are a meta-representation of the different generations and demographics that have fallen in love with these sisters. You may recognize "RuPaul's Drag Race" cast members Ginger Minj (dressed as Winifred), Kornbread Jeté (Mary), and Kahmora Hall (Sarah). They are not just random cameos. They represent the film's acknowledgment of the queer community's impact on the legacy of "Hocus Pocus." 
According to Rolling Stone, the original film "put a spell on the drag community." Countless "Hocus Pocus" drag shows popped up around the country in the years following its release. Claire Voyance, a drag queen from Orange County, says, "Regardless of where you are in the world, if you go to a gay bar during Halloween, you will find three drag queens: One with a blonde wig, one with a red wig, and one with a black updo. They're going to be performing 'I Put a Spell on You,' and it's going to make you want to scream and throw your $1 bills away." Bette Midler, Sarah Jessica Parker, and Kathy Najimy are "gay icons in their own right" and have often championed LGBTQ+ rights and causes. This sequence is a love letter to the sisters' most avid fans. 
Hints at a trilogy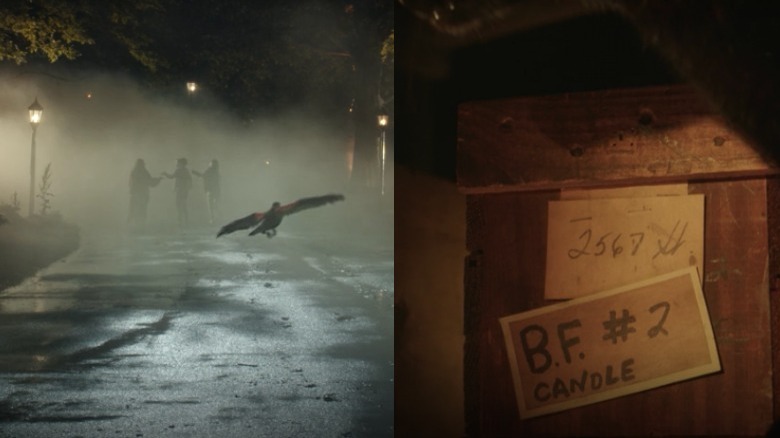 Disney+
The movie's final frames find the new coven of Becca, Izzy, and Cassie with the book of spells mimicking the Sanderson sister's in-step walk and head swivel. Just before the film cuts to black, a familiar bird swoops in, hinting the Mother Witch is back and ready to train this next generation of witches. We'll have to wait until part three to find out if Becca and her friends turn evil or if they defy the whole child-eating part of witchcraft. Either way, there's one more stinger to get fans excited. After the credits roll, Cobweb (Gilbert's black cat) hops on a shelf next to a box labeled "B.F. Candle #2." It's safe to assume this stands for "black flame candle #2," which means we haven't seen the last of the Sanderson sisters.
After the first "Iron Man" debuted and Nick Fury appeared in the post-credits to tease an "Avengers" movie, audiences have sat anxiously at the end of every blockbuster and sequel to await the dangling of a franchise carrot. Is this just a fun tag or are there hopes for more bewitching fun? People magazine reports that Sarah Jessica Parker told Extra in an interview at the New York premiere, "Bette is already starting rumors. I hitch my wagon to her star. If she wants to do a third one ... No one says no to the Divine Miss M." We definitely wouldn't say no to Miss M returning as the glamorously evil Winifred again.