Jacob Batalon Wouldn't Mind If Spider-Man: No Way Home Was The End Of The Franchise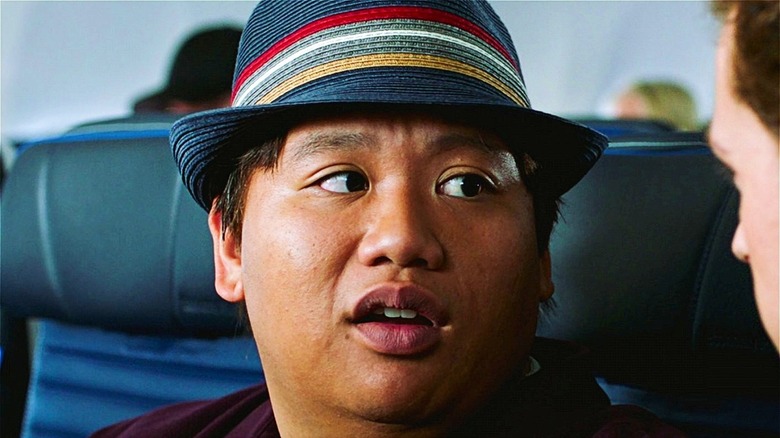 Marvel Studios
As the 1990s alternative rock poet Daniel Dodd Wilson wrote in the memorable lyrics of "Closing Time," "Every new beginning comes from some other beginning's end." For Jacob Batalon, playing Ned Leeds in the Marvel Cinematic Universe was an explosive beginning to a promising acting career. Since making his first appearance in Jon Watts' Spider-Man trilogy, starring Tom Holland as the friendly neighborhood web-slinger, the actor has appeared in a number of films (MCU and otherwise) and is now dabbling in acting and producing for television thanks to SyFy's "Reginald the Vampire."
With all these new beginnings, it sounds like the Hawaii native is keeping very busy. But does that necessarily mean that he's okay with the way we left things in "Spider-Man: No Way Home?" Is he ready to move on from the House of Ideas and pursue other projects? Well, yes and no. Batalon recently touched on all his feelings about his last appearance as Ned and whether or not that was actually his last appearance as Ned.
Guy in the chair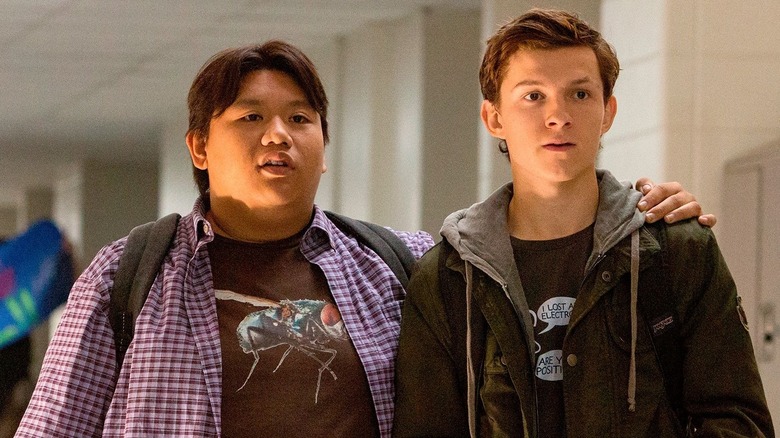 Marvel Studios
When we last saw Batalon's Ned Leeds, he was teaming up with Peter, MJ, Doctor Strange, and two other Variant Spider-Men from alternate universes to stop a cadre of multiversal villains from wreaking havoc on Earth-616 (or Earth-199999, depending on how you look at it). By the end of the movie, the Sacred Timeline's Peter Parker sacrificed his identity (and essentially his whole life) to keep the multiverse whole. That meant that his girlfriend, his best friend, and anyone that he would consider family no longer knows who he is.
From a narrative standpoint, it wipes the slate completely clean for Spider-Man in the MCU. The character can go anywhere from here. Based on the emotional ending of the movie, True Believers likely hope that his future involves re-introducing himself to MJ and Ned eventually, but it's not written in stone and that's okay. While speaking with Collider about the future of these characters, Batalon shared that he's definitely okay with where everything landed. He even reveals that it's okay if Ned doesn't factor into Spider-Man's future. He explained:
"It was a crazy thing to read. It was crazy to see [previous Spider-Man actors Andrew Garfield and Tobey Maguire] in the script. It was crazy to have all the villains in the script. And then, to have it end the way it did, on such a cliffhanger, obviously, everyone wasn't expecting that. I would say that it's such a poignant ending to our movies. It really puts an exclamation on the continuance of Spider-Man, but maybe not with us, and I think that's a great thing. We may not necessarily be a part of it, in the end, but it was a beautiful ride anyway."
Thank you for letting me be a part of your journey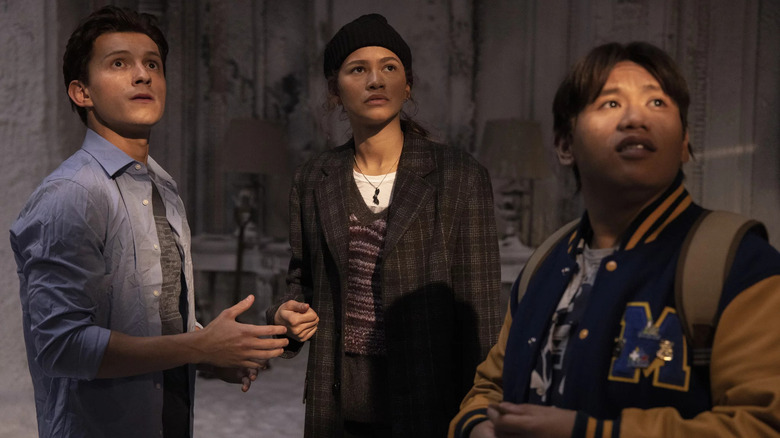 Marvel Studios
By the sound of that quote, Batalon is at peace with not playing Ned Leeds again. The character had a complete story arc and represented for his culture in a big way. What more could you ask for from a supporting role, right? But at the end of the day, it seems like the actor is taking a more realistic approach about his future in his fan-favorite part. He elaborated:
"I feel like actors are the last people to know. I think that people assume that actors are always hiding secrets. I promise you, we don't know anything. But again, if it's the right place, at the right time, with the right group of people that we've been with, I would say, why not? But other than that, whatever happens, happens. Really, those decisions are up to the big bosses, the people who sign the checks. We're open to the idea, but we're not hoping for it."
Interestingly, that almost sounds like Zendaya's MJ when she says, "Expect disappointment and you'll never be disappointed." It's probably better for someone in an industry filled with disappointment to protect themselves however they can, so I totally get where he's coming from about this. Of course, there's still that little shred of hope that Kevin Feige and company could bring back Ned to appear onscreen with Spider-Man once again. I mean, there's a vast multiverse out there that is full of variants. We may even see them face off against each other. Just like Batalon right now, we'll just have to wait and see.