Filming House Of The Dragon's Wedding Feast Was A 'Baptism By Fire' For Theo Nate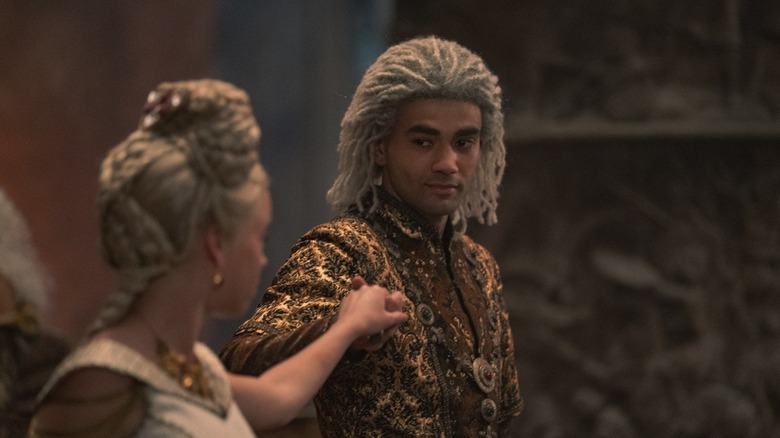 HBO
Spoilers ahead for "House of the Dragon" episode 5.
If there is one thing you don't want to do in Westeros, it's attend a wedding. Nothing good ever happens at those things, and they often end with more than a few corpses. In the fifth episode of the HBO prequel series "House of the Dragon," we get to attend the wedding of Princess and heir to the Iron Throne Rhaenyra Targaryen (Milly Alcock through episode 5) and Ser Laenor Velaryon (Theo Nate through episode 5). 
It's not the best match in many ways. Rhaenyra has the hots for her uncle Daemon (Matt Smith), and Laenor prefers men as romantic partners. Westeros isn't a friendly place for those in the LGBTQ+ community, but Rhaenyra suggests a compromise. They don't have a choice in this marriage that will bring their houses together, but Rhaenyra understands his feelings and wants romantic freedom of her own. They choose to have an arrangement where they do their duty in producing heirs but are free to pursue their own interests in the bedroom. 
Their wedding, however, ends in the death of Laenor's lover Ser Joffrey Lonmouth (Solly McLeod) at the hands of Rhaenyra's lover Ser Criston Cole (Fabien Frankel). It was a huge scene to shoot and the introduction to the role for Theo Nate. He recently spoke to Vulture about what it was like to shoot this wild and violent scene and what it was like to ride a dragon. 
Death at a wedding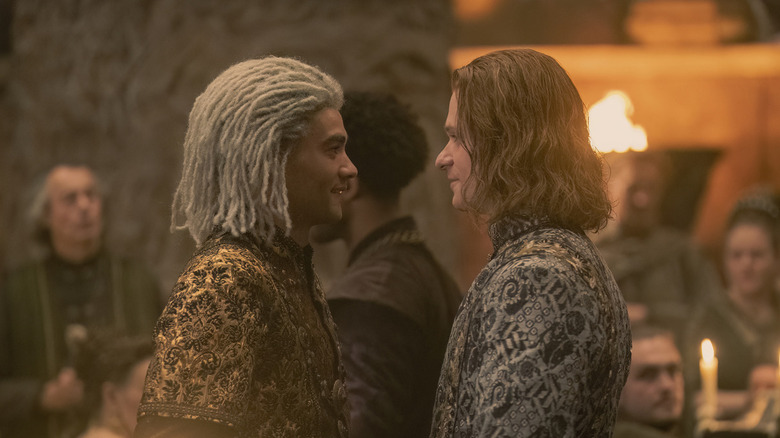 HBO
John Macmillan is now playing the character of Laenor after the time jump of 10 years, but Theo Nate's scenes were memorable, from his revealing walk on the beach with Rhaenyra to the loving looks he shared with Ser Joffrey. The wedding, though, was one for the books. He was asking about shooting this intense scene. Nate told Vulture: 
"It was two weeks, and they were my first days on set, so that was a baptism of fire. It was a bit weird because the whole world was kind of in semi-lockdown, maybe just coming out of it. I'd gone from being in the house, essentially by myself, to being on set in front of I don't know how many cast and crew and extras. It was like live theater because the audience was so vast."
After so much isolation and worry, leaving lockdown was a shock for many of us. Spending two weeks in an intense emotional state must have been rough, especially since Nate's only other listed on-camera credit is the series "Time" with "Game of Thrones" alum Sean Bean. Still, the sets and the costumes alone must have helped get everyone in the right frame of mind. 
Riding a dragon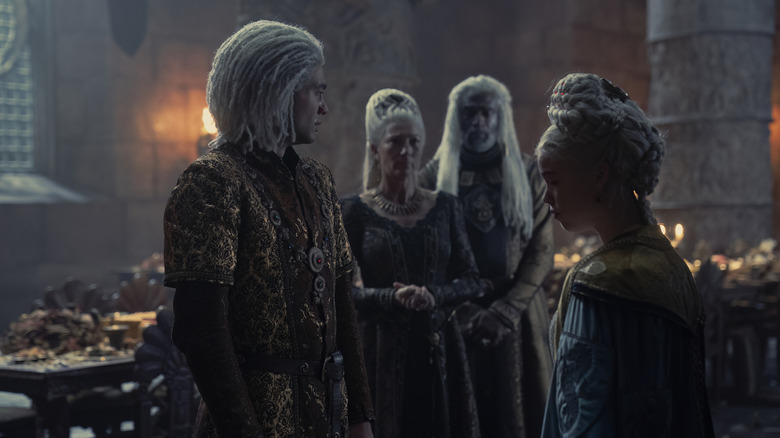 HBO
Though Theo Nate's version of Ser Laenor Velaryon was only on the series for episodes 3 and 5, he got to do some epic things, like riding a dragon into battle. Vulture asked him what that was like, and Nate was enthusiastic about the experience. He said: 
"Oh, mate, I loved it. It was one of the best things I've done. I'm not sure if you've ever been to Ibiza or Magaluf or somewhere like that, but you have these bulls in the bars you can jump on and ride them, like a rodeo-type thing. 

It's a bit like one of them: You jump on and it's been programmed for a minute long, and it's got all the dips and twists and turns, and you strap in. And they have a giant leaf blower, and a guy just blows wind in your face. I can't lie: I thought it was amazing. I'd do that all day."
That sounds amazing. Not only does "House of the Dragon" show more dragons than "Game of Thrones" did, but riding them sounds like a Friday night at a dive bar, minus the beer. Someone in a bar somewhere should put a dragon head on their mechanical bull and give out platinum blond wigs. 
"House of the Dragon" is currently airing on HBO and streaming on HBO Max.