Hellraiser Actor Odessa A'zion Finds The Power In Overcoming Trauma [Exclusive Interview]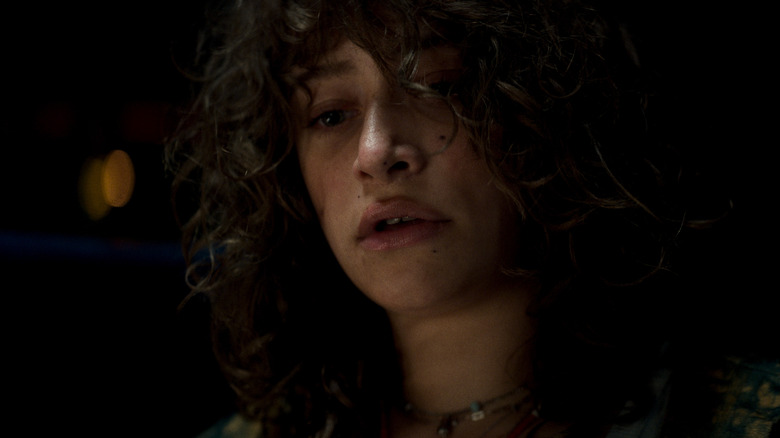 Hulu
Warning: This interview contains spoilers for "Hellraiser."
Stepping into a legacy franchise is one of the most difficult tasks an actor can have, but with a series like "Hellraiser," where the highs are into the stratosphere and the lows are in Hell, the challenge can feel insurmountable. The first two "Hellraiser" films introduced the protagonist of Kirsty Cotton, a whip-smart teen girl with a chip on her shoulder thanks to her wicked stepmother Julia's affair with her Cenobite-obsessed uncle Frank. Ashley Laurence's performance helped solidify Kirsty Cotton as one of the final girl greats, and now, Odessa A'zion must step into the limelight as the newest, young protagonist in the world of "Hellraiser."
A'zion plays Riley, a young woman living with her brother Matt while she struggles with her sobriety. Riley's history with addiction has put her entire family and herself through the wringer, which only makes her encounters with the Cenobites all the more harrowing. Riley is not your typical horror protagonist, and she certainly doesn't follow any of the typical "slasher rules" of what makes a final girl. And yet, thanks to A'zion's moving portrayal, Riley can hold her own even in the company of beloved legacy favorites. I was lucky enough to snag a chat with A'zion to talk a little bit about her character, and how there's a good chance this performance could very well change her life.
The necessary trauma of a final girl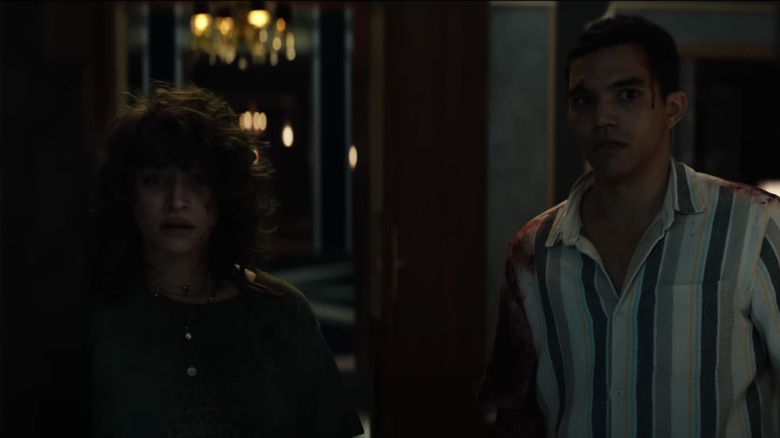 Hulu
You spend a lot of time playing with the different configurations. Have you thought about what configuration you would choose as Odessa?
I know Lament is what Riley chose, which was to let go and to just live with all the trauma that she went through and live, knowing all the bad stuff that's happened in her life. Honestly, I would just stay away. I'm like, "I'm good." No box. No configuration for me. No, ma'am. Thank you.
I'm glad that you brought up living with the trauma and the guilt of all that because a lot of times at the end of a horror movie, we as viewers know that they're going to walk away with that, but it's never addressed within the universe. And this time it actually is.
Her burden of everything that she went through. I mean, it just adds to the character. She's just gone through even ... it's another trauma story for her. She's going to go meet someone and be like, "Yo, listen to what I went through." I feel like people are boring if they haven't experienced some trauma. So I think that it's necessary. I don't think that this degree of it is necessary, because she went through the absolute craziest degree of trauma.
Horror fans are notorious for supporting and singing the praises of their favorite final girls until the end of time. Has it hit you yet that you're about to join the esteemed ranks of people like Jamie Lee Curtis and Heather Langenkamp, and of course, Hellraiser's OG, Ashley Laurence? What's that feel like?
Dude, I haven't even thought about it like that, like I'm a final girl. That's crazy. Hope people are happy with the final girl. I hope they enjoyed the journey and hated it at the same time. I don't even know. That's such a crazy thing to think about. I haven't thought about that. Now I'm like, "Oh my God." I wouldn't say I'm up there with those guys. They take the cake, but it's fun to be a part of that section.
"Hellraiser" is now streaming on Hulu.