The Banshees Of Inisherin Trailer: Colin Farrell And Brendan Gleeson Are Having A Row In Martin McDonagh's New Black Comedy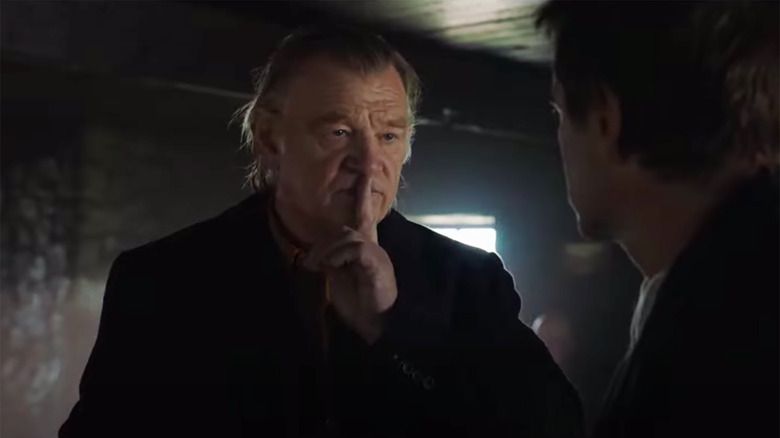 Searchlight Pictures
If you thought maintaining a romantic relationship was hard, have you considered the pain and trauma involved in a platonic friendship gone sour? Director Martin McDonagh has lent his uniquely sharp sensibilities to all sorts of tricky subject matter over the years: the masterful tale of a hitman developing a guilty conscience in "In Bruges," the manic crime drama "Seven Psychopaths," and especially his controversial Oscars darling "Three Billboards Outside Ebbing, Missouri" that dealt with race and policing in provocative ways. By comparison, the story of two lifelong pals suddenly reaching an impasse in their friendship feels downright mundane. But not in the hands of a filmmaker like McDonagh.
"The Banshees of Inisherin" is the writer/director's latest effort, bringing the gang back together for a long-awaited "In Bruges" reunion that treats their falling out with deadly seriousness. /Film's Marshall Shaffer reviewed the film out of the Venice Film Festival earlier this year, calling it "McDonagh's best film" and praising its battle of wills as a "deconstruction of dialogue itself." Searchlight Pictures has released a new trailer ahead of the film's release later this month, which you can check out below.
Watch The Banshees of Inisherin trailer
Nobody in their right mind ever wants to hear the words, "I just don't like you anymore." Unfortunately, this is exactly the sentiment — as spoken with shocking remorselessness by Brendan Gleeson's Colm – that causes Colin Farrell's devastated Pádraic to spiral in "The Banshees of Inisherin." Set on a distant island off the coast of Ireland, the desolate location and tiny village only serves to heighten the emotions of the one-time friends as they go through an excruciating breakup that neither of them quite know how to handle. 
Touted as a stunningly nuanced take on the aftereffects of depression (as /Film's Chris Evangelista wrote about at length here) and a brutally poignant break-up tale (as described by /Film's Jacob Hall here), it certainly seems as if Martin McDonagh has delivered one of his all-time bests.
Written and directed by McDonagh, "The Banshees of Inisherin" also stars Barry Keoghan, Kerry Condon, and one particularly viral-ready donkey named Jenny. Here's the official synopsis:
Set on a remote island off the west coast of Ireland, THE BANSHEES OF INISHERIN follows lifelong friends Padraic (Colin Farrell) and Colm (Brendan Gleeson), who find themselves at an impasse when Colm unexpectedly puts an end to their friendship. A stunned Padraic, aided by his sister Siobhan (Kerry Condon) and troubled young islander Dominic (Barry Keoghan), endeavours to repair the relationship, refusing to take no for an answer. But Padraic's repeated efforts only strengthen his former friend's resolve and when Colm delivers a desperate ultimatum, events swiftly escalate, with shocking consequences.
"The Banshees of Inisherin" is slated for a theatrical release on October 21, 2022.