How Susan Sarandon Helped Ridley Scott Shape The Story Of Thelma & Louise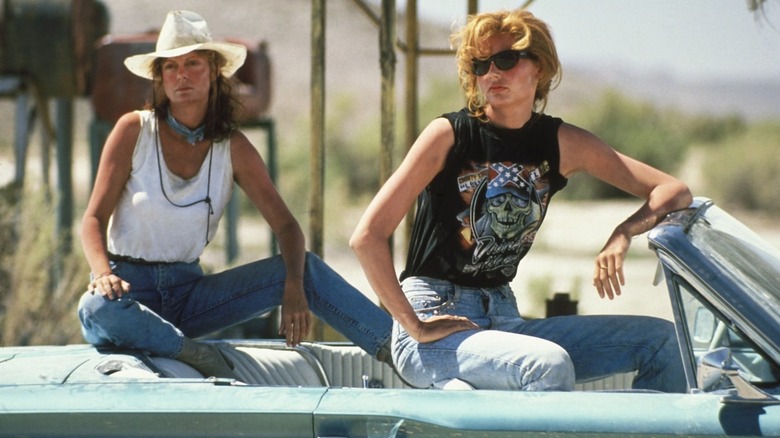 Metro-Goldwyn-Mayer
1991's comedy-drama "Thelma & Louise'" centers on housewife Thelma (Geena Davis) and her best friend, waitress Louise (Susan Sarandon), whose weekend road trip turns into an interstate womanhunt: Louise guns down a man who tries to rape Thelma during a pitstop at a tavern, and believing the cops wouldn't believe their story, they try to flee to Mexico in Louise's 1966 Ford Thunderbird convertible. Though it was snubbed of a Best Picture nomination at the '92 Oscars, Davis and Sarandon both earned nominations for Best Actress in a Leading Role. The screenplay, written by Callie Khouri, won Best Original Screenplay, and the film's director, Ridley Scott, also picked up a nomination for Best Directing. But the landmark film about women empowerment became one of the most controversial releases of the year for its unapologetic feminist take.
During a 30th anniversary Q&A moderated by The Hollywood Reporter, Sarandon reflected on the initial backlash. She said: 
"I completely underestimated that we were backing into territory held by white heterosexual males. They got offended and accused us of glorifying murder and suicide and all kinds of things. It didn't seem like a big deal, it seemed like it was unusual that there would be a woman that you could be friends with in a film. Normally, if there were two women in a film, you automatically hated each other for some reason. ... Next thing we knew, all hell broke loose.
Sarandon's defense of the movie may be personal for she played an active role in shaping the story from the very moment she got onboard. First, she steered the director from making the movie about revenge, she told Vanity Fair.  "And so I changed a few things in terms of the way it was played." Her influenced shaped the movie's two most critical scenes. 
The shot and the kiss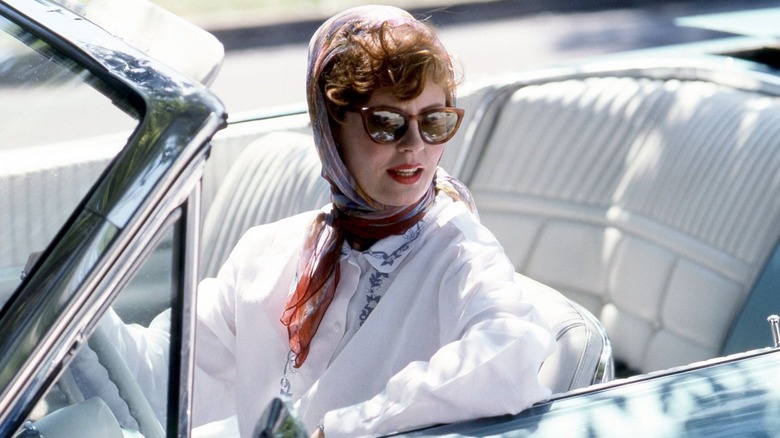 Metro-Goldwyn-Mayer
During The Hollywood Reporter Q&A, Susan Sarandon revealed that one scene she tweaked happens to be the film's catalyst. In the script, when Louise shoots the would-be rapist outside the roadhouse bar, she holds the .38 revolver like a trained police officer. Sarandon believed the character wouldn't have held the gun that way. "And I felt that this person had been raped, and was trying to figure out why men feel this is okay when they have mothers and sisters, and why would they say things to women this way?" So, in the movie, her character shoots the man with one hand on the gun, and the hand shakes as her face carries a range of emotions.
Then during the climax, heavily armed cops corner the duo near the edge of the Grand Canyon. They can either surrender or go out guns blazing. "Let's keep goin'," Thelma instead tells Louise from the passenger seat of the Thunderbird. The teary-eyed friends kiss, and then hold hands as Louise drives them off the cliff presumably to their deaths. Initially, Scott wasn't sure how to end the movie; he floated the idea of having Louise kick Thelma out the car before she drives off the cliff solo. Sarandon basically told him that Thelma and Louise ride together, they die together. "And that's when I said to Ridley, 'I wanna cut a lot of this dialogue,' and by that time we're finishing each other's sentences, and I wanna kiss her, and he said, 'Great!'"
Personally, I just wished they had made it to Mexico. But considering that the friends literally went through everything together in the movie, it made more sense for them to go out together instead of having Louise kick Thelma out of the car.