Bette Midler Explains Why First Wives Club 2 Never Got Made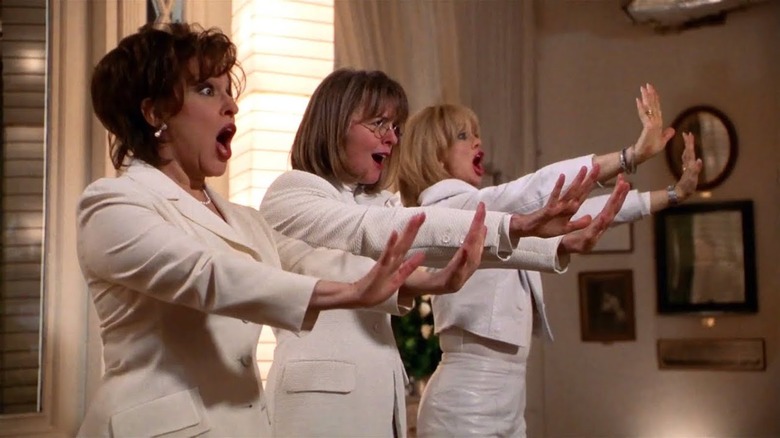 Paramount
Of the seven features Bette Midler made during the 1990s, if there was one movie that seemed destined to be sequelized, it was Hugh Wilson's "The First Wives Club." The adaptation of Olivia Goldsmith's novel about a trio of divorcees who join forces to scheme millions from their philanderous ex-husbands hit the box-office bullseye in the fall of 1996, grossing $105 million at the U.S. box office. It was a cultural phenomenon powered by three of our most beloved women movie stars: Diane Keaton, Goldie Hawn, and Bette Midler. Though the film received mixed reviews, you can't argue with ticket sales. Moviegoers voted with their dollars, and the message sent was "We like this, and would happily line up for more."
So why, 26 years later, hasn't producer Scott Rudin reunited the three ladies for a "First Wives" encore? There's one very big reason, and it's absolutely infuriating. And no one's more peeved about this than The Divine Miss M.
Hollywood sexism rears its hideous head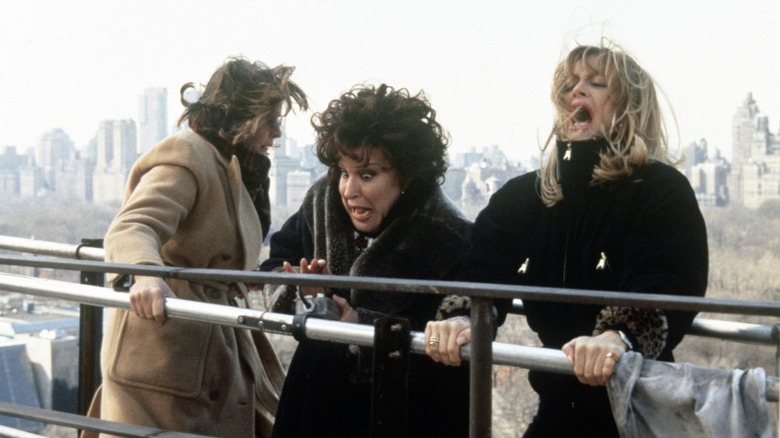 Paramount
Unsurprisingly, there actually have been efforts to work up a "First Wives Club" sequel. Paul Rudnick allegedly wrote a screenplay in the mid-2000s called "Amazon Ladies of the Amazon," wherein the trio attempts to sell beauty products to indigenous people in South America. In 2006, Goldie Hawn confirmed to the New York Daily News that there had been an effort to get a second film off the ground, but that it was kiboshed when Paramount low-balled the three stars. Per Hawn, "I got a call from the head of the studio, who said, 'Let's try to make it work. But I think we should all do it for the same amount of money.'" When Hawn responded that male stars would've been offered three times their salary on the first movie for a sequel, a studio exec complained to her agent that she was "greedy."
In a recent interview with People timed to the release of "Hocus Pocus 2," Midler expressed frustration over the studio's unwillingness to pony up for "First Wives" follow-up:
"I used to lobby for First Wives Club too, but there were political reasons they didn't want to do that again. And it always broke my heart ... I really felt that it was a pretty serious diss, because when women have hits, it's a fluke. But when men have hits, isn't it great? At least that's what they told us on First Wives."
A hazy First Wives future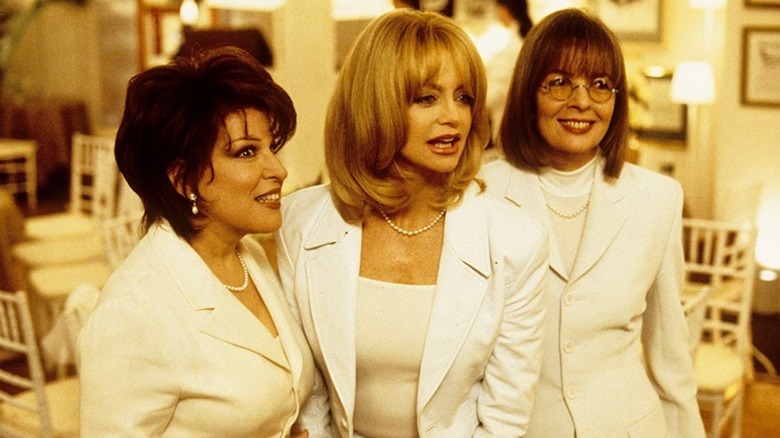 Paramount
In 2006, Hawn revealed that Netflix was developing a second "First Wives" film, but cautioned that the script at the time wasn't working. Meanwhile, a Christmas-themed, non-"First Wives" project called "Family Jewels" failed to materialize. Given the popularity of nostalgia-driven sequels like "Hocus Pocus 2" and "Top Gun: Maverick," it seems like now would be the perfect time to get the band back together –- though Netflix's recent subscription woes could very well pump the brakes on a sequel budgeted to ensure that the stars get the salaries they deserve.
Then again, Netflix probably isn't scrimping on the currently-in-production "Beverly Hills Cop: Axel Foley." If they wanted to move forward with a "First Wives" sequel, they could swing it. Midler, Hawn, and Keaton have proven over the last few years that they've still got their comedy fastballs. There would be nothing but goodwill for this project. Make it happen, Netflix.