Beverly Hills Cop: Axel Foley Is Bringing Back Some Key Franchise Cast Members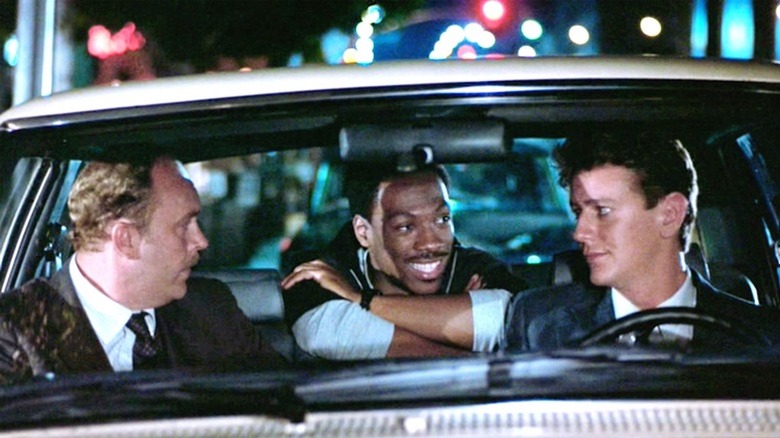 Paramount
Eddie Murphy turned 61 years old this year, which makes him roughly the same age John Wayne was when he played the out-to-pasture codger Rooster Cogburn in "True Grit." That film, and Wayne's subsequent Westerns, had an elegiac, one-last-ride feeling to them. Yes, the Duke's cancer was in remission at this point, but he still looked washed. When he finally succumbed to the disease on the eve of the 1980s, the book quietly closed on an outmoded era of Hollywood filmmaking. It was time. Of all the golden age stars, Wayne was uniquely unsuited to the coked-up, strip-club glitz pioneered by producing teams like Don Simpson/Jerry Bruckheimer and Jon Peters/Peter Guber.
Of all the big-screen '80s superstars, no one was more at home in this olio of excess than Eddie Murphy. His fast-talking, nimble-minded riffing was perfectly attuned to the hurtling energy of the decade's blockbuster action-comedies. Murphy broke out in Walter Hill's "48 Hrs.," cemented his A-list status in John Landis' "Trading Places," and became a full-on phenomenon in Martin Brest's "Beverly Hills Cop." He was 23 and unstoppable.
61 looks a lot different for Murphy. His 2019 return to "Saturday Night Live," the show he single-handedly saved, proved he was still in a comedy class of his own. The tone of his episode was reverential but hardly airless. Murphy did what he'd always done in Studio 8H: he dominated. Suddenly, no one was dreading the rumored revisits of previous hits like "Coming to America" and "Beverly Hills Cop." Though "Coming 2 America" fell flat, the original owed a great deal to the alchemy of Murphy, Landis, and makeup effects wizard Rick Baker. That's incredibly difficult to replicate.
As for "Beverly Hills Cop," all you need is a serviceable script, an action-oriented director, and the return of characters we love. If nothing else, Mark Molloy's forthcoming "Beverly Hills Cop: Axel Foley" will satisfy the last part of that equation.
Getting the band back together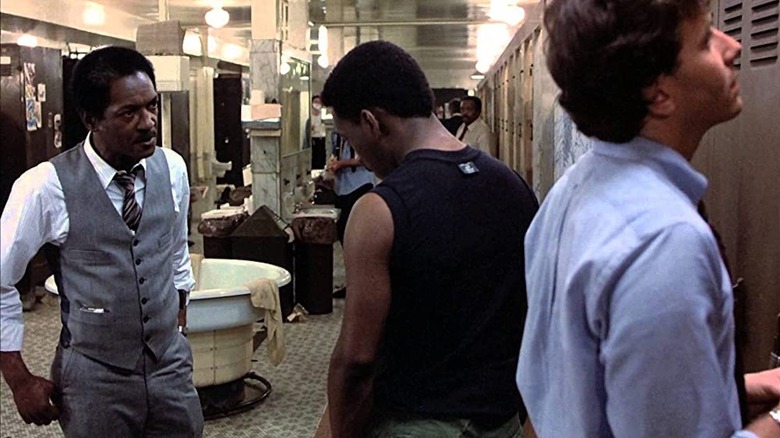 Paramount
Eddie Murphy is the turbo-charged engine that powers the first two "Beverly Hills Cop" movies, but his street-smart antics are perfectly complemented by the naive/ticked-off LAPD duo of Billy Rosewood (Judge Reinhold) and John Taggart (John Ashton). Ashton sat out "Beverly Hills Cop III," which is one of many reasons that movie feels like a half-hearted sequel. Reinhold's wide-eyed shtick (which darkened considerably in "Beverly Hills Cop II" when we learned Rosewood is a gun nut) works best when the more seasoned Ashton is around to upbraid him. So rejoice! We've seen set photos over the last few weeks, but Deadline has, at last, confirmed that Ashton has returned to the fold to presumably bark at Reinhold.
Less essential to the "Beverly Hills Cop" universe is Bronson Pinchot, who pulled off the unthinkable in 1984 by stealing a scene from Murphy as the flamboyant, espresso-pushing art gallery employee Serge. He got shoehorned into the second sequel to dire comedic effect, but hey, maybe "Beverly Hills Cop: Axel Foley" screenwriter Will Beall has found a more organic fit for the character.
A far more welcome return is Paul Reiser, whose Detective Jeffrey "This is not my locker" Friedman will once again exasperate Murphy's Foley (though not, alas, Gil Hill's Inspector Todd, as the real-life-cop-turned-actor passed away in 2016). In an interview with /Film's Jenna Busch, Reiser, who's already shot his scenes for the fourth film, marveled that Murphy no longer looked like a fresh-faced 23-year-old. "[I] was at his 21st birthday party, which was at Studio 54, or whatever Studio 54 became. And now, we're in our 60s, even Eddie's in his 60s. I'm like, 'That's a long span. We've been doing this a while.'"
Keep the heat on 'cuz Axel Foley ain't going anywhere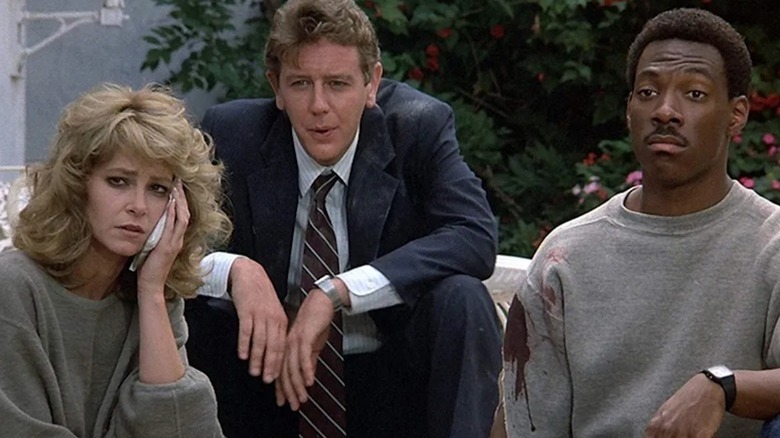 Paramount
"Beverly Hills Cop: Axel Foley" isn't strictly a nostalgia play, at least not casting-wise. Joseph Gordon-Levitt and Taylour Paige (a revelation in Janicza Bravo's superb "Zola") have been cast in as-yet-undisclosed roles. The plot is being kept under wraps, so we've no idea if there might be room for Lisa Eilbacher's Jenny Summers or Ronny Cox's Lieutenant Andrew Bogomil (whose near assassination is the inciting incident for "Beverly Hills Cop II"). Be on the lookout for tabloid photos!
The director, Molloy, comes from the commercial world, which suggests this film might have more of a stylish sheen a la Tony Scott's "Beverly Hills Cop II" than the grittier look favored by Brest (which he carried over into his masterpiece "Midnight Run"). As long as it looks like a film, which "Coming 2 America" did not, and Murphy is firing on every available cylinder, it's hard not to be stoked for Alex Foley's return — which, given the star's vitality, needn't be a swan song. Even at 61, Murphy is without equal. GOAT's gonna GOAT until he can't GOAT no more. His kind of funny is relevant in every era.