The Daily Stream: Prop Culture Unearths A Treasure Trove Of Cinematic History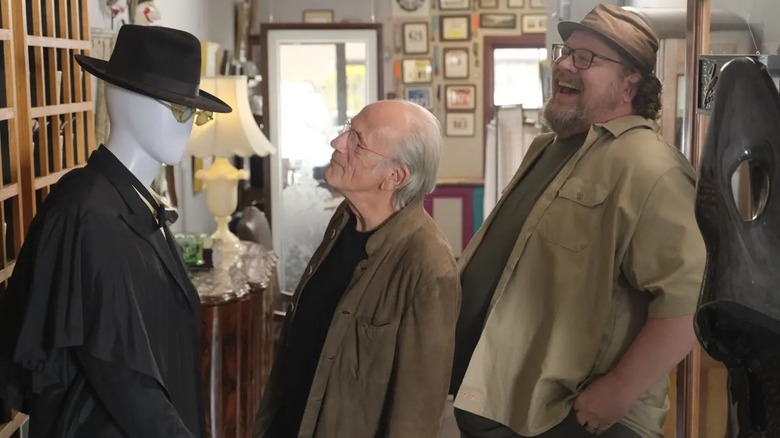 Disney+
(Welcome to The Daily Stream, an ongoing series in which the /Film team shares what they've been watching, why it's worth checking out, and where you can stream it.)
The Series: "Prop Culture"
Where You Can Stream It: Disney+
The Pitch: The Walt Disney Archives are home to some of the most important items from throughout cinema history. But aside from watching the movies that made them famous, so few people get to feast their eyes on these artifacts. Through "Prop Culture," renowned movie prop collector Dan Lanigan is invited into the House of Mouse to unearth some iconic items and tell their stories with the help of those that brought them to life in the first place, such as actors like Christopher Lloyd, Rick Moranis, and Kathleen Turner, filmmakers like Joe Johnston and Henry Selick, or craftspeople like Dave Goelz, Phil Tippett, and Calista Hendrickson.
Whether it's helping the company recover a long lost item, reuniting an actor or a filmmaker with pieces that defined their careers, or restoring a beloved prop to its former glory, Lanigan and his network of collectors, builders, and artists are hard at work preserving the multitudes of history contained in the archives for future generations to enjoy. This show offers a small glimpse into that process through the most delightful treasure hunt, while connecting emotionally to why these items mean so much to fans and the world at large.
Why it's essential viewing
When Roy O. Disney founded the Walt Disney Archives in 1970, he wanted to preserve the legacy of his late brother, Walt, and all the work that had and would come out of the studio they founded. Thanks to archivist Dave Smith and his team, the company has been able to collect, preserve, and curate significant items over the years. Sometimes that manifests as special exhibits at conventions, museums, or other events. However, not everyone has the ability to travel to the D23 Expo or a Disney park or wherever the latest showing of these significant items may be. That's why a show like "Prop Culture" is so important. 
Through this series, fans can learn more about the movies they love through the props, costumes, and special effects that helped create them. Host Dan Lanigan delightfully guides the viewers on a journey where items like a snow globe, a helmet, or a car hold such meaning for those that used them or created them and those that grew up watching them in "Mary Poppins," "Tron," and "The Muppet Movie" as well. These episodes are a pleasant way of reflecting on one's legacy while examining the craft of moviemaking. 
And in a way, these items take on a life of their own and become the main characters of their own stories. And unlike before when they were locked away in the Disney Vault, fans from all over the world and from all walks of life can see them and hear their stories through a streaming service on a device of your choosing. In a way, this takes Indiana Jones' catchphrase of "It belongs in a museum!" to a whole new level since this show is accessible to way more people than just one museum exhibit. 
Why it came along at the right time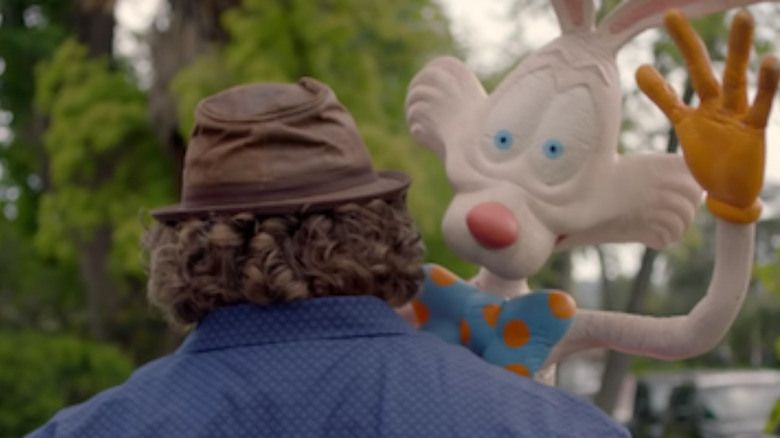 Disney+
Back when "Prop Culture" debuted in May 2020, America was in the thick of a lockdown due to COVID-19. For many people, it was hard to find joy in every day life because so many things seemed so bleak at the time, especially if they were living alone and cut off seeing people in person. That was definitely the case for me, so when this show premiered, it was like eight doses of concentrated happiness on my TV screen for multiple reasons. First, as a collector, I couldn't be out in the world hunting down my next grail piece. Sure, there was eBay, but that wasn't the same. Then, as a fan of cinema history, it was great to see how these items were found and preserved. And as a movie fan in general, this gave me a whole different way to revisit some of my all time favorite movies like "Who Framed Roger Rabbit?" and "The Nightmare Before Christmas" through a whole different lens.
It's hard not to think of the wholesome content that brought me happiness during a dark time while rewatching this show, but even without the lockdown, it definitely holds up and still hits the right nostalgic and informative marks that fans of pop culture revel in. Considering how vast the Walt Disney Archives are (like the warehouse in "Raiders of the Lost Ark"), there's no reason why "Prop Culture" couldn't have many, many seasons. However, we only have the one to look back on for now. With any luck, Disney will produce more episodes in the future. Until then, I've already started looking into getting tickets to "Disney 100: The Exhibition," which makes its world premiere at the Franklin Institute in Philadelphia, PA on February 18, 2023.