Brendan Fraser Was Willing To Break A Rib If It Meant Getting His Start In Hollywood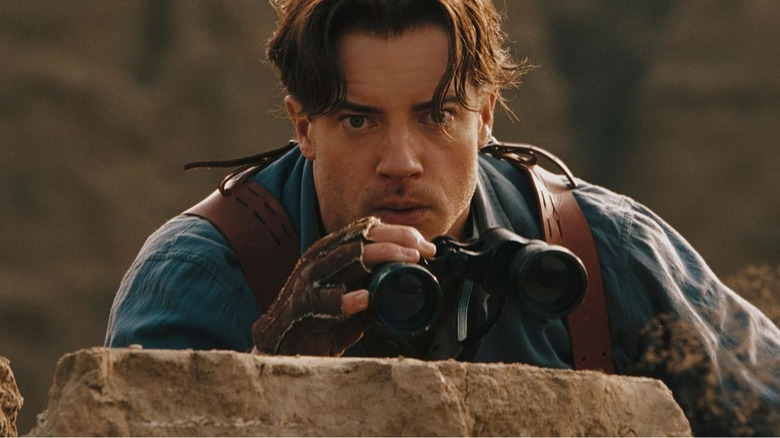 Universal Pictures
Brendan Fraser is very passionate about acting — just ask his doctors. The actor has sustained over a dozen injuries throughout his career. Getting your first opportunity in such a competitive field is rarely easy, and for Fraser, it was clear from the beginning that the actor was ready to do whatever it took to kickstart his Hollywood career. 
Before his role in "The Mummy" franchise that made Brendan Fraser a certified action star, the actor was still crashing into things, willing to go to dizzying, dangerous heights to get a role in a movie. And he suffered the consequences from the very beginning. "The Mummy" may have given Fraser injuries to keep him in and out of the hospital for seven long years, but the performer also sustained a rib injury in his very first acting role, all the way back in 1991.
Fraser put his body on the line to get his start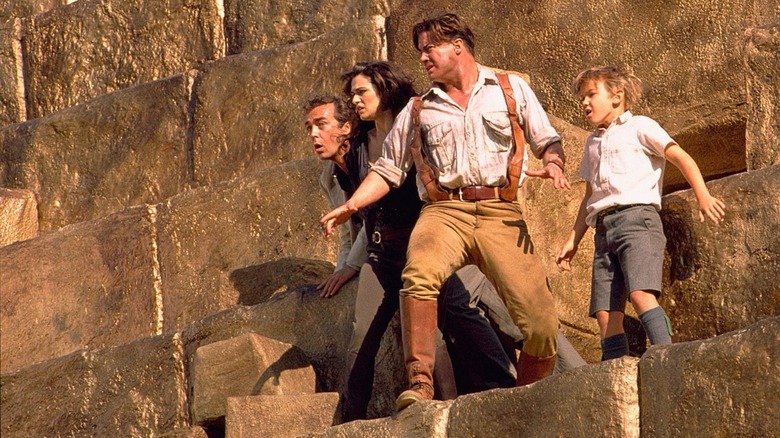 Universal Pictures
Over the years, Fraser's on-screen signature move has come to crash into things. "The Mummy" franchise gave Fraser a magnitude of stardom but also quite a few serious injuries, causing a permanent impact on his physical health. But his very first gig in Hollywood also resulted in an injury — one he was willing to push even further if it meant he got his big break.
Before he achieved stardom, thanks to his more career-defining roles, Fraser had humble beginnings. His first acting job was in Nancy Savoca's 1991 coming-of-age drama "Dogfight," starring River Phoenix and Lili Taylor. Fraser played a relatively minor role in the film ("Sailor #1") and appeared in a punching sequence where the actor was thrown into a pinball machine. He vividly remembers bruising a rib in the process, which would've been alarming to any young star, but not Fraser, who was willing to go further and actually break his ribs for the movie.
'I can do it again'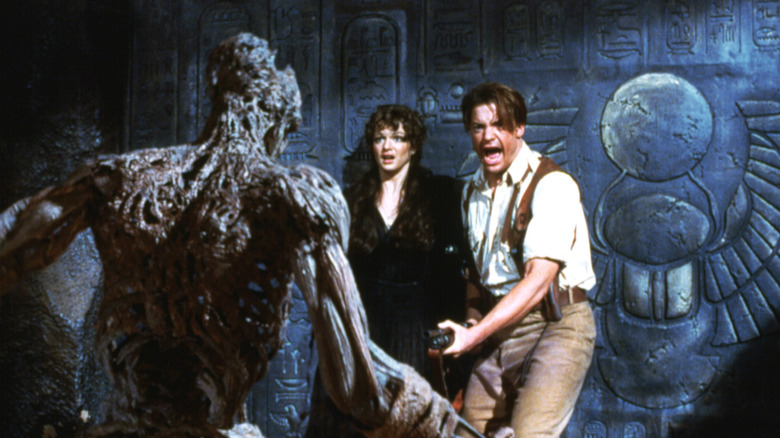 Universal Pictures
The actor recounted the experience in an interview with GQ:
"They gave me a sailor outfit, along with some other guys, and we did a punch-up scene with some Marines. And I got my Screen Actors Guild card and an extra 50 bucks for the stunt adjustment, 'cause they threw me into a pinball machine. I think I bruised a rib, but I was like: That's okay! I'll take it. I can do it again. If you want, I'll break it. You want me to do it again?"
Fraser has since taken on many action-heavy roles, as seen throughout "The Mummy" franchise as well as films such as 1997's "George of the Jungle" and 1999's "Blast from the Past," among others, before moving out of the limelight. He has since come back into our lives in projects like "Doom Patrol" and Steven Soderbergh's "No Sudden Move," and he's poised for a big year in 2022 with his starring role in Darren Aronofsky's "The Whale," which doesn't feature the action sequences Fraser is memorable for but give him a whole new way to showcase his talents. The film opened to raucous applause during its premiere at Venice Film Festival, and Fraser is currently the odds-on favorite to win Best Actor at the next Academy Awards.