Slash/Back: Release Date, Cast & More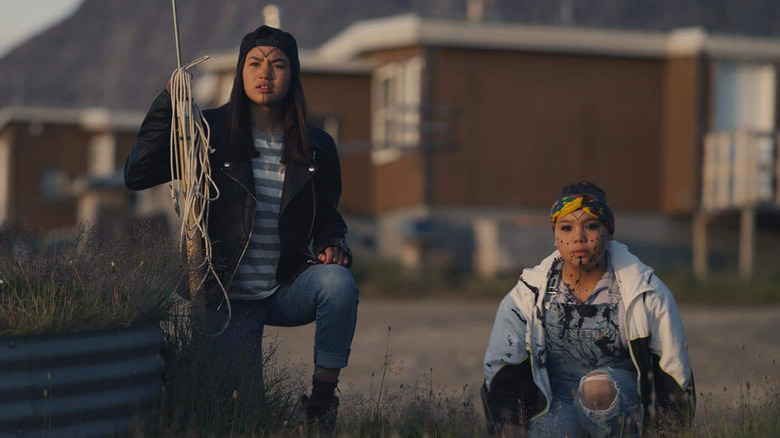 Mongrel Media
(Welcome to ...And More, our no-frills, zero B.S. guide to when and where you can watch upcoming movies and shows, and everything else you could possibly stand to know.)
Alien invasion movies have always been rife with political commentary. There is a lot that can be said about the alien invasion and how it serves as a symbol of moral panics, colonialism, and capitalism. This shouldn't be a surprise — after all, science fiction and horror as genres have always been influenced by the sociopolitical or economic crises of their time. The big question that every sci-fi or horror movie has to ask, however, is how they can balance these themes with fun and terror.
When /Film's Matt Donato saw "Slash/Back" at this year's SXSW, he concluded that this sci-fi coming-of-age comedy hit this balance well. Calling it "a uniquely Inuit creature feature," this genre blend is probably one that many genre fans have heard about and are looking forward to. Here's what you need to know about this unique and heartfelt alien invasion flick.
Slash/Back release date and where you can watch it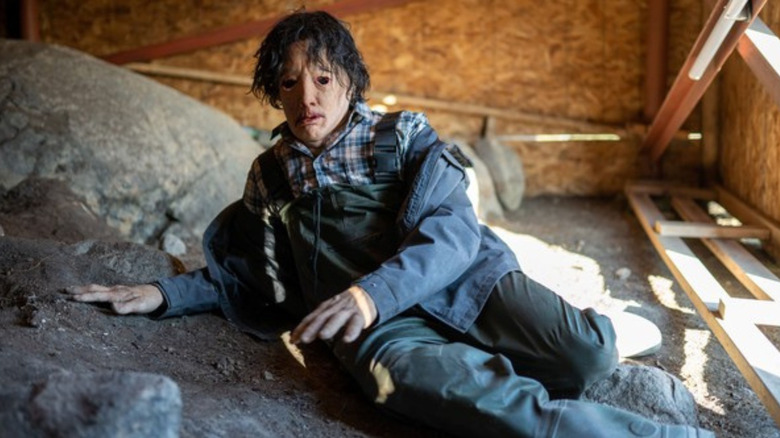 Mongrel Media
After premiering at SXSW on March 12, the general public will finally be able to watch "Slash/Back" on October 21. The film will be heading to digital platforms and on-demand services on that date, as well as screen in select theaters across North America. While it might be a bit difficult for Americans to watch in theaters, it will likely screen throughout its home country of Canada.
Still, genre fans are not strangers to having to find the next best movie on digital stores or video-on-demand channels. However, if they are looking to stream the movie anywhere, they might have to wait a while longer. That's because a streaming service release for "Slash/Back" hasn't been confirmed, although it would be a great fit for Shudder.
What is Slash/Back about?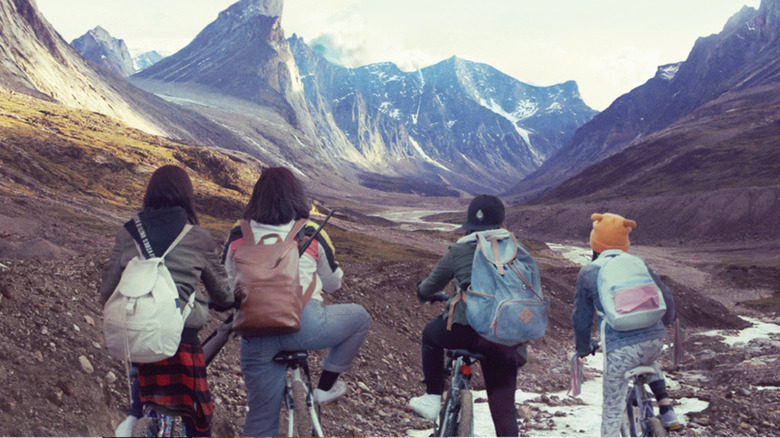 Mongrel Media
"Slash/Back" follows your typical group of teenage girls as they navigate through life in their hamlet of Pangnirtung. These girls, led by the feisty Maika, spend their summers riding their bikes throughout their town and watching horror movies. However, they make a discovery that seems ripped straight out of some of their favorite movies: aliens are making their way into Pang, and it is ultimately up to them to stop it. It's a First Nations spin on the classic coming-of-age story with a splash of alien body horror thrown in. Who wouldn't want to watch something like that?
The cast and crew of Slash/Back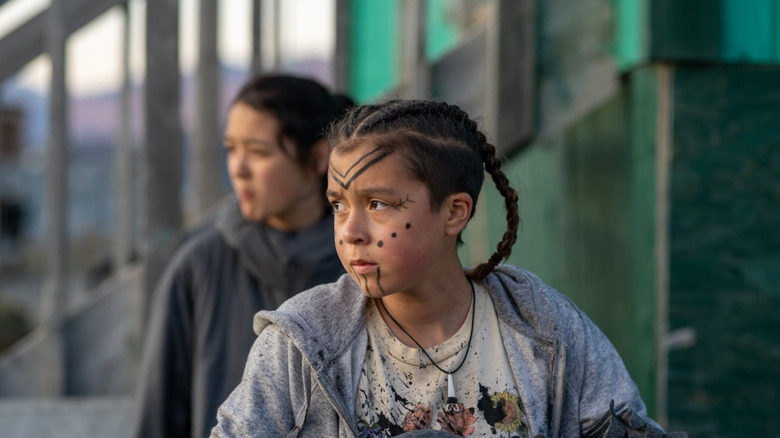 Mongrel Media
You will likely not recognize the young cast of "Slash/Back," but that doesn't mean you shouldn't keep them on your radar. Mainly compromised of young Inuit talent, the film stars Tasiana Shirley as the aforementioned Maika. Alexis Wolf stars as Jesse, Nalajoss Ellsworth plays Uki, and Chelsea Prusky portrays Leena. Janice Alivaktuk, Madeleine Qumuatuq, Shaun Benson, Hannah Flanagan, Paulette Metuq, Frankie Vincent-Wolfe, and Evan Innuksuk also star in the film.
As for its crew, it is just as authentic as it is in front of the camera. Myla Innuksuk made her feature directorial debuit with "Slash/Back," having previously directed a documentary miniseries entitled "Future History" and some short films. She co-wrote the script with Ryan Cavan, as well as served as a producer on this project. Other producers include Alethea Arnaquq-Baril, Dan Bekerman, Christopher Yurkovich, Stacey Aglok McDonald, and Ethan Lazar. Mavericks VFX were responsible for the visual effects in "Slash/Back."
Slash/Back trailer and synopsis
Now that you have gotten your first glimpse at "Slash/Back," read up on its synopsis below. "Slash/Back" hits theaters, digital stores, and on-demand channels on October 21.
"Set in Pangnirtung, Nunavut, a sleepy hamlet nestled in the majestic mountains of Baffin Island in the Arctic Ocean, 'Slash/Back' opens as the village wakes up to a typical summer day. No school, no cool boys (well... except one), and 24-hour sunlight. But for Maika and her ragtag friends, the usual summer is suddenly not in the cards when they discover an alien invasion threatening their hometown. These teenagers have been underestimated their whole lives but, using makeshift weapons and their horror movie knowledge, they show the aliens you don't f*** with the girls from Pang."