Juilliard Drove Val Kilmer Into His Early 'Absurdist' Comedy Roles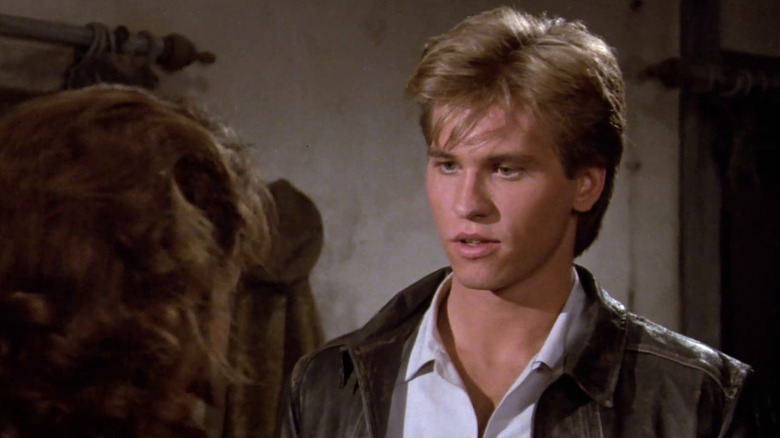 Paramount
Years before he flaunted his versatility in "The Doors," "Tombstone" and "Heat," it appeared as though Val Kilmer was going to be one of Hollywood's go-to comedy stars. Though David Zucker, Jim Abrahams and Jerry Zucker's "Top Secret!" flopped at the box office in 1984, those who were wise enough to rush out and catch it walked away impressed with the actor's ability to deadpan one moment and switch on his rockstar swagger the next. He followed that up the next year with an immensely appealing performance as troublemaking genius Chris Knight in Martha Coolidge's hysterical "Real Genius."
Kilmer's arrival was as sudden as it was welcome. Unlike many stars, he hadn't paid his dues via two-line roles in schlocky exploitation flicks or sitcoms. He just showed up, and we instantly adored him. If you had to guess, you figured he'd studied improv at Second City or The Groundlings. His timing was just too perfect not to have been honed alongside other comics. And if that was your guess, you were so very wrong.
A Julliard prodigy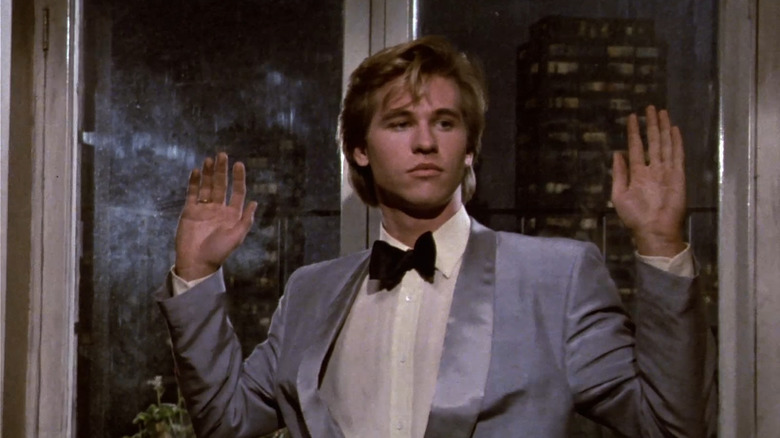 Paramount
It's not surprising to learn that Kilmer was a Julliard kid, nor is it terribly shocking that he was, at the time, the youngest person ever admitted to the elite conservatory's drama school (like an artistic Chris Knight). Prior to hitting Hollywood, Kilmer and his classmates (including future "Crocodile Dundee" co-star Linda Kozlowski) improvised a drama about urban terrorism called "How It All Began." It was based on a memoir by Bommi Baumann, the West German founder of the radical 2 June Movement, and was good enough to earn a full-fledged production at Joe Papp's Public Theater in 1981.
Kilmer was credited as a co-writer on the play (which was received a mixed review from The New York Times' Frank Rich), and, after spending two-and-a-half years developing and performing the work, he was desperate to tackle some lighter material. As he told the Polish artist Piotr Uklanski in Interview Magazine, he found just the ticket in Hollywood:
"I had been involved with this pretty heavy subject for two and a half years, and I was just looking to do something that would be fun and not taxing in any way, so ironically my first movie was a comedy, because I had grown up in Los Angeles and I was obsessed with the Kentucky Fried Theater [a comedy troupe]. Those guys made 'Airplane!,' and this was their second film, called 'Top Secret!' It was a very strange beginning to what my training was, which was classic theater and Shakespeare and then going into this absurdist comedy style."
From Nick Rivers to Jim Morrison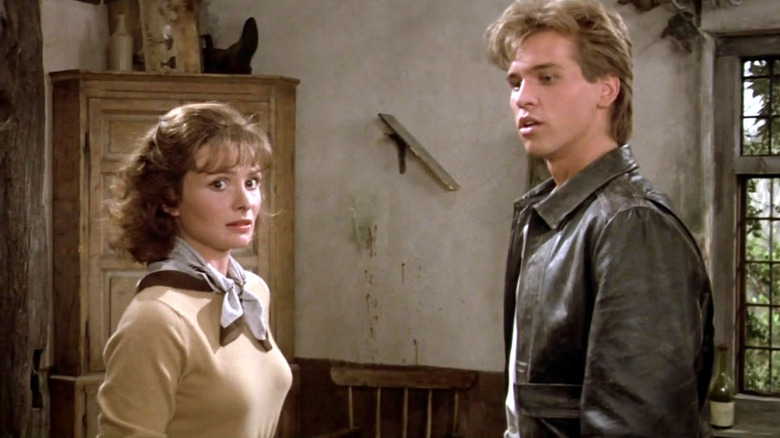 Paramount
Though Kilmer is disappointingly dismissive of "Top Secret!" in his touching memoir/documentary "Val," the film has acquired a sizable cult following over the years, and is considered by some to be the ZAZ team's masterpiece. Kilmer's brilliant comedic performance is even more amazing when you realize he sings all of Nick Rivers' songs (the best of which has to be the film's opener, "Skeet Surfin'").
Kilmer struck like a fully-formed superstar with "Top Secret!," so it's a shame Paramount couldn't figure out how to market it (particularly after the blockbuster success of ZAZ's "Airplane!"). His career finally exploded with his eerily spot-on portrayal of Jim Morrison in "The Doors," but he never attained the box office heights of contemporaries like Tom Cruise and Tom Hanks. He was perhaps too mercurial for that kind of consistency, which, decades later, makes his career look like an anomaly. Hollywood never figured out Val Kilmer.